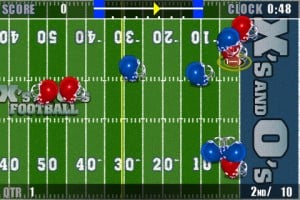 Just in time for Superbowl Sunday, Macworld has posted a roundup of the current football games that can be found in the App Store.
Macworld had already given high marks for LED Football [App Store] and LED Football 2 [App Store], but also took a look at these remaining titles in their roundup:
Solus Games' PocketSports Football seems the most promising traditional title with 3D gameplay. The game uses the accerometer to control movement of your players and multiple camera angles. The main shortcomings listed included difficult passing and little control over defense.

Our discussion thread comments from the developer seems to indicate these may be addressed in a future update.

This gameplay video gives you an idea of the game:

Meanwhile QB Pass Attack Football earned high marks for pure fun. The game is one of Skyworks' sports games which offers an arcade recreation with great touch controls. A gameplay video from the developer offers you an idea of the game.