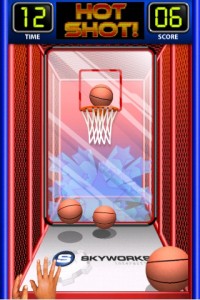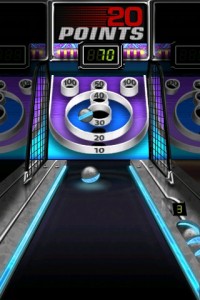 We took notice of Skyworks' first iPhone game Arcade Hoops Basketball [App Store, $1.99] when it was released back in November. It reproduces an arcade basketball game on your iPhone with both a "classic" and "progressive" mode.
The game is a relatively short lived experience, but comes in an overall polished package with very good use of the touch controls to "throw" the balls to the basket. Both speed and direction of your swipe will affect the light of the basketball. Fans of the original arcade machines will likely enjoy this iPhone simulation.
This developer video shows off the game (though does not directly demonstrate the swipe control).
Meanwhile, Skyworks has recently released another nicely packaged game using the same swipe-control method called Arcade Bowling [App Store, $1.99]. Their latest game offers a simulation of Skee-ball. Again offering "classic" and "progressive" modes, the game offers the best iPhone reproduction of Skee-ball to date. Ball physics seem a bit "loose" but the swipe control works well and the progressive mode offers enough challenge to keep you playing.
Another developer video (again, does not demonstrate the swipe controls):
While it's hard to call either of these games "must haves", they provide a very well polished and fun experience for fans of the original games.
App Store Link: Arcade Hoops Basketball, $1.99, Arcade Bowling, $1.99,
Update: Skyworks has just released QB Pass Attack Football, $1.99 (same swipe controls as above) and X's & O's Football, $1.99 (simplified football game).