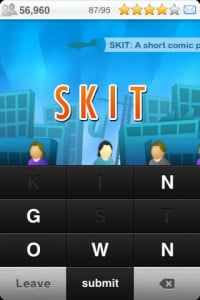 Ian Marsh's Textropolis [App Store, $1.99] has generated quite a following amongst our forum members. An over 500 post thread has produced mostly glowing reviews for the latest word game to hit the App Store.
Not surprisingly, word games have been a popular gaming genre in the App Store. The iPhone's touch screen interface seems to lend itself well to these word puzzlers.
The basic premise of almost all word games is the forming of as many words as possible out of a given set of letters. And a large number of these games tend to fall into either TextTwist (Chicktionary, Lexitron) or Boggle (wurdl, Quordy) type games.
Textropolis, however, manages to offer a somewhat relaxed take by eliminating the time-limits found in other games of the genre. Instead of racing the clock, you are simply challenging yourself to find as many words as possible. Surprisingly enough, this formula has succeeded in producing a both fun and addicting game. One particularly glowing review from the developer of iPhone adventure game 1112 captures this sentiment:
I bought it this afternoon, I can't stop playing…. This is the best text game I played so far, I always was a bit frustrated with timed game, in this one you can pause the puzzle whatever you want and start the next one (if you manage to at least unlock it). it's very addictive
The game starts with a single unlocked city "Kingstown". Textropolis tells us there are 95 combinations of 4-letter-or-longer words based on that city name. To play, you simply start typing in words. No time limits, no penalties for guesses. Just you and the letters. Each word successfully submitted rewards you with the definition of the word flying across your screen. As you find more words, your city's population (aka game score) increases and you earn achievement stars. Once you find 10% of the words in a given city, the next city is unlocked. This relatively low hurdle to unlock each new city will keep novice players interested, while advanced players can dedicate themselves to reaching higher star achievements. The game also offers a "hint" feature in which you can sacrifice 1000 people from your city's population in exchange for a hint that will fly by the screen.
With 30 starting words and thousands of possible words, this $1.99 game offers plenty of gameplay. Without time limits, it can be a rather relaxing experience that you can pick up and continue at any time throughout your day. While no global or online scores are offered, the game does offer 5 distinct save slots so you can compete with your friends and family members.
The developer's video offers a good look at gameplay (music not included):
Game Details

Name:

Textropolis (v1.0.1)

Price:

$1.99 [Buy]

Developer:

Ian Marsh

Size:

1.0 MB

Device:

Tested on iPhone 3G
Textropolis

is a word game in which you find as many words as possible from the letters of cities around the world. Well balanced progression and no time limit offers an ongoing challenge for both novices and experts alike. Trying to find "just one more" word will keep you coming back.