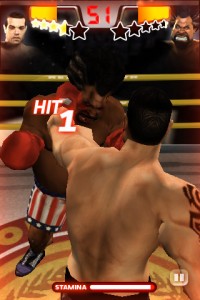 Realtech VR sent us an announcement and some screenshots about their upcoming arcade boxing game Realtech Iron Fist Boxing.
Finally, the 1st MMA arcade 3D realtime game for the iPhone and iPod touch. Realtech VR ™ Iron Fist Boxing offers an immersive gameplay and eye-popping graphics for the iphone and ipod touch. Each boxer comes to life with unique attributes and fighting style (boxing, muey thai and kick boxing) 16 characters are (4 available at start and 12 to unlock)
Features include:
Full multi touch screen and accelerometer input
16 fighters
3 fighting styles
3 camera views
Action event sequences
High quality music by Karybe & Scylla and crowd sound effects
Pictures gallery
Achievements
Fast 3D rendering display and highly detailed textures and 3D models.
Gameplay video shows an impressive looking game:
Click on thumbnails for full screenshot:

"Coming soon" according to Realtech.