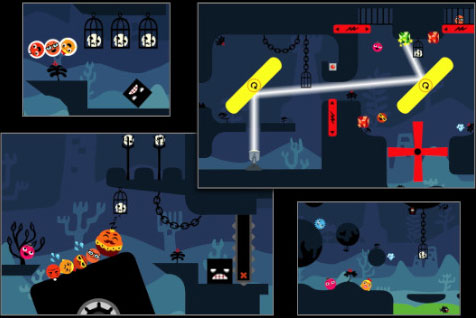 Ngmoco's Rolando is now available in the App Store [ link ]. The game is priced at $9.99.
Features include:
Interactive Environments – Manipulate more than a dozen gizmos, including lifts, catapults and bomb dispensers
Fun with Physics – Rolandos can bounce on trampolines, push blocks and nudge bombs and sleeping Rolandos
Rich, Intuitive Controls – use Tilt and Multi-touch to guide the Rolandos and manipulate their world
Signature Art Style – Visuals by pop-culture illustrator Mikko Walamies and music by renowned break-beat artist Mr. Scruff
iSave and iTunes compatible – Progress is saved and restored automatically when play is stopped or interrupted
Global Leader Boards – Compare scores and Achievements with other players online
Epic Adventure – Four unique worlds and 36 engaging levels
Ngmoco has provided this gameplay trailer earlier today (Youtube version):
We'll provide video and first impressions shortly.
App Store Link: Rolando, $9.99