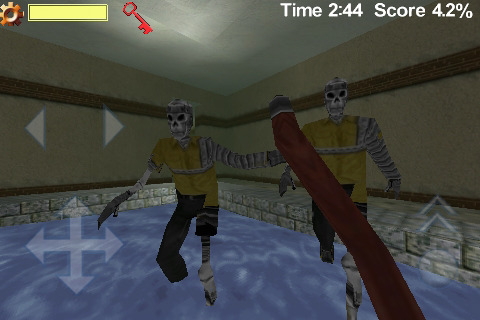 Last night Zombie Mansion finally arrived in the App Store [link] after a prolonged approval process. Zombie Mansion was developed by Source IT software. The release of the title had been somewhat anticipated as it represents the first original first-person shooter (FPS) for the iPhone.
The $4.99 game places you in the middle of a zombie filled mansion which you must fight your way out.
Starting in Hell, you will manoeuver through the dungeons, the floors and finally the attic. Search for more powerful weapons and locate the keys you need to escape.
Our initial impressions of the game were a bit disappointing, however. You start off in the middle of the mansion and must find your way out. In your way are Zombies and doors. In order to get through the doors, you need to find keys which are found somewhere in the mansion. The game involves you wandering around the Mansion rather aimlessly trying to find a way out. After a while, I wasn't sure I cared enough to keep looking around.
Controls are also somewhat awkward with an on screen directional pad and shoot/jump/strafe buttons.
This video should give you a feel for the gameplay:
App Store Link: Zombie Mansion, $4.99