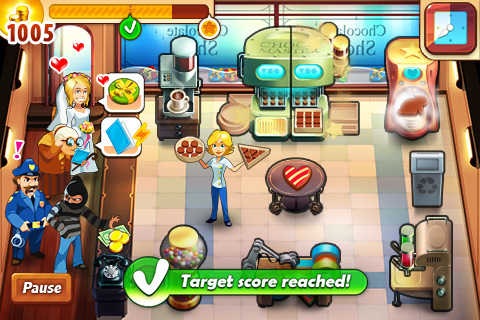 Digital Chocolate, Inc released their time management game Chocolate Shop Frenzy [App Store] tonight. This is another in a series of time management games that have invaded the App Store.
Others include Diner Dash ($7.99), Sally's Salon ($0.99 – on sale), and Daycare Nightmare ($4.99).
These games are well suited for the iPhone's screen and involve juggling the defined tasks typically involving customer service. In Diner Dash, you take orders, deliver food, collect checks and bus tables while managing a growing line of customers. While these games may not appeal to everyone, they do seem to be a very popular genre.
Today's Chocolate Shop release is also accompanied by a free demo version which limits you to the first month of the game's story mode. Worth a try for those unfamiliar with this type of gameplay:
App Store Link: Chocolate Shop Frenzy Free, Free (Full Version: $7.99)