French development house DotEmu has a singular mission: to bring quality, classic games to modern devices.  Back in August I had the opportunity to interview DotEmu CEO Xavier Liard regarding the company's announcement of the iPhone as a target platform for its mobile game releases.  Xavier indiacated that that DotEmu's first iPhone release would be an adaptation of the famous, early '90s Amiga platform game, Nicky Boom.
Nicky Boom has just appeared in the App Store [link], published by Chillingo Ltd.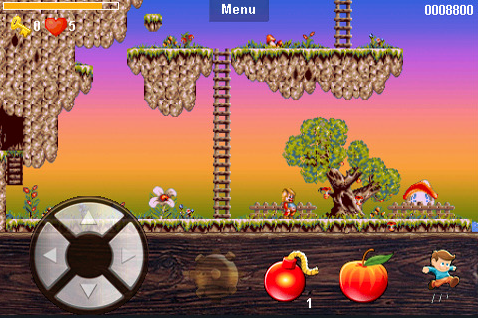 In NickyBoom, the player controls "Nicky," a little boy on a quest through a fantastical world to save his grandfather form a witch's spell.  Nicky must defend himself from monsters that inhabit the game world by throwing apple cores, bouncy balls, logs, etc.  The game sports a lively soundtrack and features eight levels based on four different themes including a castle, a swamp, and a dark forest.
Features listed by the developer:
Huge worlds with many challenges to overcome
Make your path by unlocking ladder, building bond, using wrapper, find the keys, discover various hidden paths and avoid traps
Gorgeous and enhanced graphics from the original 90's classic
High quality remastered sounds and music
Save & load the game at any time
DotEmu has posted an iPhone gameplay video.
DotEmu's earlier, mobile version of Nicky Boom received high marks from PocketPlayers and Pocket PC magazine.
Every fan of this genre will be falling in love with this game. Despite it being a 16 year old game it's still great to play. The graphics and sounds are among the best there is for pocket pc devices. Retro gamers like me are really gonna like this game, but also for gamers in general this game will be very attractive.
There is a distinct lack of solid 2D platformers in the App Store.  Admittedly, we have only limited experience with this new release, but we like what we've seen so far.  Any iPhone gamer who enjoys platform gaming should seriously consider giving Nicky Boom a try at its $0.99 introductory price.
App Store Link: Nicky Boom, $0.99