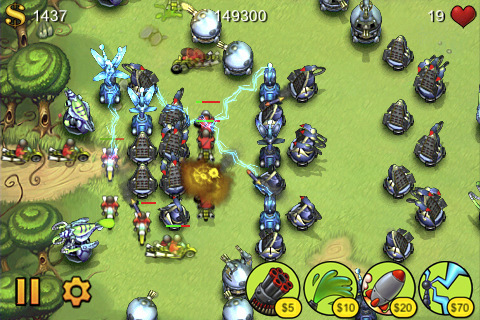 Time Magazine has published its list of "Top Ten of Everything of 2008". Amongst the listings is one for Top 10 Video Games of 2008. The list contains recognizable titles like Grand Theft Auto IV, Braid, and LittleBigPlanet, but what do we find in the #9 spot? — Subatomic Studios' Fieldrunners [App Store]
With the opening of the App Store and the release of development tools, third-party developers have converted the iPhone and the iPod Touch into handheld gaming devices that will soon be serious competition for the Nintendo DS and Sony's PSP. The pick of the first litter is Fieldrunners, a fast and furious tower defense game that looks great on those super-bright, super-crisp screens and seamlessly integrates the famous touchscreen as a game controller.
Amazing recognition for Subatomic Studios and iPhone gaming in general. We haven't been shy about the fact that we love Fieldrunners. While it's a Tower Defense game, it has significant cross-over appeal. Congratulations Subatomic Studios!
App Store Link: Fieldrunners, $4.99