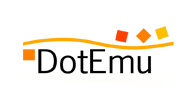 French development house DotEmu has recently revealed to Touch Arcade that they will add the iPhone to the list of mobile devices supported by their game releases, with the first title set to debut in the Q4 '08 / Q1 '09 timeframe.  Formed in 2007, DotEmu has a single mission: to bring quality, classic games to modern devices. We recently had the opportunity to interview DotEmu's Xavier Liard, CEO, regarding the company and their thoughts on the iPhone as a game platform.
DotEmu has positioned themselves between Intellectual Property (IP) owners and distributors, licensing classic games and bringing them to modern devices, primarily by way of utilizing emulation technology created in-house by DotEmu's CTO.  The company's early work was mainly involved with delivering browser-based game conversions utilizing Java applets.  In 2003 Tisserand was successfully emulating various 8-bit systems at full speed in-browser and hit a breakthrough in 2005 by developing the world's first Java-based 68000 emulator (the processor used in the Sega Genesis, Atari ST, Amiga, and original Macintosh).  Not long ago, the company moved from exclusive browser and PC-based releases to mobile platforms, supporting the Windows Mobile, Symbian, and Palm platforms.
The iPhone is a good match for the types of titles DotEmu is delivering, claims Xavier.
It has a great resolution for classic platform games, and the ability to use it in a friendly way using landscape mode is quite good for platform games too. Getting only ONE device (one resolution, no specific phone bug), development process can be streamlined a lot, and therefore enables developers to bring a more "in depth" gaming experience by polishing the product a bit more.

DotEmu aims to provide greats classics games for the iPhone and we will do our best to get the most exciting titles. We believe that there is a kind of game for each player, and we will offer diversity among casual or high-end graphics games.
The first title DotEmu will be bringing to the iPhone is the Amiga classic platformer NickyBoom which was recently released for several mobile devices.  In NickyBoom, the player controls "Nicky," a little boy on a quest through a fantastical world to save his grandfather form a witch's spell.  Nicky must defend himself from monsters that inhabit the game world by throwing apple cores, bouncy balls, logs, etc.  The game sports a lively soundtrack and features eight levels based on four different themes including a castle, a swamp, and a dark forest.  Other, unnamed titles will follow and Xavier indicated that basically all titles in DotEmu's catalog could be ported to the iPhone.

NickyBoom for Mobile (non-iPhone)
DotEmu's work is challenging–most IP owners they work with have lost the source code to these classics, forcing the company to find alternative ways to bring them to modern devices.  While excited about the iPhone's capabilities, Xavier indicated that developers need to invest time in the platform in order to ideally match their games to the unit's unique control system.  He also lamented the fact that official iPhone 2.0 development is a Mac-only affair, as many indie developers without Macintosh hardware are unfairly locked out of the game.
When asked, DotEmu expressed excitement about the prospect of the iControlPad and hopes to support the device assuming it makes it to market as a supported iPhone 2.0 device.
We're anxious to get our hands on NickyBoom and the other titles the company has in the works.  Retro gaming is a growing genre and it's great news to see such a prolific retro developer as DotEmu targetting the iPhone with their releases.  Hats off, guys!