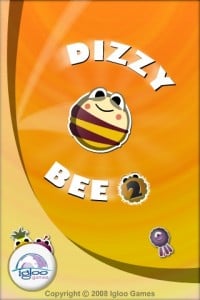 Igloo Games let us know that they have just submitted the sequel to their popular Dizzy Bee to the App Store. The original Dizzy Bee was one of the first games we reviewed (and loved) here at Touch Arcade and was one of the launch titles when the App Store opened in July.
Dizzy Bee's premise seems simple enough: tilt your iPhone to direct Bee to free the fruit and then to the exit.

And for the first level or two, you think to yourself that this is just a fun and easy exercise. Once "baddies" are introduced, however, you realize you have to take into account their movements which are also affected by the same tilting/gravity.
Dizzy Bee 2 refines this original concept by adding new levels, enemies, and power ups. A full list of improvements provided by the developer include:
Tons of new enemies.
More Fruit Friends.
Difficulty levels: Choose "Easy" and "Normal"
Nearly 90 levels including Easy variations and Bonus Stages.
Finer control. You can hold your iPod Touch/iPhone flat to move enemies and good guys with more precision. (No more "too flat" warnings!)
Power ups! Finally the good guys strike back.
New bonus level rules!
Additional time bonus scoring. Beat levels faster if you'd like some extra points.
Auto sleep function has been greatly improved.
Dizzy Bee 2 should become available within the next week for an introductory price of $2.99.