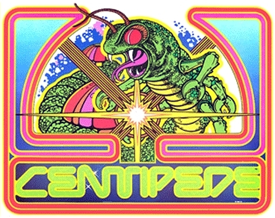 As anticipated, Atari has released a revamped version of its 1980 arcade classic Centipede [App Store] for the iPhone and iPod touch.  Centipede stands along side Missile Command and Super Breakout as the third arcade classic the company has brought to the iPhone platform.
The Centipede is attacking and you must take it out before it destroys you at the bottom of the garden. Centipede for the iPhone is a true evolution of Atari's classic. Watch out for fleas, bees, spiders, scorpions, earwigs, ladybugs, mosquitoes, and inchworms. For the first time ever players have 9 new power ups, like an uber laser, bombs, rapid fire and more. These new power ups amp this classic arcade shooter to new intensity levels.
Centipede for the iPhone features three play modes: Ultra, Arcade, and Classic.  Ultra is Centipede with reworked graphics, various insect stages, and nine new powerups–it's "the works."  Arcade mode features the same reworked graphics as the Ultra mode, but with the arcade classic's more simplisic gameplay.  And, finally, Classic mode sports arcade original graphics and gameplay for the true retro gaming fans out there.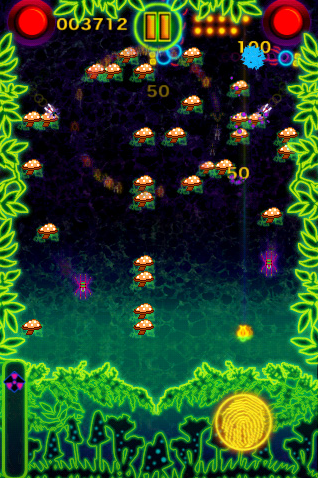 The onscreen turret is controlled by touching a corresponding thumb icon below the playfield.  The touch controls work great–in fact, they offer more precise control than does the trackball of the arcade machine.  Firing is constant and automatic in Easy mode.  In Normal and Hard modes, the red buttons at the top control firing.
As anyone who's played the original can attest, Centipede is quality arcade action.  If that's what you're looking for, then don't let this one pass you by–the iPhone translation is superb.  The gameplay is frantic, the updated graphics are great, and the spacial stereo sound adds a level to the gameplay.
Centipede.  It's Atari's best iPhone remake yet and $4.99 well spent [App Store].
Game Details

Name:

Centipede (v1.0)

Price:

$4.99 [Buy]

Developer:

Atari

Size:

10.4 MB
Centipede is a revamped, touchscreen version of the arcade classic.  The iPhone translation is excellent and a "Classic" mode is included for the true retro nuts.  Centipede is some of the best shooter action to be found on the iPhone (or anywhere).