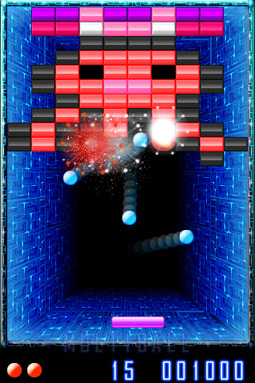 Storybird has just released an update to and changed the name of it's Arkanoid-style ball and paddle game, Ikanoid.  The new name of this updated version is Space Buster [App Store]–and "for a limited time," the game is available as a free download to mark the update and name change.
Ikanoid Space Buster was the favored title in our early Arkanoid / Breakout game roundup.
With its excellent sound effects and responsiveness, it really provides a solid arcade feeling.

The availability of power up capsules are abundant, but aren't so powerful that they necessarily detract from the basic gameplay.
The latest version features the following updates:
45 new levels (total 100)
Bug fixes
Faster engine
Better physics
Smoother framerate
iPod background music support
New background music tunes
New product name
New warp effect
New loading screen
Fans of the genre may also want to see our recent Super Breakout vs. Block Breaker Deluxe 2 faceoff.