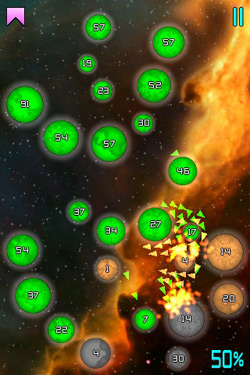 Fast-paced arcade strategy game Galcon [App Store] has seen a substantial price drop to $4.99 this morning.
Galcon is a fast-paced arcade strategy game set in space. The game begins with a galactic playfield filled with planets of varying size. The green planets belong to the player, neutral planets are grey, and planets of any other color belong to the enemy. The goal is to take over all the planets.
The game original debuted at $9.99 and received a very positive review from us as well as our readers.
After a substantial update in late August which added multiplayer game support, any remaining complaints about price seemed to disappear from many of our commenters.
Still, the developer has dropped the price to $4.99 and also recently bumped the version number up to 1.3. The latest version added:
Galcon music
Color blind option
Enhanced Multi-Player interface
Galcon is available in the App Store for $4.99.