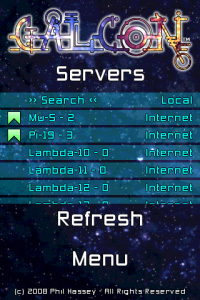 Phil Hassey has just released a major update to the planetary strategy game Galcon [$9.99, App Store] which we reviewed earlier.
Galcon is a fast-paced arcade strategy game set in space.  The game begins with a galactic playfield filled with planets of varying size.  The green planets belong to the player, neutral planets are grey, and planets of any other color belong to the enemy.  The goal is to take over all the planets.
The most significant new feature in Galcon v1.2 is the added support for multiplayer game sessions.  The new version provides a server list (pictured) that players can browse to find local or internet-based opponents.  The latest release also adds a sound effects toggle as well as the ability to select all planets in a system with a double-press of the touchscreen.
At the time of this writing, Galcon's page [App Store] in the iTunes App Store is still showing "v1.1" but readers are reporting success in downloading v1.2.