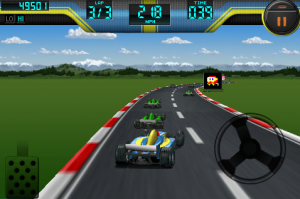 Retro gaming fans should take note that Namco has released Pole Position: Remix [App Store] through the iTunes App Store.
Prepare to Qualify! Race to the finish line in this enhanced and upgraded version of Namco's classic arcade racer, Pole Position: Remix, specially tuned for the iPhone! Take to the road with three different intuitive control setups for drivers of all types! Tilt the iPhone to maneuver your car through challenging high speed race tracks in Tilt Steering Mode. Take control of the on-screen steering wheel and spin it to fly through harrowing hairpin turns. Or touch the slider mechanism to avoid hitting cars, billboards and obstacles! Points are awarded for the distance you travel and for each enemy car you pass. Blow by the competition to unlock additional tracks, cars, billboards and graphical themes based on Namco hit games.
Pole Position: Remix, as the title suggests, is a (somewhat) modern adaptation of Namco's 1982 classic arcade racer.  Retro gaming nuts will appreciate the fact that, although the title brings a graphical overhaul, the gameplay remains rather faithful to the original.
Pole Position: Remix offers three methods of control: tilt (accelerometer-based), slider (swipe right and left), and steering wheel mode (radially control a steering wheel, capable of flick-spin, with your finger).  A semi-translucent, on-screen pedal controls either braking or acceleration, depending on settings.
The original arcade Pole Position featured a heavy analog steering wheel that offered very comfortable controls.  Each of the iPhone version's control methods offer their own advantages and it seems likely that most player can find a good match among what's presented.
Other features of the "Remix" portion of the game include 4 racing modes (Single, Grand Prix, Sudden Death, Practice) as well as additional unlockables, including:
Mirrored Tracks – left turns become right and vice versa
Reversed Tracks – run the race backwards
Themes – change the look of your car and dashboard
But be warned–Pole Position: Remix is a retro racer that cannot compare to the polish of modern racing titles.  Those who make the jump should be aware that this title is all about reliving the early days of 3D racing.  It is not meant to and cannot compete with the modern 3D racer (such as Asphalt 4).  But if old-school is your cup of tea, it might be worth a look.
Pole Position: Remix was also released back in January for the classic iPod.
Game Details

Name:

Pole Position: Remix (v1.0.0)

Price:

$9.99 [Buy]

Developer:

Namco Networks America

Size:

8.8 MB

In Brief:

Pole Position: Remix is a (somewhat) updated take on the '80s classic racer that makes use of the iPhone's various control methods.  It can bring back memories to fans of the original, but modern gamers may find the gameplay a bit lacking and the $9.99 price too steep.