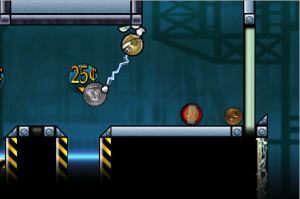 As promised, IUGO Mobile Entertainment has released a free sample version of Toy Bot Diaries called Toy Bot Diaries Free [Free, App Store].
TBD FREE presents an introductory, sample level to this iPhone favorite! See what everyone is talking about twith a taste of Toy Bot's world. Exclusive to TBD FREE, explore the play room full of treasure to be unlocked while mastering Toy Bot's special movements and functions. Perfect to play again and again!
Unlike other demo versions of games, Toy Bot Free actually provides a different level than that is provided in the full version of the game.
As a result, new customers who like the free version will get a different set of levels when they buy the full version. And those who have already bought the full version of Toy Bot Diaries [$3.99, App Store] will also want to download the Free version.
We previously reviewed Toy Bot Diaries and enjoyed it quite a bit:
In the end, the strength of the game is its natural control system on top of a very well executed physics platform puzzle game. In fact, I forgot I was playing "an iPhone game" and instead was simply immersed in a great game.
Our full review has more details and a gameplay video.