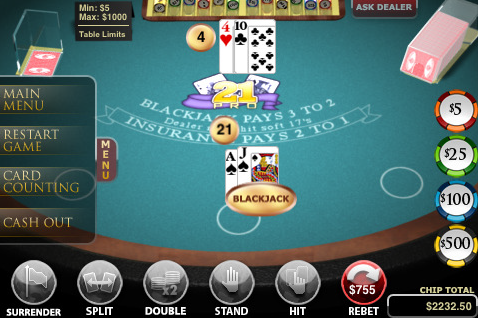 If you recently watched 21 (Movie) and became interested in the game of Blackjack or just want to learn how to play a little better before your next casino trip, Avalinx's 21 Pro: Blackjack provides a great iPhone tool for you.
21 Pro: Blackjack is a remarkably well implemented version of Blackjack that takes the game quite seriously. It provides an excellent tool for casual Blackjack play that could also translate into improved casino performance. With plenty of documentation, dealer tips, card counting stats, and numerous gameplay options, 21 Pro: Blackjack truly is well-suited for both beginners and experts.
The game of Blackjack is a traditional casino game in which you are initially dealt two cards by the dealer. The basic gameplay involves deciding whether or not to "hit" (get dealt another card) or "stand" (end your turn). The goal is to get closest to a total value of 21 without "busting" (going over). While the basic game is well known by most as early as grade school, there are a number of added intricacies when playing in a casino environment.
The game provides the following features which are very helpful when perfecting your Blackjack game:
Card counting instructions and optional real-time stats
Basic strategy card, and on-demand dealer recommendations
Explanation of rules, terminology and game variations
Customize the number of decks in the shoe
The game comes in both a free ad-sponsored version [App Store] and a $4.99 pay version [App Store]. But the ads in the ad-sponsored version are relatively unintrusive, so I'm not sure if there's much incentive to upgrade.
Game Details

Name:

21 Pro: Blackjack (v1.0.1)

Price:

Free [Get] or $4.99 [Buy]

Developer:

Avalinx

Size:

5.0 MB

In Brief:

A remarkably good version of Blackjack for the iPhone that offers plenty of documentation, dealer tips, card counting stats and gameplay options. With a free ad-sponsored version available, there's no reason not to try this game if you have any interest in Blackjack.