Two promising new games have appeared in the app store tonight: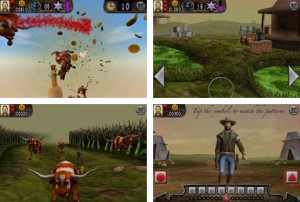 Pangea's Billy Frontier [$2.99, App Store] has appeared. Billy Frontier is a port of the 2003 game for the Macintosh with the same name.
Billy Frontier is a space cowboy who's mission is to rid the galaxy of alien outlaws. This is the most diverse 3D game you'll find for the Apple iPhone / iPod Touch – it is a combination of adventure game and arcade game with a whole lot of blood spewing action in-between! You'll test your reflexes in Duels, see if you can outrun a stampeding herd of Kanga-Cows (half kangaroo, half cow), hunt down alien bandits in gun battles, and blast catapulted critters out of the sky in the Shooting Gallery! Billy Frontier is really four games in one: Dueling, Shootout, Stampede, and Target Practice.
Pangea is offering the game for 50% off its regular price for the first week at $2.99.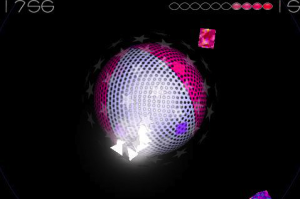 Newtonica [App Store] is another new game that first appeared on the App Store tonight. The $4.99 game's play sounds vaguely similar to Radius (in so much as your primary control is rotating a sphere):
Click and rotate the sphere to catch the falling meteor on the same color core as the meteor. The more you catch the meteor, the greater you life-gage gets. If you keep on failing to catch the meteor, the game is over.
The graphics appear to be well done, though we have not yet had a chance to play either of these titles. An early interview with the developers of Newtonica describe the gameplay a little more clearly: "flick the star panel sphere in the center and catch the red meteors in red zone of sphere, and the blue meteors in blue zone."