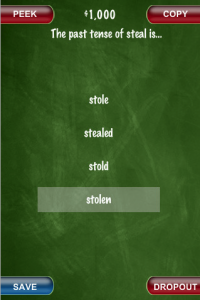 Fans of the gameshow may be interested to see that Capcom has released an iPhone version of Are You Smarter Than A 5th Grader [$9.99, App Store]. For those not familiar with the game show, Are You Smarter Than A 5th Grader is a game show in the U.S. in which adult contestants are asked grade-school level questions opposite a 5th grader.
The iPhone version takes on the same format, asking a series of up to eleven questions per round ranging from subjects like U.S. history, math, and social studies. Work your way up to the top question, or admit that you are not smarter than a 5th grader.
According to Capcom's mobile site, the mobile game contains over 800 questions, which presumably also applies to the iPhone version.