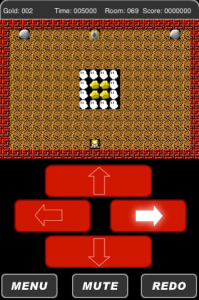 PosiMotion released another iPhone Boulder Dash clone in the form of Digga [App Store]. The $3.99 game tries to bring the classic game of Boulder Dash to the iPhone.
We described the gameplay in our review of Rockfall, another Boulder Dash clone:
The basic gameplay of Boulder Dash requires the hero to dig through caves to collect gems. Digging simply involves moving your character in any direction. The tricky part is that gravity remains in effect. If you dig under an object (a boulder, for example) that object can fall down and crush you. Your goal is to collect enough gems (which can also crush you) while avoiding boulders and other obstacles. Once you collect enough gems, a doorway will open to the next level.
As I have said before, Boulder Dash and its collection of clones carry with it very specific world rules which make the game incredibly fun. Each level is a puzzle in itself.
The issue with bringing this sort of action game to the iPhone is one of proper controls. While Ms. Pac-Man and Frogger and were playable with the "swipe" control, for Boulder Dash, it doesn't seem to be enough. Unlike the other games, Boulder Dash requires alternating discrete (like Frogger) and continuous movement (like Ms. Pac-Man).
Digga offers two control methods: Touch (swipe) and Button (D-Pad). As I said in the Ms. Pac-Man review, the virtual D-Pad is a terrible control system for the iPhone. PosiMotion's implementation of a Touch/Swipe interface, however, was intriguing. Digga places the entire level in the top half of your iPhone screen. While this reduces the quality of the graphics, it eliminates any need for scrolling around on the level. The bottom half of the screen is dedicated to the control system. In the Touch/Swipe interface, a large red area is available for you to swipe. In general, the touch system works pretty well. You can also swipe and hold to provide continuous motion and it does register abrupt turns. With some practice, you can get somewhat proficient with the control system. And for the first few levels of Digga, I was very pleased.
The problem was that as the levels progressed, you found yourself having to use more quick discrete movements, and for some reason this is an area in which the iPhone's touch screen fails. Quickly moving one step forward and then an immediate back, for example, doesn't seem to register enough of the time. In part, this appears to have to do with Digga's internal sensitivity. In that it does appear to register a swipe, even though the character does not necessarily move in the desired direction.
While the first few levels were fun, I found that soon after the levels became more of a struggle with the controls than the actual level itself. I also wonder if the early levels may be too difficult for a player unfamiliar with Boulder Dash. The degree of difficulty seems to ramp up pretty quickly, so those new to the game may find themselves quickly frustrated.
While the game includes a generous 80 levels, you can't skip around and you must start from Level One. Once you get to a new level, you must Save the game to restart there later. One would hope the game would save your state automatically, but it does not. You can only save one game at a time, which means you can only play the 1st level or the most recent saved level, nothing in between.
Since Digga does allow you to browse all 80 levels, I suspect this inability to jump around to different levels was just an oversight. It would also help keep the game more interesting if you could skip a particularly frustrating level.
As a Boulder Dash fan, while I am still enjoying this game, for the casual gamer with no particular attachment to this title, I suspect the difficult controls will be too big a distraction to overcome.
Game Details

Name:

Digga (v1.0)

Price:

3.99 [Buy]

Developer:

PosiMotion


Size:

0.4MB

In Brief:

Digga is a challenging Boulder Dash remake that offers 80 levels of play. The game's sometimes awkward controls, however, may be too big a distraction for all but the most die hard Boulder Dash fans.