Discovery Communications recently released Cannon Challenge [App Store] through the iTunes App Store.
A free download, Cannon Challenge puts the player in control of a Non-Line-of-Sight (NLOS) cannon with the objective of determining the proper projectile angle and acceleration in order to deliver ordinance to enemy targets obscured by landscape features such as buttes, mountains, etc.  It's a simple game but the feeling of having accurately gauged the lay of the land and destroying each enemy target on the game screen is very satisfying.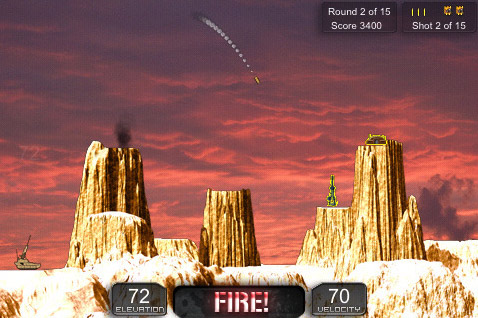 Cannon Challenge is an iPhone rendition of a formula that was popular on early home computers in the '80s.  The graphics are well done, the interface stays out of the way, and the quick pick-up fun is hard to resist.
Cannon Challenge [Free, App Store] is one of the more playable free titles available through the iTunes App Store. A web version is also available at the Discovery Channel's website.