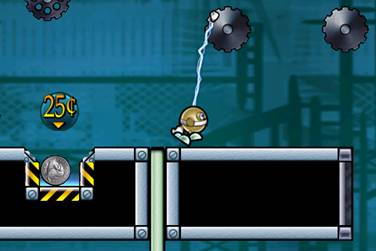 Aug 15, 2008 Update: Read our full review of Toy Bot Diaries
Pocketgamer.co.uk and QuicklyBored have published a few screenshots from an upcoming game called Toy Bot Diaries for the iPhone.
The game comes from IUGO Mobile Entertainment, creator of EA's Boom Blox mobile and Tiger Woods '07, and is described as a "stylized, interactive, physics-based" environment that balances intuitive controls and challenging puzzles. The game has been designed specifically for the iPhone with its unique capabilities. Pocketgamer.co.uk describes the game controls:
So you'll tilt the phone to move Toy Bot, while tapping on items makes him grab them, whereas tapping the robot himself turns his magnet boots on to hang from walls and ceilings.
The lead developer Aaron Lake told Quicklybored, "We're really excited about the uniqueness and ease of play coming together to create a truly enthralling experience for iPhone owners".
The backstory to the game appears to be partially depicted in this comic strip:
Tiny Toy Bot has awakened within a strange machine and now he needs your help! Use Toy Bot's handy grappling hook and magnet boots to navigate him through environments teeming with physics-based challenges as he plunges into an unfamiliar world. Simply tilt to make him walk, or touch to have him grapple onto any metal object. Tap Toy Bot to toggle his magnet boots and have him hang from metal walls and ceilings. Without his memories, Toy Bot needs you to pull him through his debut adventure.