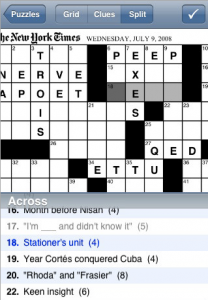 Eliza Block has released a free version of her popular crossword puzzle app, 2 Across [App Store].
The Lite version of the application provides a free demo of the game with a more limited selection of puzzles.
With the Lite Edition, you can download and solve puzzles from the New York Times, The Onion, and the Sydney Morning Herald. With the full edition, tens of thousands more puzzles become available, from an ever-growing list of sources.
We previously reviewed both 2 Across and Crosswords and found them both to be quite capable. 2 Across offered a few unique features, such as Pen and Paper modes, and the ability to reveal individual letters. The full version of 2 Across is also cheaper than Crosswords at only $5.99 [App Store]
See our full review for details and gameplay videos. Meanwhile, the Crosswords developer also recently released a free version [App Store] of their application, so you can compare them directly yourselves.