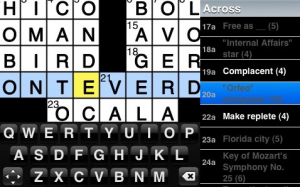 Another day, another demo.
Stand Alone has released a demo version of their Crosswords [$9.99, App Store] application called Crosswords Light [Free, App Store].
The free version of Crosswords lets you try out 30 built-in crossword puzzles to test drive the interface before committing your $9.99. The full version allows you to download a near limitless supply of free crossword puzzles and also supports the New York Times subscription service.
We recently reviewed both Crosswords as well as 2 Across [$5.99, App Store] and found them both to be quite capable. We particularly liked the landscape view of the Crosswords application. Read the full review for more details and gameplay videos.