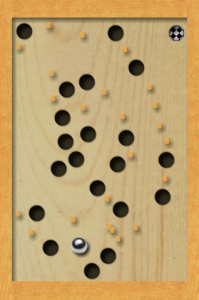 Codify AB's Labyrinth Lite [App Store] has taken over the top spot as the most downloaded free application. The previous #1 on the list was Tapulous's Tap Tap Revenge. VentureBeat spoke with Tapulous's chief executive Bart Decrem who felt that the simplicity of these games helped drive interest.
In Labyrinth's case, the lite version also serves as a demo version for their $6.99 full version [App Store].
The gameplay is simple. You move the ball across a wooden maze to the goal while avoiding the holes. If the ball falls in the hole, you must start again at the beginning. The game is an excellent demonstration of the iPhone's accelerometer and simple enough to provide some quick and mindless entertainment.
The Lite version contains only 10 different boards while the full version has over 500 and the ability to add more created by the community.
We've included a very brief demo video:
As a free game, this is a no-brainer download. For some this will be enough to satisfy their curiosity, but for addicts, the $6.99 version provides hundreds more levels.
We covered the jailbreak version of this game back in early May.
Game Details

Name:

Labyrinth Lite Edition (v1.0)

Price:

Free [Buy]

Developer:

Codify AB


Size:

0.6MB

In Brief:

Labyrinth Lite is a simple adaptation of the wood and metal classic that makes superb use of the iPhone's accelerometer controls. This is a no-brainer download.

Rating: