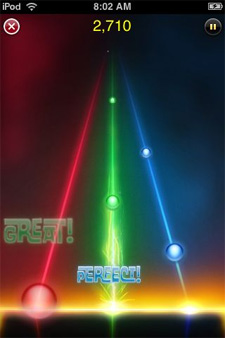 Dance Dance Revolution fans will be pleased to learn that a great looking iPhone take on that match-the-beat classic is headed to the iTunes App Store.  iPhone developer Nate True has sold his popular iPhone jailbreak title Tap Tap Revolution to a new company called Tapulous who have renamed it Tap Tap Revenge.  True was hired on as a developer at Tapulous to expand the game's featureset and maintain it as it makes its debut in the App Store.
Among the new features added to Tap Tap Revenge are an overall new look, which True indicates is still evolving, an interesting head to head mode that allows two players (or one frighteningly dextrous player) to battle it out for the title of Rhythm King, and some degree of accelerometer control (as can be seen in the YouTube video), but we don't have details on the last.  One feature that was dropped from the jailbreak original is the iTunes Library option which allowed gameplay using any song in a player's library.  True indicates that iPhone SDK restrictions forced this omission, but the he has "a sneaking suspicion that it won't be gone forever."
Tapulous hopes to have Tap Tap Revenge available for download on App Store launch day, July 11.  And the best news of all?  It will be free–"at least to begin with," cautions True.  So grab it early, folks.
[ via TUAW ]