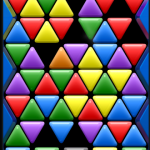 We previously covered Demiforce's unique puzzle game called Trism. Trism fully utilizes both the iPhone's touchscreen and accelerometer to allow users to line up game pieces. When a three-way color match is made, the matching triangles disappear and other triangles fall in the direction of gravity to fill the void. The first Youtube video showed some early gameplay. Demiforce has posted a new video today demonstrating a few key features of the game:
The features listed include:
3 Game Modes: Classic, Timed, Puzzle
22 different achievements to find
Online scoring. See how you compare to others around the world.
Free demo to be available
$4.99 Price
Demiforce is aggressively pricing their first game at only $4.99, and hopes to release it as soon as the iTunes App Store opens.