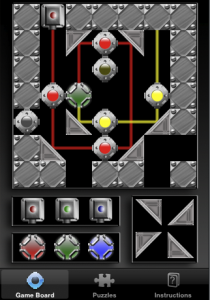 Bridger Maxwell of Fiery Ferret has posted a video demo of his upcoming puzzle game Lumen for the iPhone and iPod Touch.
The objective of the game is to manipulate a colored laser beam to pass through specific checkpoints in the puzzle. This is accomplished by adding a set of mirrors and color filters to the level to achieve the desired goal. A $10 shareware version of the game is already available for the Mac and PC.
The game pulls from an online database of 1200 user-created levels that range from Easy to Hard. Levels are also saved locally on your iPhone in case you want to play but are not internet-connected.
Maxwell hopes to release the game at the time of the iTunes App Store launch and will be pricing the game at $5.
A Youtube video provides a walkthrough of the basic gameplay: