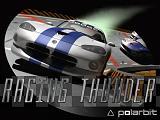 The folks over at TUAW recently conducted an interview with Anders Nilsson of Polarbit, the development house that brought the 3D racing title Raging Thunder to the iPhone platform as a free beta via jailbreak.
Be sure to check out the full interview, but here's a taste:
I really love the way the game takes advantage of the iPhone's built-in accelerometer. What are some of the other features of the iPhone that have inspired you while porting this game and how do they affect the software?

As you may or may not know, we target all the major high-end mobile platforms (Symbian, Windows Mobile, Brew etc), so we've supported features like accelerometer, touch-screen and 3D acceleration since well before the iPhone was announced. That said, where the iPhone really excels is in the integration of these features – how nicely it all works together. And really, you'd expect nothing less from an Apple product.
Nilsson indicates that Raging Thunder will be available as an "official" iPhone application via the iTunes App Store once it arrives later this month.