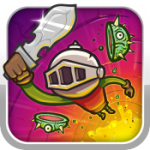 Developer Juicy Beast's latest iOS release Knightmare Tower [$2.99] has been making waves since its launch in the App Store last week, as much like their previous title Burrito Bison [$0.99] the "one more go" hook and urge to unlock and upgrade every item in the game is stronger than a Darth Vader force choke. We loved the game in our review, and our community has been darn near obsessed with it since it came out.
Besides the content unlocking and leaderboard competition, there's also a set of achievements to earn in Game Center, one of which is a speed run of sorts that tasks you with beating the Story mode in under three minutes and thirty seconds. YouTuber Robert Suarez was up to that task and captured a run of 2:58 in this following video. Spoiler alert: if you haven't seen the final boss in the game, then you might want to avoid watching until you do. Or you can. You only YOLO once after all.
I'd count myself among those who are currently obsessed with Knightmare Tower, though I'm in no way this good at the game. Yet. I'm going to keep plugging away, but I really like watching these "speed run" type videos of people straight killin' it at their favorite mobile games. So, if you have a similar skill set and the ability to record one of those runs, shoot us an email at tips@toucharcade.com with the subject: SPEED RUN and a link to your video. It doesn't necessarily have to be a speed run, just any sort of feat of amazingness at a cool mobile game, but we want to see them so start sending! In the meantime I'm going to get back to practicing my Knightmare Tower skills.
$2.99