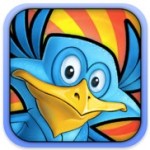 Playcreek has been on our radar since they brought out Stoneloops of Jurassica, a marble-matching game we'd love to link to if it hadn't been removed from the App Store for looking a little too much like Luxor. Magic Wingdom [Free] is the developer's first trip back to the world of matching since then, and it's wild. Line drawing, marble matching, farm-handling and a lot more—it should probably be a total mess, but instead it really works.
The game at the midst of all the chaos is a collection of straightforward matching mechanics. Colored eggs roll inexorably toward the center of an arena. If two eggs that don't match meet, it's game over. Your job is to draw lines through matching eggs on the move, lining up big combos and avoiding every other colored egg. Combos have a chance to drop power-ups when they break, including the occasional coin.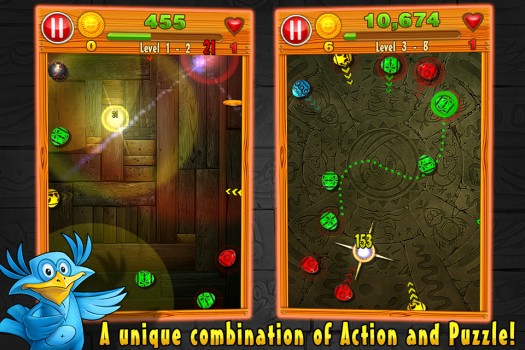 The goal is to hit the highest score you can, and also to earn a boatload of coins. The higher the score, the more coins you earn. You need these coins to kit out your farm, to buy it birds and make them comfortable and dress it up. Conceptually it reminds me of Kitten Sanctuary [$1.99], but in this game the farm is a much more intrinsic part of the experience.
As you unlock more and more content for your farm, you earn stars. Earning enough of those stars unlocks new farms and new arenas. But more than that, individual items trigger mini-quests. Buying the item's pair unlocks a permanent reward that will improve your score in the matching game.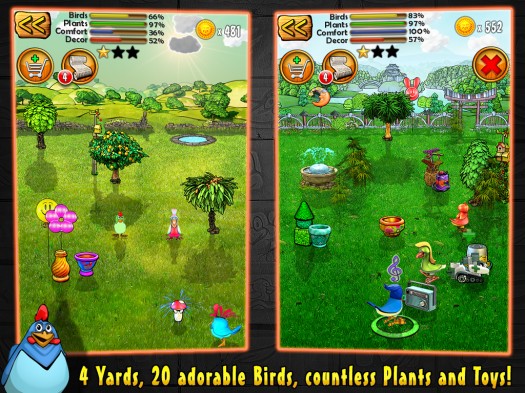 Playing also gives you experience, and every level you earn a boost. Boosts are crazy-big improvements to your matching skills—extra lives, bonus coins, combo boosters and more. It's all a huge ecosystem of progression: play the game to improve the farm, improve the farm to do better in the game, and earn more coins and boosts as you go.
You can short-circuit this ecosystem, if you want. You can buy your way into coins, boosts and unlocks. You can also pick up the Deluxe [$0.99] version of Magic Wingdom, which gives you a well-sized coin bonus for the first fifteen rounds you play to get you through the early days.
Matching and line-drawing mechanics work well together, but it's the progression that keeps this game compelling. It encourages players to keep driving toward one goal after another, without ever letting up. It makes Magic Wingdom much harder to put down than it probably should be, which is certainly one measure of success.
It's no huge surprise that Playcreek got another marble matching game right. The speed, the timing, the frantic swiping as you hit your limits—it feels just right. There is a cynical edge to the overwhelming array of in-app purchases, but it's softened by the fun of matching and the charm of farm-design. If you've been looking for a decent, fresh matching game, hop in—you won't regret it. Magic Wingdom has something for everyone, and it's all out there for free.
Magic Wingdom
Reviewed by
Nissa Campbell
on . Rating:
4