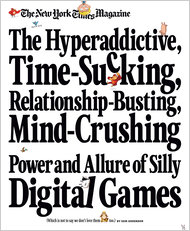 I'm honestly not even sure what the best way to introduce this New York Times article would be to do it justice. I read a lot (I mean, a lot.) of blogs, newspapers, forums, and everything else that could even be a vaguely relevant source for TouchArcade content, and I've never come across such a fantastic retrospective both on the evolution of handheld video games, but also the way "stupid games" like Angry Birds become so integrated into our lives. In fact, I'm reluctant to even sum it up any more than that, so here's a link and an excerpt to whet your proverbial whistle:
And so a tradition was born: a tradition I am going to call (half descriptively, half out of revenge for all the hours I've lost to them) "stupid games." In the nearly 30 years since Tetris's invention — and especially over the last five, with the rise of smartphones — Tetris and its offspring (Angry Birds, Bejeweled, Fruit Ninja, etc.) have colonized our pockets and our brains and shifted the entire economic model of the video-game industry. Today we are living, for better and worse, in a world of stupid games. …Read More
If you've got friends, family, co-workers, or anyone else who doesn't get this whole mobile gaming thing, Sam Anderson wrapped the whole phenomenon up in a perfect little package digestible even for people who know nothing about video games. Zach Gage even makes an appearance.
Seriously though, take ten minutes out of your day and give it a read.