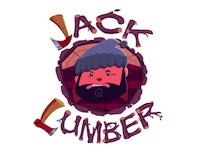 In a world where trees can murder grandmothers, a lumberjack who can distort time and space takes his revenge. Welcome to the premise of Owlchemy Labs' next absurd iPad and iPhone game, Jack Lumber. Set to hit later this summer, it's a log slicing game with a delicious looking bullet-time mechanic. But don't call it a Fruit Ninja-alike.
"Our goals with Jack Lumber were to create the best damn lumberjacking game this side of the Redwoods," Owlchemy's Alex Schwartz told us. "The scientists here at Owlchemy Labs love the Halfbrick guys with all our heart, but comparing Jack Lumber to Fruit Ninja is like comparing apples to logs. After six iterations of crazy log-cutting gameplay, we hit on something magical."
Alex shared an… interesting play-by-play:
Logs are flying by at breakneck speed. You're watching intently to find that exact moment where the logs have coalesced on-screen to form a perfect arrangement. You can feel that it's the right time, so you touch your finger down. Time slows to a halt. You're in "Lumber Time". Thankfully, you have supernatural powers, otherwise this would be quite difficult. You draw a smooth and calculated path with your finger, swooping through logs from end-to-end along the grain, weaving, dodging, and turning with the finesse of a brutish and hairy figure skater.

You see you have less than a second of draw time left on the clock and you catch the 'Time Extended' bonus log and sigh a breath of relief for a brief moment, drawing onward to grab the last four logs remaining on screen. But wait! A skunk is in your way and you barely pivot around him before he releases his raunchy green 'defensive maneuver' on you. You successfully clip the last log and triumphantly lift your finger as your axe replays your epic path of destruction, decimating every log with the fury you reserve only for the trees that killed your grandma. Combo points explode from the madness and 'Straight Shot' bonuses fill the screen as your eyes tear up from sheer joy and excitement.

Also, there are flying moose.
We've got the first footage of the titular hero's title just below, but you'll also get to see it in action during PAX East at the Indie MEGABOOTH, which will feature many other games to play.
We saw a generous Jack Lumber sneak peek this year at GDC 2012, and were impressed with the iterative design on display. Most slicing games don't bother to mix up the formula, but this does by introducing choice into the mix. You won't just be slicing wood, you'll be making an informed tactical decision with each cut. The game will also feature a full campaign mode with dialogue, and a progression mechanic for your axe. "You can upgrade your axes to absurd lengths," we're told, "to the point where you get the Canadian maple leaf axe among others."
"Absurd" is the right word for this. We're hopelessly stoked to see this in motion, so stay tuned. We'll be bring you a lot more before its release.