While I could go absolutely crazy with Baha Men references here, I'll spare our readers and instead just cut to the chase-- The Canadian and Australian beta period of ngmoco's virtual pet game TouchPets Dogs [App Store] is finally over. Much like Eliminate [App Store], TouchPets is a free to download game, but your play time is limited along with the advancement of your dog.
Your dog in TouchPets is powered by virtual dog food, which you can either buy or just wait for your in-game dog food bowl to slowly recharge on its own just like energy in Eliminate. The main difference is, while you can play Eliminate all day long if you wanted to without earning credits, your dog in TouchPets actually goes to sleep when it runs out of food. Feeding your dog increases its energy meter, which then is depleted as you play with it.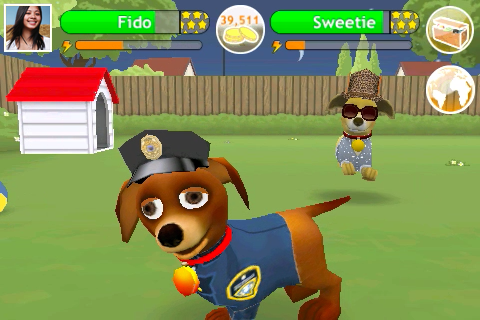 What initially seems like a very simple virtual pet game quickly turns in to a surprisingly elaborate dog training roleplaying game of sorts where you need to constantly be raising your dog's attributes to rank up as a dog trainer and caretaker. As you level up, more items will be purchable at the pet store using the in-game puppy bucks currency which is earned by keeping your dog happy. There are also career paths for your dog to embark on such as becoming a crime fighter or a rescue dog along with silly careers such as a scientist or a politician.
Each step in your career requires items from the pet store you need to buy along with other requirements like trainer rank, dog happiness level, and some career missions even require you to bring another dog along, which brings us to the social aspect of the game. Since the game leans to heavily on Plus+, TouchPets must be constantly connected to the internet to play.
At any time during the game you can look through your Plus+ friends and invite their dog to come play with yours. The dogs then form relationships and can become friends, get angry with each other, or even fall in love. Every milestone in game is saved online and can be shared on Facebook, and your dog (as well as your activities with friends' dogs) are constantly synchronized with ngmoco's servers.
This allows you to do things like invite a friend's dog over and feed them. When your friend loads up the game, it grabs the latest snapshot of their dog saved on the TouchPets servers, and their recently fed dog will be have a full energy meter in their game. The social aspect of TouchPets is surprisingly fun, and the crazy dog relationships, scuffles, and love triangles that form have been endlessly amusing.
You can train your dog to do tricks, and if you're a good enough trainer (and have enough puppy bucks) you can even own multiple dogs. There's tons to do in TouchPets, and you could just play the game utilizing the free food you get throughout the day. Doing so, however, only allows you to play sporadically for a few minutes at a time, but otherwise there is no limit on how much you can advance your dog. If you're patient enough you could have a house full of dogs with multiple completed career paths without paying for anything.
The other way to play the game involves buying the different packs of virtual dog food which are currently priced between 99¢ and $29.99. Keep in mind though, the game seems to be designed more towards playing the game a little bit every day. While you could, for example, buy the $30 pack, and power your way through the game in few days, I'm not sure you'd have much left to enjoy. I've been playing TouchPets since the start of the Canadian beta, and without paying for anything I've ranked up significantly along with progressing nicely down the scientist career path by just playing a little bit each day.
TouchPets Dogs is definitely one of the best virtual pet games I've played, largely in part due to how much it utilizes Plus+ for building relationships between dogs. It adds a completely unexpected level of depth and complexity to the game that will likely keep me playing it for quite some time. I might eventually buy some food, but I've been happy with the amount of play time I'm getting with my free food allotment each day. Since the game is free, there really isn't much reason to not give it a spin. Further impressions and play dates are being coordinated in the official discussion thread in our forums.
App Store Link: TouchPets Dogs, Free