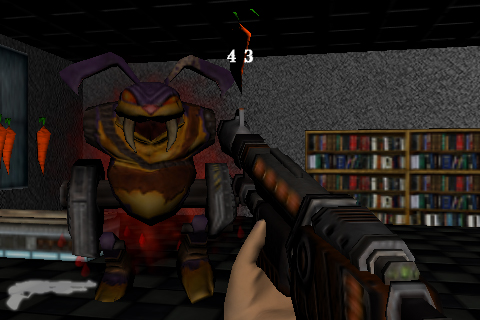 Hill Billy's developers must have noticed our eager fascination with their upcoming first person shooter for the iPhone. They sent us a note yesterday that their game has finally been submitted to the App Store and that they are now simply awaiting Apple's approval.
Readers may remember the impressive but strange gameplay video (embedded below) that they posted back in December.
The game premise is as follows:
You are Hill Billy: the world's largest carrot grower. You have a problem: a strange invasion of biomechanical creatures hungry of vegetables. You have a solution: your shotgun...

So get ready and try to rescue all the carrots by stopping those strange creatures; Explore and defend Hill Billy's properties, find his homemade weapons and hidden odd items… Where those footprints will lead you?
Features listed by the developer include:
Smooth Accelerometer-based control.
Next-gen shading, using up to four maps on a single mesh.
Dynamic normal mapping to enhance realism on all 3d models.
Self illumination (glow), even on a carrot!
Particles-style effects.
Complex hardware-accelerated skeletal animations.
The developer tells us the controls for the game rely on the accelerometer for movement with the exception of two on-screen strafe buttons. There are 6 weapons from the Poisoned Carrot to the Shitgun (not a typo) in 5 game scenarios. Oh, and, of course, a lot of rabbits!
The game will be priced at $5.99 (US). Bring it on!