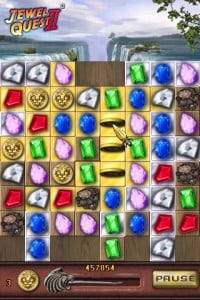 There's no shortage of match-three puzzle games on the iPhone. Frankly, we at TouchArcade are a bit tired of playing them. The mother of match-three games on the iPhone is perhaps Bejeweled 2 [App Store] -- a franchise that has sold over 25 million copies. At $7.99, however, it's falls in the high end "brand name" category of iPhone games.
Match three games involve tapping on items (in this case Jewels) to swap their positions. Lining up three or more like Jewels eliminates that row. The goal is simply to remove as many Jewels as possible.
Another reasonably popular match-three game called Jewel Quest II [App Store] recently appeared in the App Store, but at $8.99, it didn't really catch our eye. And besides, how many match-three games do you need on your iPhone?
Well, if you haven't made the jump yet, Jewel Quest II has been discounted to $1.99 until October 3rd. The iPhone version of the game has been well reviewed by IGN but with the main complaint being price:
Jewel Quest 2 is a good match-three game with a lot of puzzle screens, solid controls, and good production values. I like the series, so this installment was a welcome addition to the App Store and my iPhone. But the price may scare some of you away -- and I understand that completely.
The game is a relatively straightforward implementation of the match-three on the iPhone with no special iPhone-specific (accelerometer) features. The game is said to have over 50 levels to keep you occupied.
App Store Link: Jewel Quest II