When I think back to some of the earliest iPhone success stories, I can't help but think of Doodle Jump. Following its launch in the spring of 2009, Doodle Jump became one of the first instances I can remember of a "schoolyard hit", that is a game that becomes popular due to kids playing it at school and competing for high scores, eventually spreading like wildfire due to word of mouth. The following year, alongside the mainstream explosion of Angry Birds, Doodle Jump also became a pop-culture phenomenon in its own right, whether that's being part of Lady Gaga's entourage's wardrobe, being an official tie-in game with a major Universal movie, or the special versions of the game crossed over with major IPs like DC Heroes or SpongeBob.
Yep, the old Doodler has been everywhere. And in addition to the many spin-offs and seasonal releases of the game, the original Doodle Jump has been updated countless times in the decade-plus of its existence, adding in new game modes, new themes, online multiplayer, and a whole lot more. Doodle Jump is one of those games that's built around an incredibly simple mechanic, but one that's been honed to near-perfection, and so there's never really been a reason to even consider a sequel. But developer Lima Sky thinks there's more to be done with the Doodle Jump formula, and so nearly twelve years after the original arrived on the scene, today a full-blown sequel Doodle Jump 2 has hit the App Store.
While I've only spent a little bit of time with Doodle Jump 2 so far, I've been really impressed with how Lima Sky had been able to create an experience that's so distinctly Doodle Jump but somehow new and fresh at the same time. Yes, you're still bouncing ever-higher on platforms and using tilt to control your Doodler, and yes those same finely-honed mechanics are used for the core gameplay. What Doodle Jump 2 does is feature a really cool progression system that sees you collecting stars during play that are used for unlocking up to 8 different characters. Each character has their own themed stage with unique elements and enemies. It's kind-of similar to the original Doodle Jump's selectable themes, but… new! And shiny!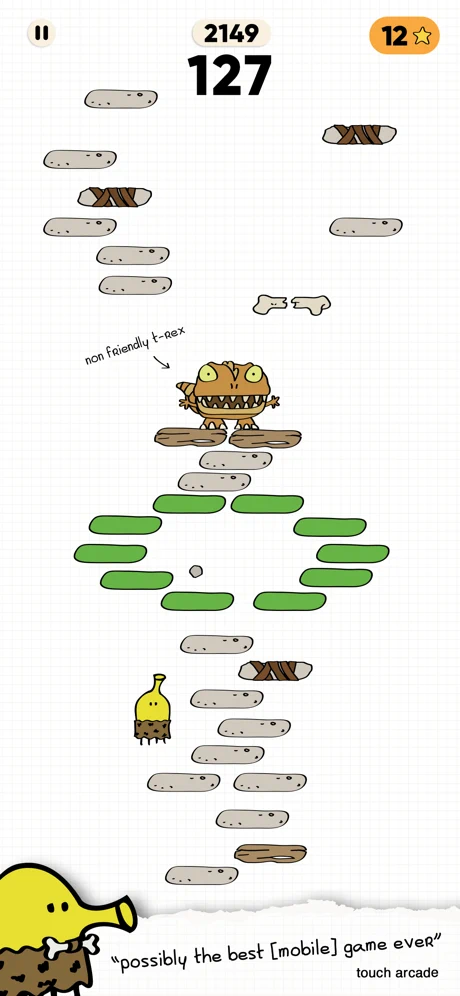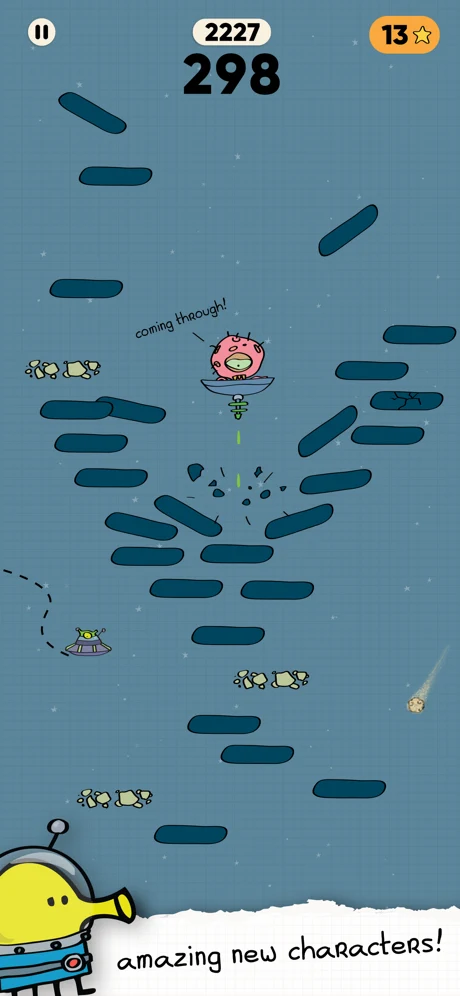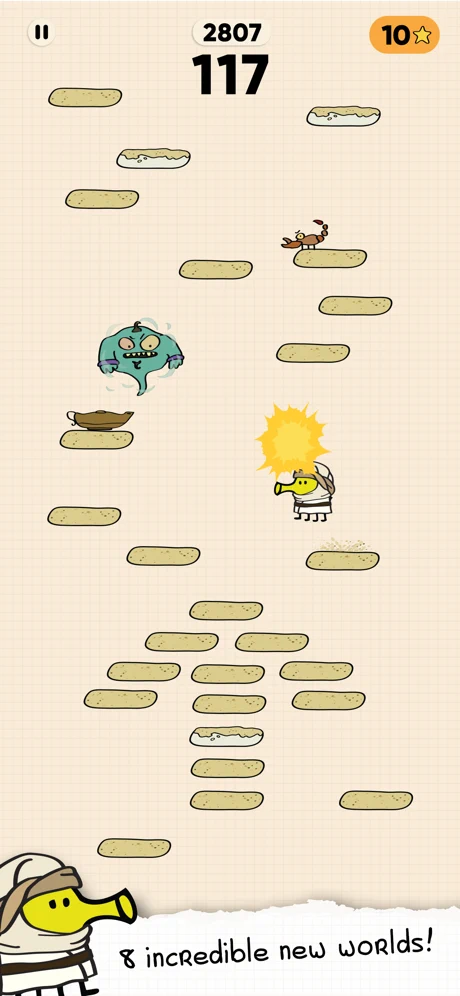 Naturally each character's stage has their own leaderboard, and you can see the leaderboard entries in realtime along the edge of the screen as you're playing, which is a feature I've always enjoyed in Doodle Jump. Doodle Jump 2 also features a cleaner look and improved visuals. I mean, they're still doodle graphics, but there's a noticeable bump up in clarity and animation quality this time around, and for a game with such a simple look those little details go a long way. This is a free game with ads, and a one-time IAP of $4.99 to remove them, and if you aren't a big fan of ads you're going to want to spring for that as the ads are pretty frequent.
Doodle Jump 2 isn't some gigantic leap forward over the first game, and I don't really see how it could have been. What it is is a welcome refresh to a proven formula and an iconic character in mobile gaming, and while it probably won't replace the original for me (I still have SO much stuff to unlock) I don't think it's meant to replace it, but rather complement it and at that it does nicely. Whether you're an old-school Doodle Jump fan (or you're super old-school and remember the days of PapiJump) or if you have yet to experience the phenomenon, Doodle Jump 2 is a worthy successor that's worth checking out, especially for free, and you can find some discussion about the game in our forums.