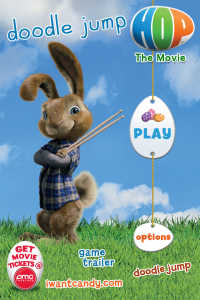 Back in January, we learned about a new crossover deal between Universal Pictures and Doodle Jump developer Lima Sky that would see Doodle Jump somehow being affiliated with the upcoming movie Hop. At that time we weren't quite sure if this would tie into the original Doodle Jump [99¢], be an update to Doodle Jump Christmas Special [99¢], or if it would be a completely new game altogether. Today we find out that it's the latter, as Doodle Jump: Hop the Movie [Free] is now available in the App Store as a brand new separate game.
The premise for the game is that E.B., the son of the Easter Bunny, is set to take over the family tradition of delivering Easter baskets to kids around the world. But before he can take on his new role in life, he needs to become more proficient at jumping. This is where Doodle the Doodler comes in, as he has had more experience jumping than practically anybody.
Doodle Jump: Hop the Movie features 25 levels, with one unlocking each day until the movie's release on April 1st. Since that's not quite 25 days away, there are currently 8 levels available to play, which probably accounts for the time it took to be approved by Apple. It's unclear whether or not there is a traditional endless mode, as each new level is completed by attaining a certain height goal, and there is no sort of score tracking that I can see.
Still, it definitely feels just like a Doodle Jump game, and that means that it's a lot of fun. The graphics have an Easter flare to them, with platforms made out of jelly beans and Doodler jumping alongside you decked out in his cute bunny costume. It's also a universal app and features graphical support for Retina Display devices. Doodle Jump: Hop the Movie is free to download and play, and as far as games that tie in with advertisements go, it seems to be a pretty solid release and is worth checking out if you're looking for a new Doodle Jump fix.