One thing I was not aware of prior to today, but wish that I had been, is an animated TV show called Taffy that broadcasts on the Boomerang Network. The premise alone gets me. It centers around a mangy raccoon named Scraggs who is inadvertently mistaken for a kitty by the fabulously wealthy Mrs. Muchmore, who promptly adopts Scraggs into her mansion and gives him the name Taffy. Mrs. Muchmore treats Taffy like royalty and gives him an endless supply of delicious food, which is a major step up from scavenging for scraps in the trash, I'm sure. Everything worked out pretty well for Taffy… everything except for Mrs. Muchmore's loyal doberman named Bentley, who is onto Taffy's true identity and will stop at nothing to expose him and end his free ride in the lap of luxury.
As you can imagine, classic cat vs. dog antics ensue, and Taffy has been critically acclaimed since its debut a couple of years ago, even being picked up for a second season. But what would a new, popular IP with humorous storylines and characters be without a mobile game to tie into it? Taffy is no different, and BTC Studios have just launched Taffy: Feed the Kitty globally into the iOS and Android app stores. It's a pinball-style game in a similar vein to the classic Peggle where you'll aim and shoot your balls into the playfield in the hopes of hitting the different types of food spread throughout, which will then be transported straight into Taffy's waiting mouth (and eventually belly). Here's a trailer of Taffy: Feed the Kitty in action.
Besides the standard balls you can shoot, Taffy: Feed the Kitty features special balls that can help you get through the different types of terrain you'll find. Spike Balls will destroy glass obstacles, Fire Balls will destroy wooden obstacles, and Acid Balls will destroy metal obstacles. There's also a variety of special boosters that you'll find lying around in levels or that can be purchased in the in-app store. The Magnet booster moves all the food in the level towards your ball, the Rocket booster lets you blast through all obstacles, the Triple booster shoots out 3 balls in just 1 shot, and the Supersize booster makes all the food in the level larger and thus easier to collect.
The global launch version of Taffy: Feed the Kitty features 7 different worlds with up to 20 levels in each, for a total of more than 100 levels. The final challenge in each world is a boss fight, and being that Bentley is the only one who knows your true identity it makes sense that he would be the Big Boss which you must defeat. Each world also contains a Bonus Level which will only be unlocked if you can earn enough stars, and this Bonus Level totally mixes things up by being in the style of a behind-the-back runner. Here you can collect tons of coins, and each time you complete a Bonus Level you'll unlock a unique Taffy picture which you can collect and view from the in-game gallery. Finally, Taffy: Feed the Kitty features 3 new Daily Quests each day which you can complete to earn special prizes.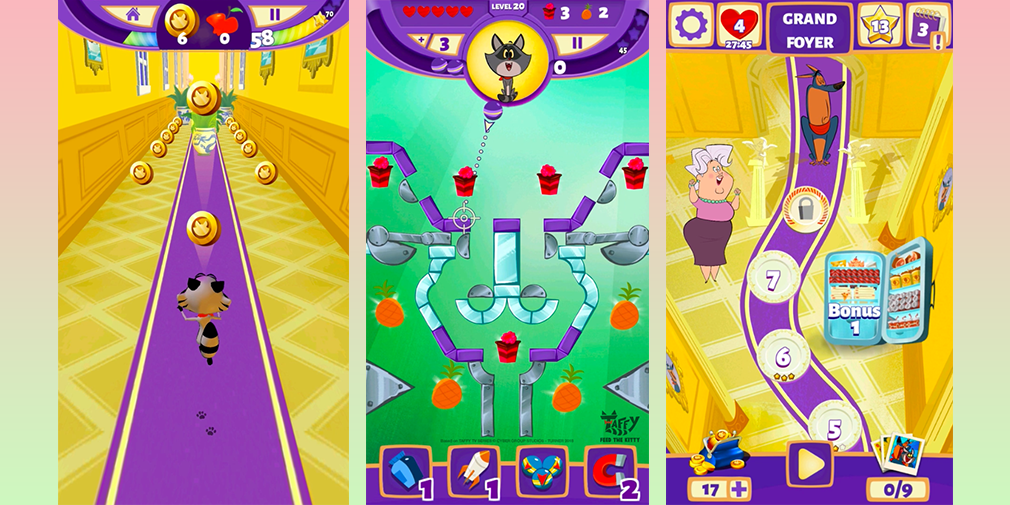 While it might appear to be a simple arcade-style game on the surface, the later levels in Taffy: Feed the Kitty will demand strategy from players in terms of how and when you use your various ball types and special boosters. BTC Studios also wants to surprise and delight their players so there's plenty more to discover in Taffy: Feed the Kitty for yourself (Can anyone say Lightning Ball?). Taffy the TV series is full of wit and humor and while geared towards kids it also contains plenty of clever tidbits aimed at parents. Similarly, BTC has designed Taffy: Feed the Kitty for the entire family to enjoy, so be sure to give it a download on iOS or Android today.
Sponsored Content
This article is sponsored content written by TouchArcade and published on behalf of BTC Studios to promote the global launch of Taffy: Feed the Kitty on iOS and Android. For questions or comments, please email [email protected]