Last September during the big event where Apple unveiled the iPhone 11, they brought developer Tipsworks onstage to demo their upcoming game Pascal's Wager to showcase what the new iPhone hardware was capable of. Pascal's Wager was a dark fantasy action RPG that indeed looked very impressive, but perhaps even more impressive was that it was set to be released as a premium title, which is against the grain of the majority of similar games on mobile which go the free to play route. It also seemed kind of odd to showcase Pascal's Wager mere minutes after releasing a bunch of details about Apple Arcade, Apple's subscription gaming service that offers access to more than 100 premium games for a monthly fee that's roughly equivalent to one premium game in today's market. I guess they wanted to show that even in the face of Apple Arcade there's still room to release standalone premium games? Whatever the case Pascal's Wager did eventually arrive in mid-January and also came through on its promises of offering a compelling Dark Souls-like experience on mobile.
Much like its inspiration, Pascal's Wager could be an especially difficult game. Most fans of Souls-like games revel in this difficulty and wear it as a badge of honor, but that difficulty can also alienate the less hardcore gaming audience. A big point of contention in certain parts of the gaming world centers on whether games like this should be made more accessible to a wider audience or if those who don't enjoy the difficulty should just suck it up and "git gud." Well Tipsworks has just laid out their 2020 roadmap for Pascal's Wager, and it looks like one of the first things they'll be doing is trying to cater to a more casual audience. On February 28th they'll be releasing a major content update that adds a Casual Mode to the game which will feature guideposts so players won't get lost so easily while exploring, and it will feature boosts to all the characters to make battles against enemies easier. They're hoping these changes will "allow all players of various levels of skill to enjoy the deep story and exciting world of Solas!"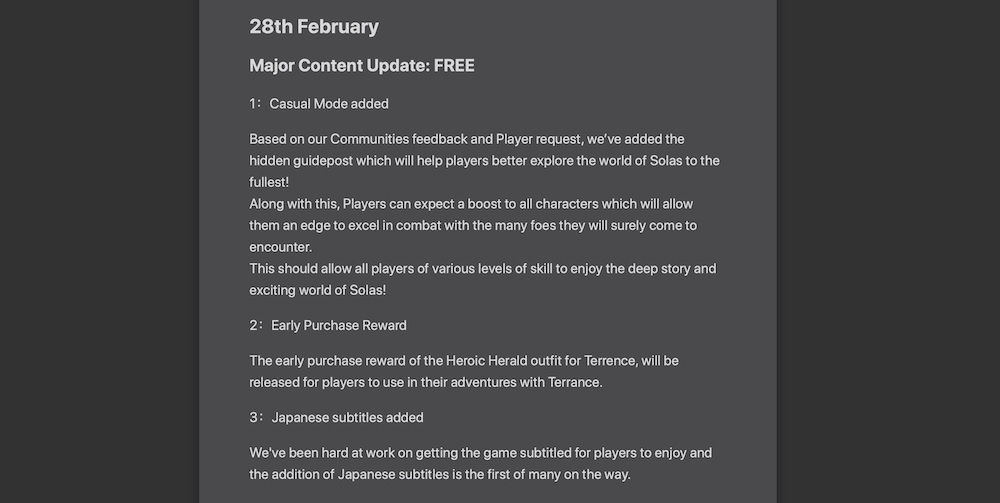 That update will also include the Heroic Herald outfit early purchase reward for Terrance and will add Japanese subtitle support. Following that update will be one coming at some point in March which will add a New Game+ mode, a very welcome addition indeed. Then in May Tipsworks is hoping to launch the Android version of Pascal's Wager, and alongside that release another content update for both iOS and Android that will include a new area called The Dark Mist where "you will be truly challenged by the Marred, be able to gather and collect new trophies and of course, find untold secrets!." Finally, a huge Expansion Pack is planned for June that will include an entirely new story, a new land, new characters, and new enemies. You can check out their update timeline for yourself over on the official website, and look for the first update to Pascal's Wager featuring the Casual Mode to launch in just a few days on February 28th.