Tetris is one of only a handful of games that have achieved a truly iconic status, and it's also one of the most notorious brands for going after clones and copycats. Early mobile gamers may remember the drama surrounding Tris, which appeared just a few months following the App Store's opening in 2008 and offered a port of a surprisingly playable version of Tetris for touchscreens that had been popular in the homebrew community for some time prior. With EA releasing the official Tetris game on the App Store's debut that June at the then-standard price of $9.99 (boy, remember those days?), it wasn't long before they went after Tris and forced Apple to give it the boot. EA's Tetris wasn't bad either, but if you asked players at the time, it was pretty universally agreed upon that Tris did it much better.
EA's Tetris shenanigans wouldn't end there though, as in 2011 they pulled that original paid version of Tetris that launched alongside the App Store in 2008 and replaced it with a totally revamped new version that featured tons of in-app purchases, including monthly and yearly subscription options. They were way ahead of the curve on that one! That new Tetris had some nice things going for it including some new control options and new modes, but it was a sucky move to anyone who had bought the original release on the App Store, especially at the original price of $9.99, to make them have to repurchase a new version to get their Tetris fix.
Somewhere along the line that revamped Tetris was renamed Tetris Premium, and yet another version of the game which is currently called Tetris 2011 was released. The two games are nearly identical, though Tetris 2011 is Universal whereas Tetris Premium has separate iPhone and iPad versions. Oh, also in 2013 EA released Tetris Blitz, which was essentially Tetris but with a 2-minute timed Blitz mode that had proven super popular with Bejeweled Blitz.
Well anyway all three of these Tetris games are shutting down on April 21st. Sorry about it!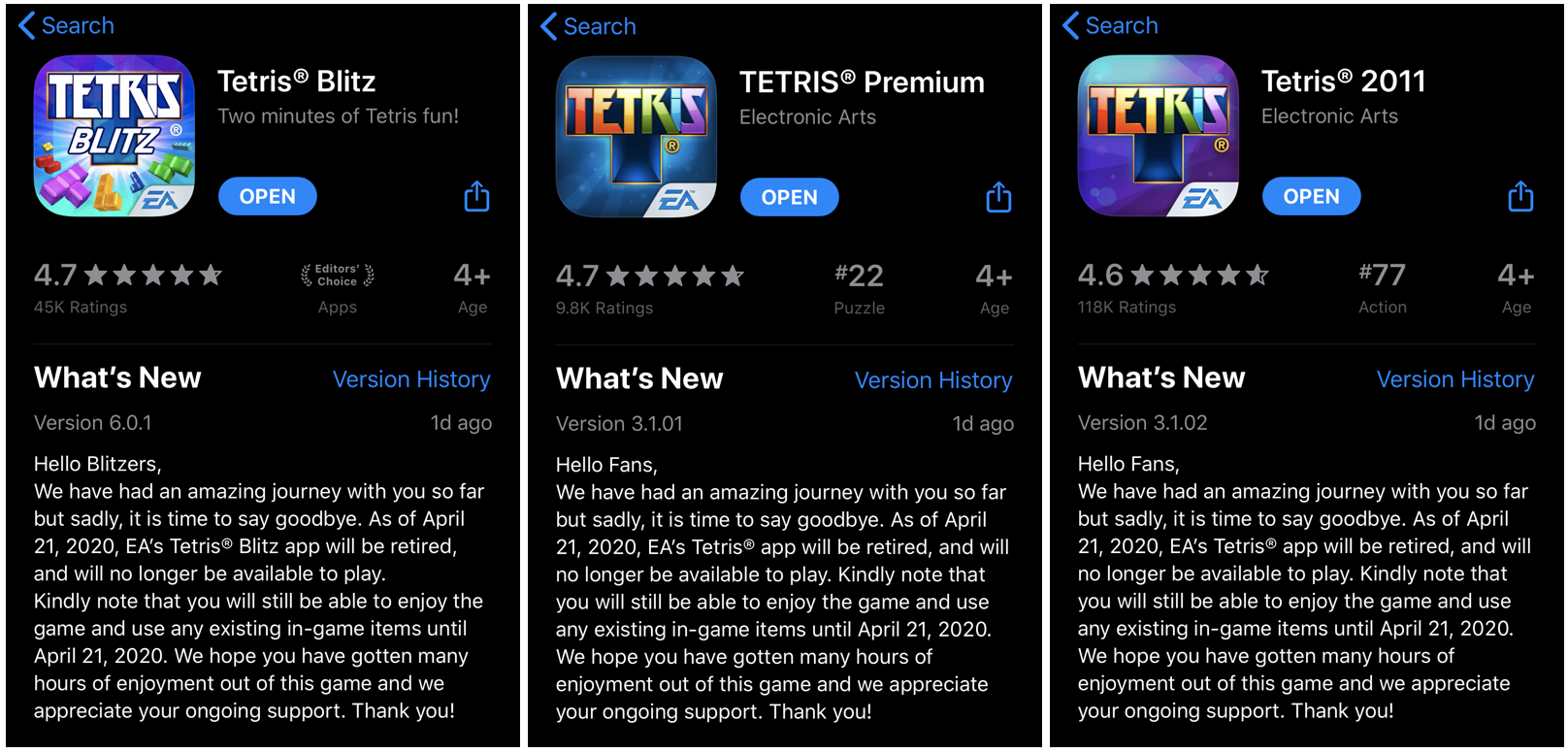 As mentioned before, The Tetris Company, which is the only official licensee of the Tetris brand, is notorious about going after games that infringe on the Tetris formula in any way. However, EA has been an official licensor of Tetris for mobile phones ever since that original version launched on the App Store back in 2008, and probably before then too with feature phone versions or that sort of wonky version for the classic scroll wheel iPods. I have to imagine that their licensing agreement with The Tetris Company must be coming to an end, or perhaps they're prepping yet another launch of a revamped mobile version similar to what they did in 2011. Or maybe it's the currently soft-launched 100-player Tetris Royale that will be the reigning king of mobile Tetris, and EA just needs to clear their offerings off the App Store so as not to create any confusion.
I don't really know what the details are surrounding it, but what I do know is that come April 21st, 2020 you'll no longer be able to play any of EA's mobile Tetris games. Whether you were a fan of them or not, it's yet another sad tale of how the rug can be pulled right out from under you in the world of digital gaming, even for one of the best-selling and most recognized gaming brands in the history of video games. RIP.