Hello gentle readers, and welcome to the SwitchArcade Round-Up for October 28th, 2019. In today's article, we've got Mini-Views of several recent releases, summaries of the new games that hit over the weekend and today, the latest sales information, and a few news tidbits. This is a rather busy week for new games, so let's get off on the right foot and see what we've got lined up for today!
News
'Call of Juarez: Gunslinger' Rides to Switch on December 10th
The cult favorite Call of Juarez series will be making its debut on the Switch in time for Christmas. Long rumored and now formally announced, Call of Juarez: Gunslinger will arrive on Switch on December 10th, bringing its Wild West first-person shooter action with some motion controls and HD rumble support implemented. Although a retail version will be available, the box will only contain a digital code, so you'll have to make some space on your memory card either way. The game is looking to be priced at $19.99, which is a pretty fair price for a solid title from last generation, I'd say.
'SEGA AGES Shinobi' Hits Japan October 31st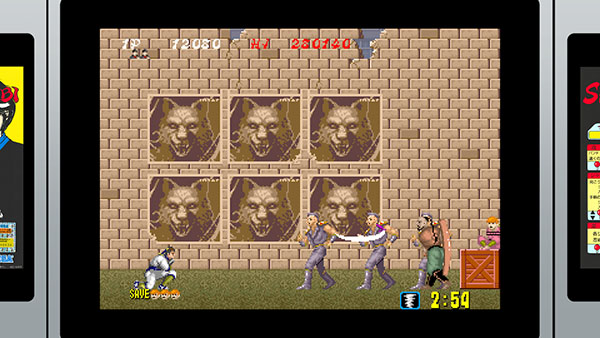 With the release of Columns II and Ichidant-R in Western markets a couple of weeks ago, players all around the world finally had access to the same selection of Switch SEGA AGES games. Savor that feeling, friends, because it wasn't bound to last long. And indeed, as of October 31st, Japan will have access to the next SEGA AGES title: Shinobi. It's the hit arcade game just as you remember it, with some cool extras like adding a dedicated melee attack button and a special AGES mode where you play as a white-clad Joe Musashi who can take an extra hit and is always powered-up. SEGA seems to like releasing these in pairs outside of Japan, so you'll probably have to wait for November's title before any Western release gets added to the schedule, but as usual the Japanese version should have full English support for those who can't wait.
Mini-Views
Cat Quest 2 ($14.99)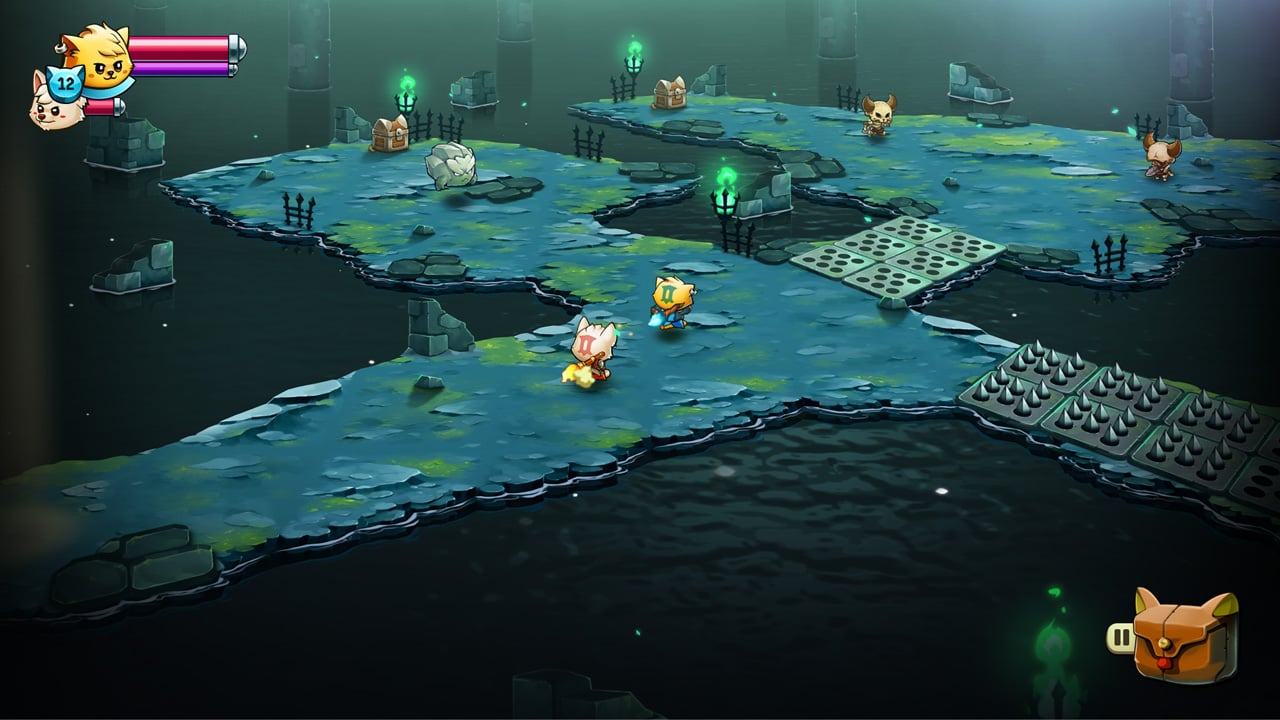 RPGs have a bit of a reputation in some circles for being hard to approach, and in a lot of cases that's not an unfair assessment. I think that's one of the reasons why the original Cat Quest resonated so well with people. It gives you a lot of the fun of the RPG experience with some very easy-to-pick-up mechanics. Attack, roll, and use magic. Everything is signposted well, making for a very smooth experience. Cat Quest 2 doesn't change much in that sense, but the addition of a co-op mode makes it even better for newcomers. You get a whole new quest here, packed full of things to do and monsters to battle. The second character's AI can be a little annoying when playing by yourself, but such is the nature of multi-character action-RPGs. It's safe to say that if you liked the first game, you'll have a great time here. It's also available on Apple Arcade, so you can try it out before picking it up on Switch if you have a subscription.
SwitchArcade Score: 4/5
Anthill ($9.99)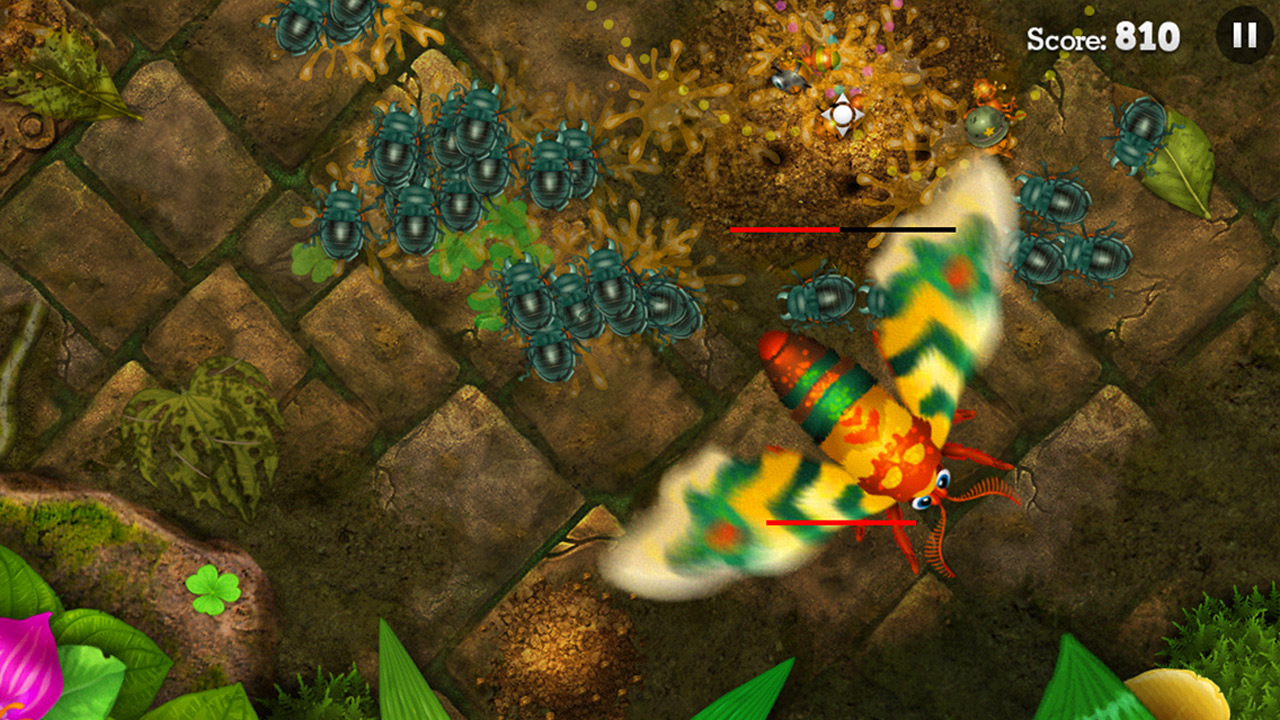 Anthill is a really great touch-based RTS/base defense game you can play on your mobile device, and now it's a really great touch-based RTS/base defense game you can play on your Switch. It's only playable undocked, which suits me just fine. You control groups of ants and have to defend your hill and queen against invaders of all sorts. The touch controls are quite natural, as you would expect, and the game is just as much of a treat as it was on mobile. The difficulty curve is a bit rocky, but that was typical of Image & Form's work from the earlier days. I still think this game plays best on an iPad, if only because the extra screen real estate makes it easier to keep things sorted when it gets hectic. And my oh my, can it get hectic. Very cool game that you should definitely look into if you missed it before.
SwitchArcade Score: 4/5
Dark Devotion ($19.99)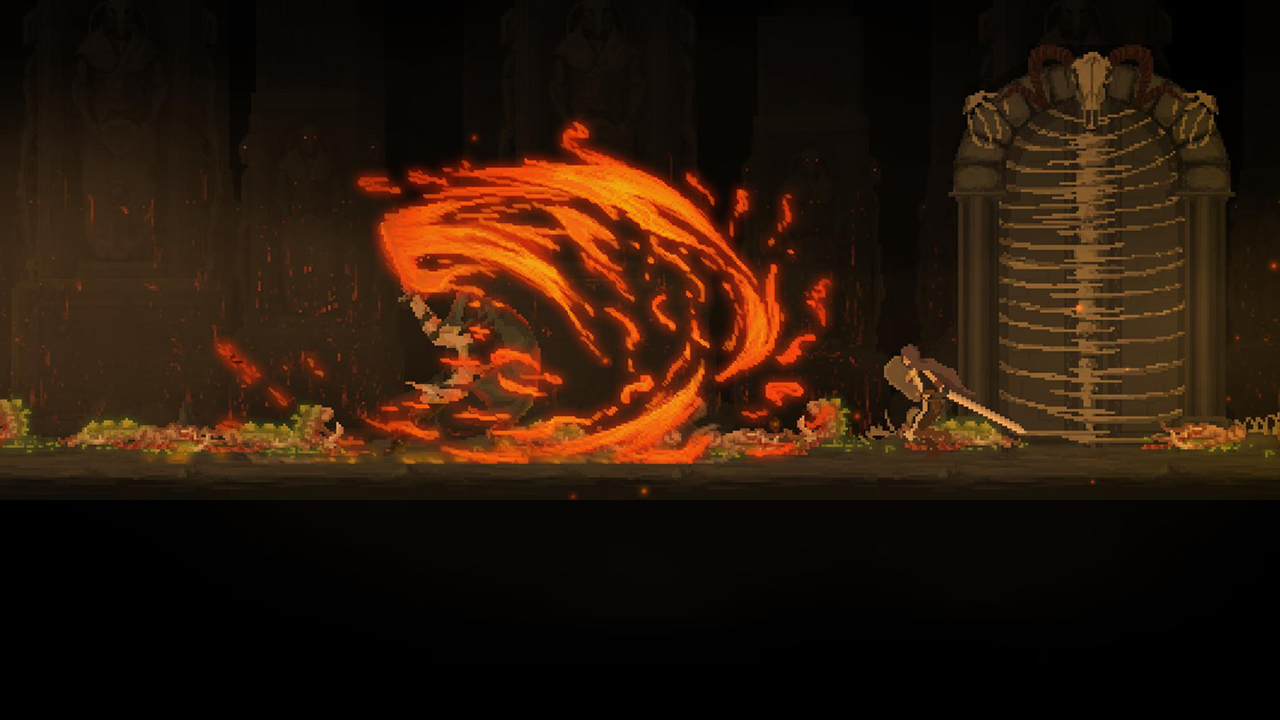 A 2D action game with some really gorgeous pixel art, Dark Devotion takes more than a few points of inspiration from Dark Souls. The focus here is on methodical combat against pattern-based enemies, which means you're going to die a lot until you sort out each new opponent you come across. Death is a somewhat minor setback in some senses, as you'll be able to travel back immediately to the farthest checkpoint you reached. But you'll lose most of the cool equipment and items you found up until that point, so you'll want to avoid meeting an untimely demise too often. One interesting aspect involves using accumulated Faith to make prayers at altars in exchange for various favors. It's also a bit friendly in that if you die too many times at the same checkpoint, the game will give you a little help. By now, games like this one aren't exactly anything new, but Dark Devotion is a fairly well-made example. It certainly kept me coming back.
SwitchArcade Score: 3.5/5
Stranded Sails – Explorers of the Cursed Islands ($24.99)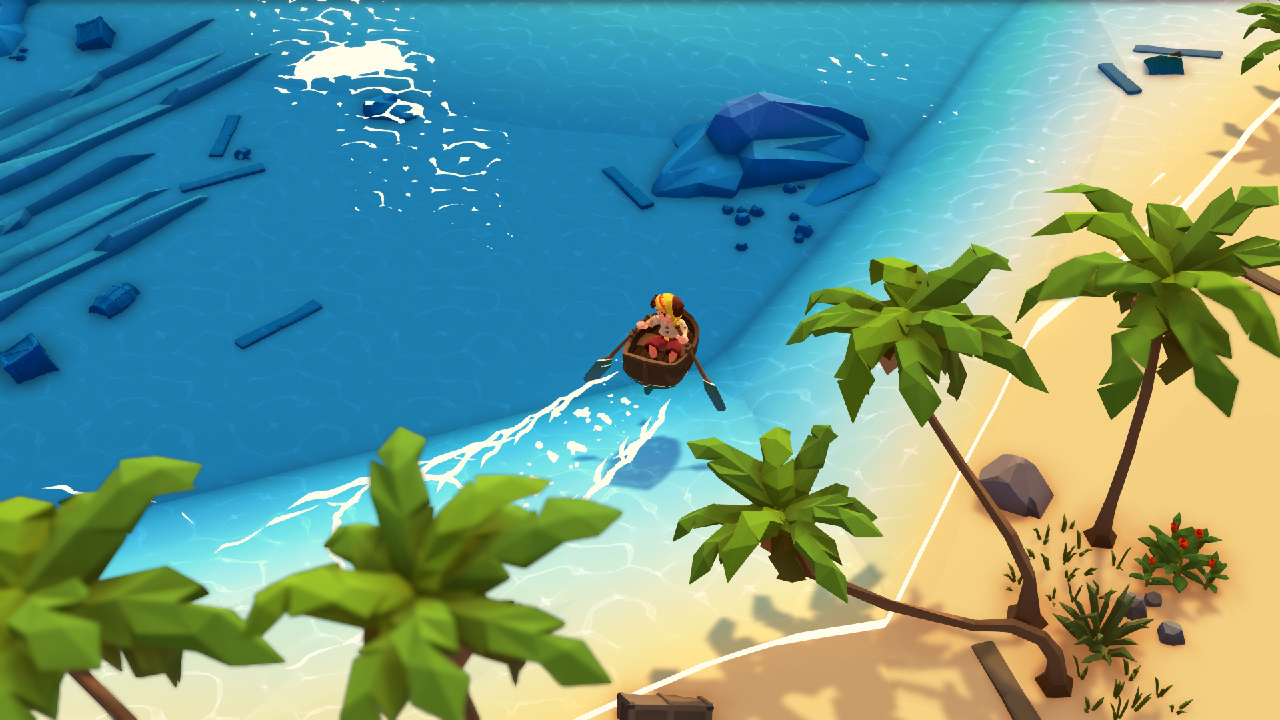 This game gets so much right in its early stages that I really did want to like it more than I did in the end. You get shipwrecked on an archipelago and need to survive while also solving the mysteries of the islands. The key concern you have to take care of is your stamina, and almost everything you do uses it up. You can restore it by sleeping or eating, but it's really just a whole lot of busywork to manage. I know busywork is part of this sort of genre, but there's just something about how Stranded Sails does it that makes it feel less enjoyable than, say, Story of Seasons. That's kind of the story for the game as a whole. Not a bad game, but not a particularly good one either. This game is also available on Apple Arcade if you have a subscription and want to try it out before committing to the Switch version.
SwitchArcade Score: 3/5
Pixel Gladiator ($6.99)
After initially bouncing off of this, I gave it a bit more time and I think I can see what it's laying down now. It's a tower defense game played from a side view, but you only have a tower on each side of your base that you can upgrade. You can play a direct role in fending off enemies since your character is represented on screen and is fairly well-armed. Taking out enemies gives you cash you can use to improve your base defenses or buy upgrades for your character. Pretty fun once I got into the groove, but the boss fights really ratchet up the difficulty, so be prepared for that. It feels a bit rough all around, but if you can forgive a few flaws and don't mind the bosses requiring a lot of effort to bring down, this might be a good pick-up.
SwitchArcade Score: 3/5
Megaquarium ($24.59)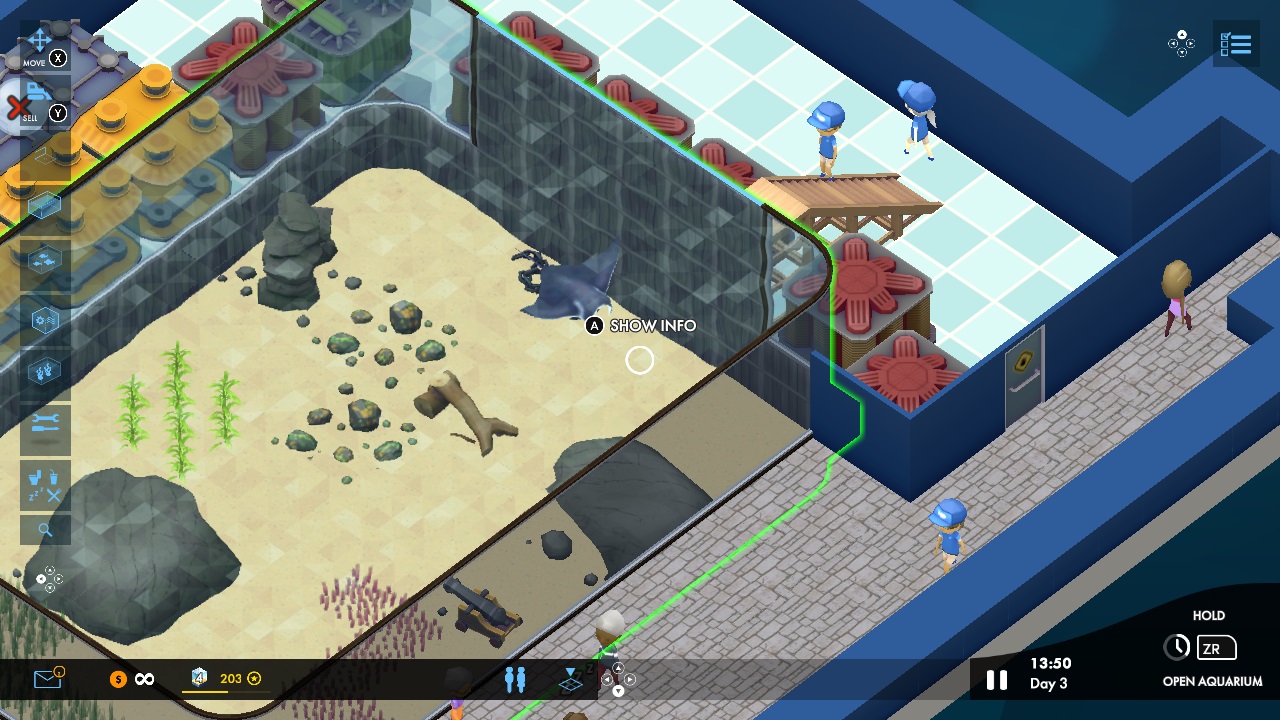 If you like sim games with a more relaxed nature, you're going to really get into Megaquarium. It reminds me a lot of a Kairosoft sim, but with 3D graphics instead of adorable pixel art. You build and manage aquariums, taking care of things like staffing, the aquarium layout, what kinds of aquatic life you want to research and display, and even the decorations in the individual tanks. The controls work as well as they're going to on a controller and the game runs nicely. It's not a terribly tough game, but as long as that's not important to you, I think you'll find this to be a really good, albeit extremely orthodox, simulation. Note that the text can be a little hard to read if you're playing in handheld mode, which seems to happen a lot with PC ports.
SwitchArcade Score: 3.5/5
Let's Sing Country ($44.99)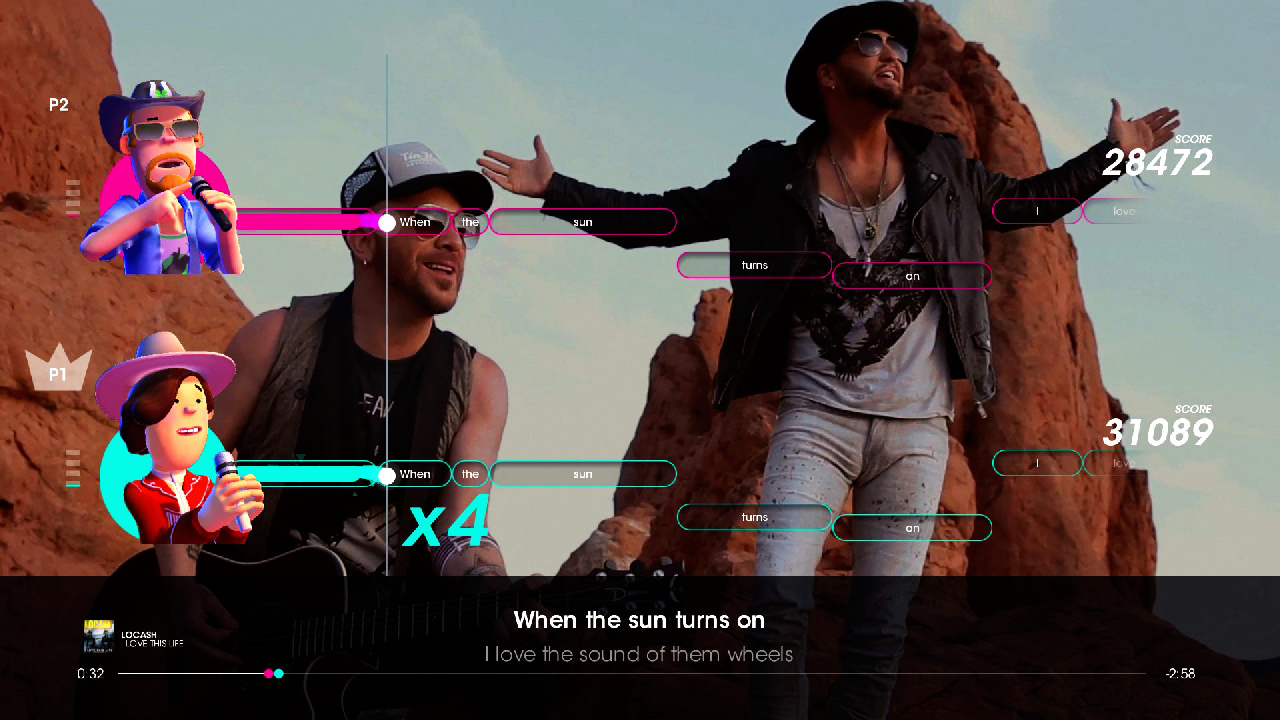 Well, right up-front I should state my biases. I love karaoke. I do not love country music, but I heard a lot of it when I was younger. I've been living in Japan a while, though, and country music may as well not exist here. With all that put together, the problem becomes apparent quickly. I don't know most of the songs in this admittedly robust line-up, which makes it very hard to sing them. There are lots of popular songs here, if my internet searches tell me anything, but I had to fall back on singing Like A Rhinestone Cowboy and The Gambler a little too often. That is a personal problem, not anything wrong with the game. The song selection is big and the whole thing works well, even allowing you to use your mobile phone as a mic if needed. You get a few different modes, and there are real videos playing in the background as you sing. There's also support for multiplayer. If you're a fan of singing and country music, you'll like this. That's just niche enough of a qualifier that I can't really recommend this with too much vigor.
SwitchArcade Score: 3.5/5
New Releases
Door Kickers Action Squad ($14.99)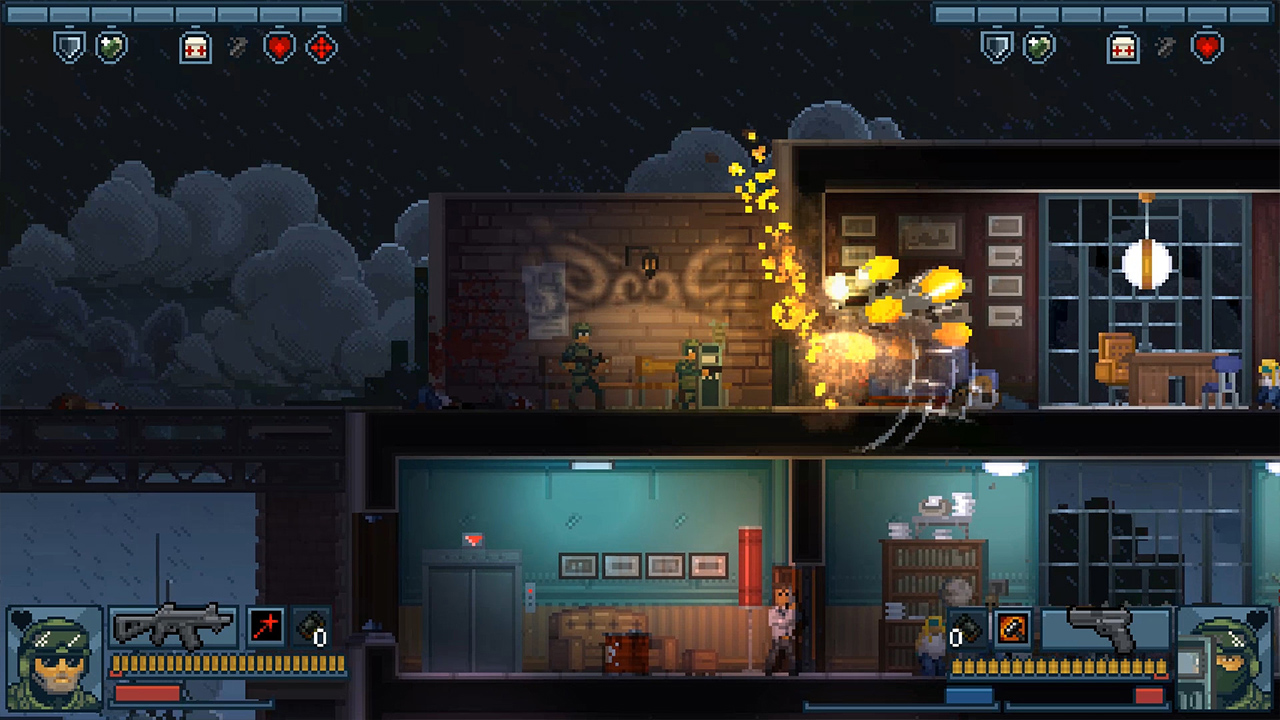 SwitchArcade Highlight!
Well, this is just plain neat. Take the whole Door Kickers concept and translate into a retro-style 2D game, and you've got Door Kickers Action Squad. Choose your favorite character and play through 84 stages of hostage rescuing and bad guy killing. Take on more than 20 different types of enemies and make use of 60 different weapons and items. When you finish it all, an endless tower mode is waiting for you, along with a weird zombie invasion mode. You can play this with a friend either locally or online if you really want to kick up the squad feel of it all. Lots of action but just a sweet little pinch of strategy make this a unique, compelling experience. I'll have a full review soon, but for those who want some spoilers: it's quite good.
Xeno Crisis ($19.99)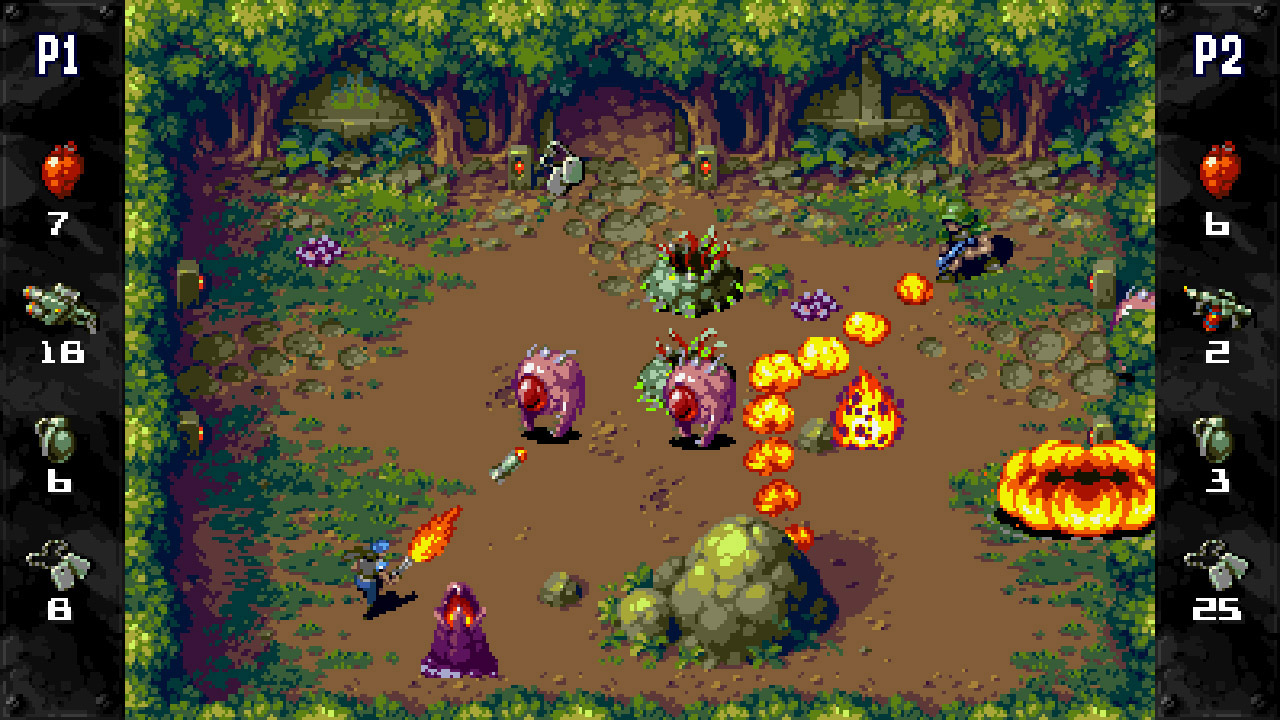 SwitchArcade Highlight!
Last week we saw a pair of latter-day unlicensed NES games hit the Switch, and now this week we've got a Genesis game following a similar path. Xeno Crisis plays like Smash TV but takes on the aesthetics of 1980s sci-fi. The pixel art is gorgeous, and the music is excellent. I'll have to put some time into this to see if it holds up to Smash TV's excellent gameplay, but at the very least it seems quite promising. Lots of weapons, two-player local co-op, and some extra features over the original version certainly have my attention. If Door Kickers Action Squad has too much thinking for you, this may be your remedy.
Jewel Rotation ($5.99)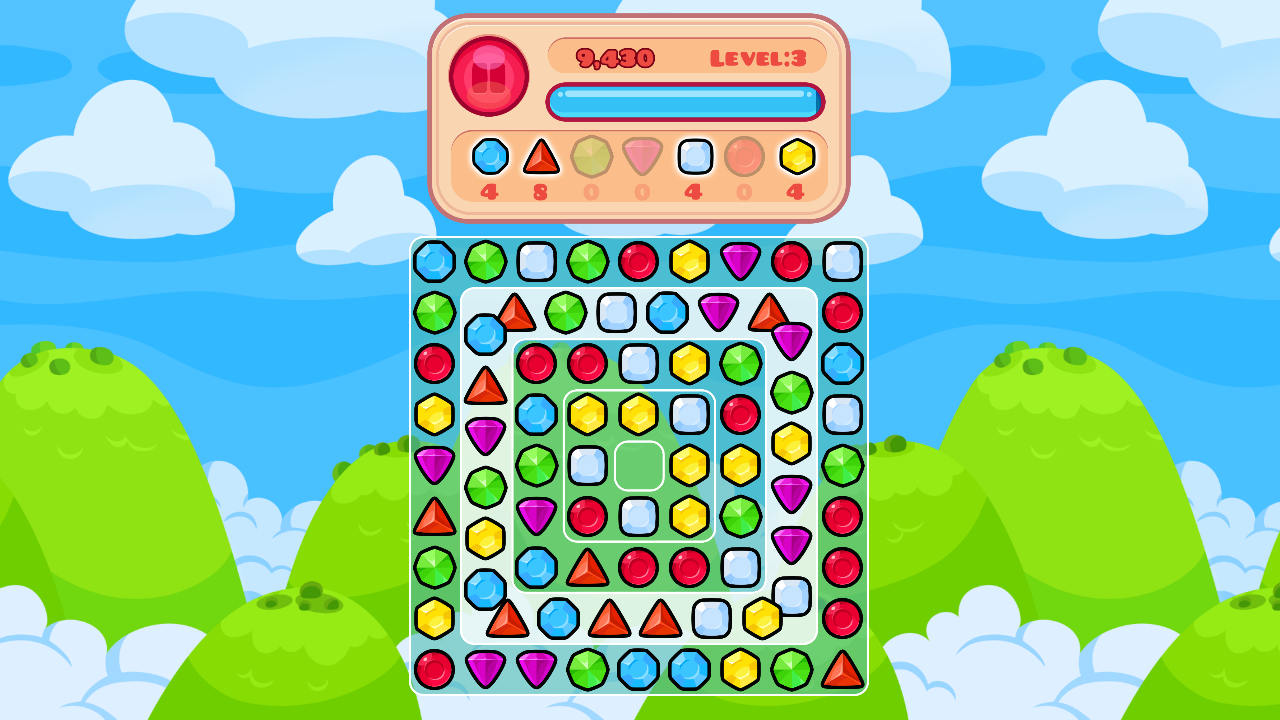 You know, I understand why companies do Bejeweled knock-offs and variants, especially on platforms where EA can't deign to give a rat's behind to give even the most meager amount of support. What I don't get is why they all look so bland. Jewels are super-pretty! Make them look shiny and gorgeous! Anyway, this isn't a direct Bejeweled copy, as it involves rotating rings of jewels to try and match four or more. But I'd imagine if you're looking to scratch that jewel-matching itch and don't want to deal with Columns and its nonsense, I guess this could be okay.
Arcade Archives Golf ($7.99)
In spite of all of them being NES ports of one sort or another, some of Nintendo's Vs games are interesting due to making some changes to what are generally very familiar games. A few of them are almost exactly the same, however, and I'm sad to say Golf is one of them. There are a few new musical jingles and a couple of changes to the color palette, but this is basically the NES Golf. Not a bad game and certainly a historic one, but not exactly something I see a lot of people forking over eight bucks for.
Sales
Nothing too impressive as far as new sales go, but I'm sure some people will find some games in the list worth checking out. At the very least, I believe this is the first post-launch sale for Stranger Things 3: The Game. I'm not too keen on that game, but if you love the show and wanted to check it out, half-price is a good way to do that. As for the outbox, some sales on new releases are running out the clock, so if you want Mary Skelter 2, Disgaea 4 Complete+, or Vampyr at a discount, now is the time to act.
New Games on Sale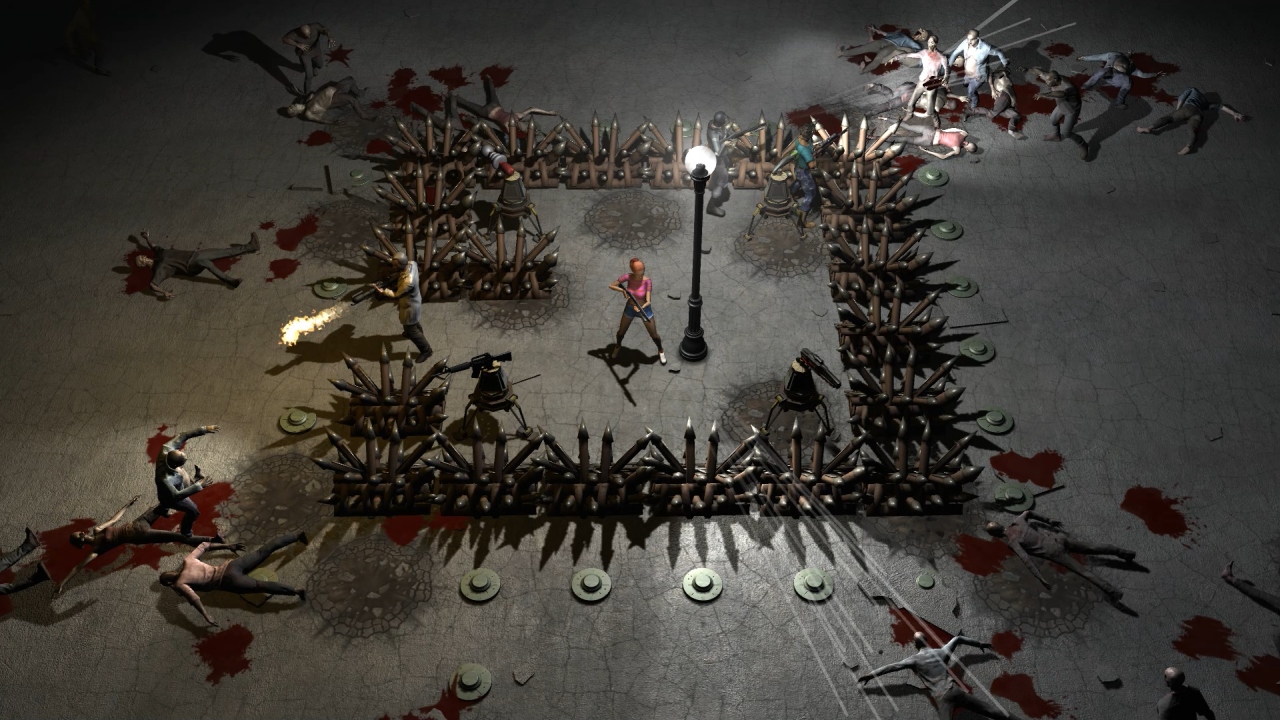 Yet Another Zombie Defense HD ($0.99 from $4.99 until 11/16)
Son of a Witch ($6.99 from $14.99 until 11/11)
Submerged ($2.99 from $9.99 until 11/4)
Stranger Things 3: The Game ($9.99 from $19.99 until 11/1)
Let's Go Nuts ($0.99 from $9.99 until 11/4)
Seeders Puzzle Reboot ($0.19 from $9.99 until 11/11)
Ultra Off-Road 2019: Alaska ($16.14 from $18.99 until 11/8)
Deep Space Rush ($3.99 from $4.99 until 11/11)
Horror Pinball Bundle ($4.94 from $8.99 until 11/14)
Shadow Bug ($3.59 from $8.99 until 11/10)
Space Ribbon ($0.59 from $4.99 until 11/16)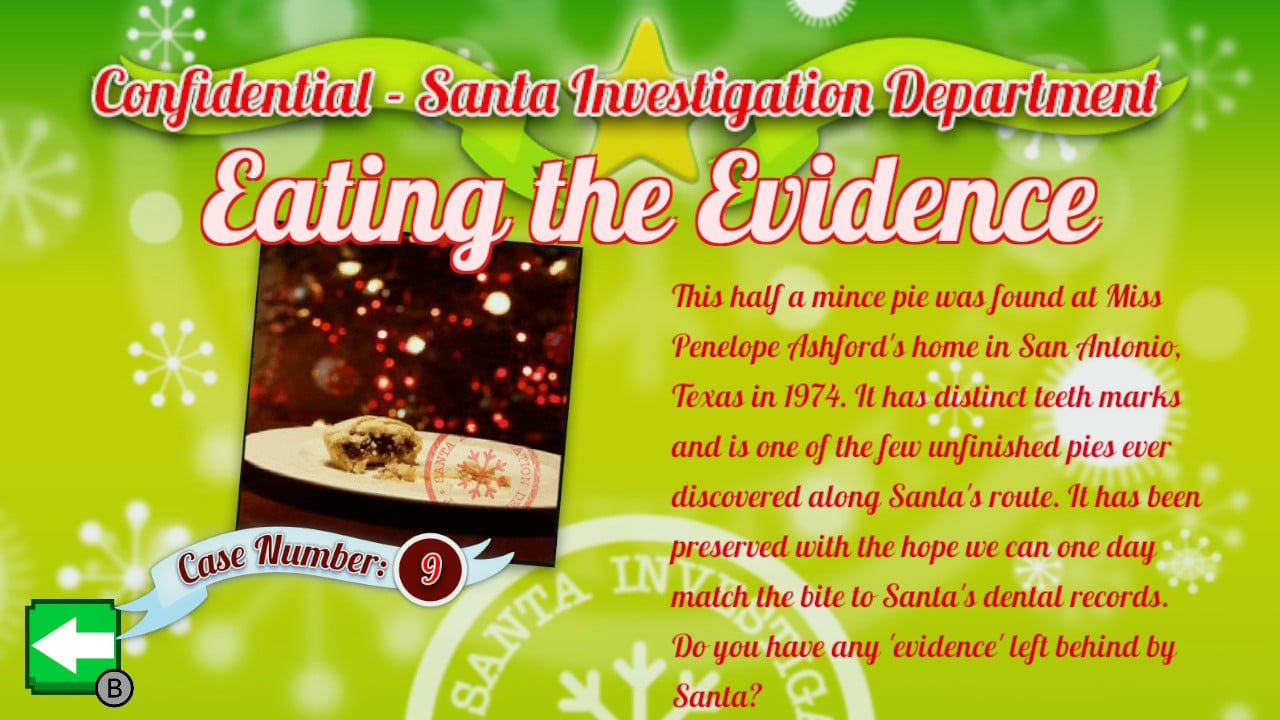 Santa Tracker ($0.79 from $2.99 until 11/16)
Reaper ($2.99 from $5.99 until 11/2)
Sydney Hunter ($9.99 from $19.99 until 11/11)
Ritual: Sorcerer Angel ($4.99 from $9.99 until 11/2)
Eight-Minute Empire ($11.99 from $14.99 until 11/2)
Metaloid: Origin ($6.99 from $9.99 until 11/5)
Muse Dash ($23.99 from $29.99 until 11/4)
SlabWell ($3.99 from $7.99 until 11/12)
Istanbul: Digital ($11.99 from $19.99 until 11/2)
Mimpi Dreams ($3.99 from $9.99 until 11/10)
One Strike ($0.49 from $4.99 until 11/18)
Robonauts ($0.39 from $3.99 until 11/18)
Sales Ending Tomorrow, Tuesday, October 29th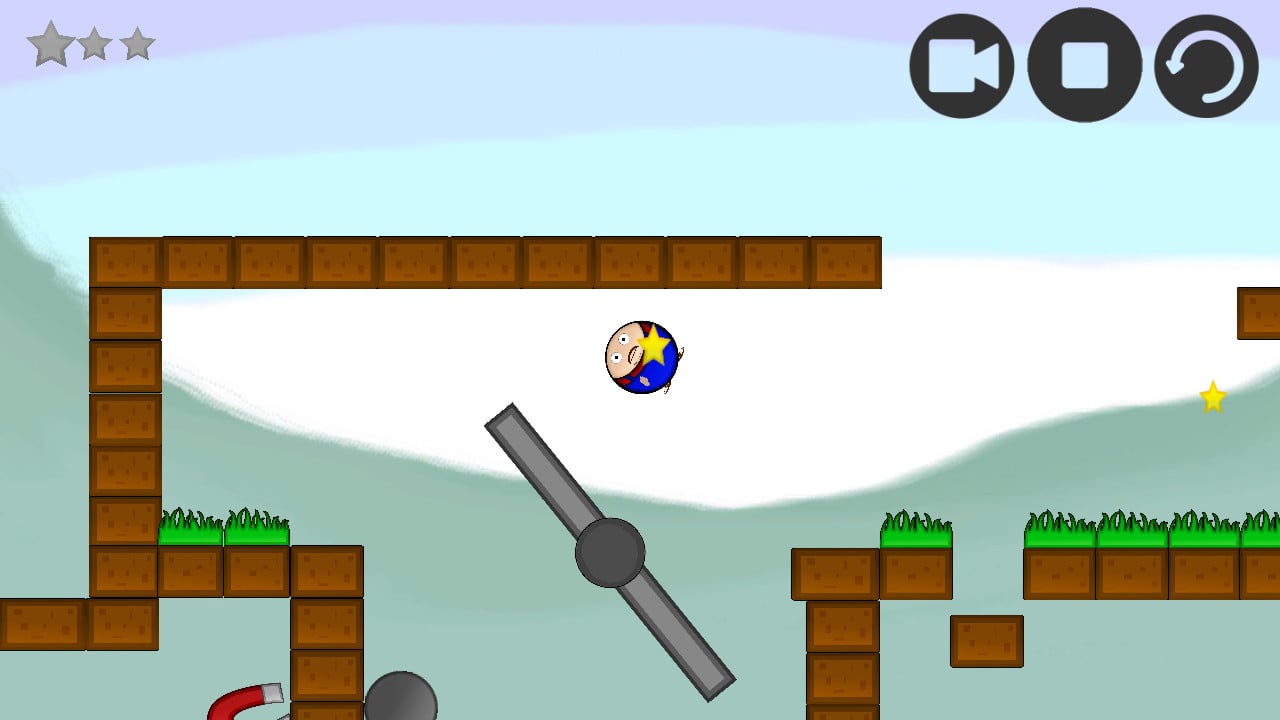 Billy Bomber ($4.25 from $5.00 until 10/29)
Classic Games Collection Vol. 1 ($3.74 from $4.99 until 10/29)
Disgaea 4 Complete+ ($39.99 from $49.99 until 10/29)
Hunter's Legacy: Purrfect ($3.49 from $6.99 until 10/29)
Mana Spark ($1.99 from $9.99 until 10/29)
Mary Skelter 2 ($31.99 from $39.99 until 10/29)
Mulaka ($9.99 from $19.99 until 10/29)
R.B.I. Baseball 19 ($9.99 from $19.99 until 10/29)
The Bridge ($2.79 from $9.99 until 10/29)
Tumblestone ($4.19 from $14.99 until 10/29)
Vampyr ($44.99 from $49.99 until 10/29)
That's it for today, friends. There are a bunch of interesting new releases tomorrow, and we'll have summaries of all of those. We'll also have whatever news and new sales come along, and as usual if things are a bit light and I have the time, perhaps a review or some Mini-Views. I hope you all have a great Monday, and as always, thanks for reading!