One of the highlights for me at the Apple Arcade showcase earlier this year was definitely Shantae 5. I've been slowly making progress into the games through the Nintendo Switch, Nintendo 3DS, and PS4 releases and have grown to enjoy the games a lot. The newest release is available on basically every system and it is absolutely worth playing if you haven't dipped your toes into the franchise yet. Shantae 5 was only a working title for the upcoming Apple Arcade release. Today, WayForward confirms the final name for the game and has more information for it. Watch the opening video for it below:
It is great to see Trigger Inc. (Kill la Kill) do the opening video for the upcoming Shantae game. Shantae and the Seven Sirens sees Shantae head to a tropical island. As you'd expect, trouble is brewing in paradise and Shantae gets caught up in the secrets of the island. You will use Shantae's dancing and transformation abilities to progress through the world. There will be multiple towns to visit and many boss fights according to WayForward. One of the best aspects of WayForward's releases is the super smooth and slick animations and character interactions. WayForward confirmed that Rottytops, Sky, Bolo, Risky Boots, and more will be returning for this adventure. Check out a brand new screenshot from Shantae and the Seven Sirens below.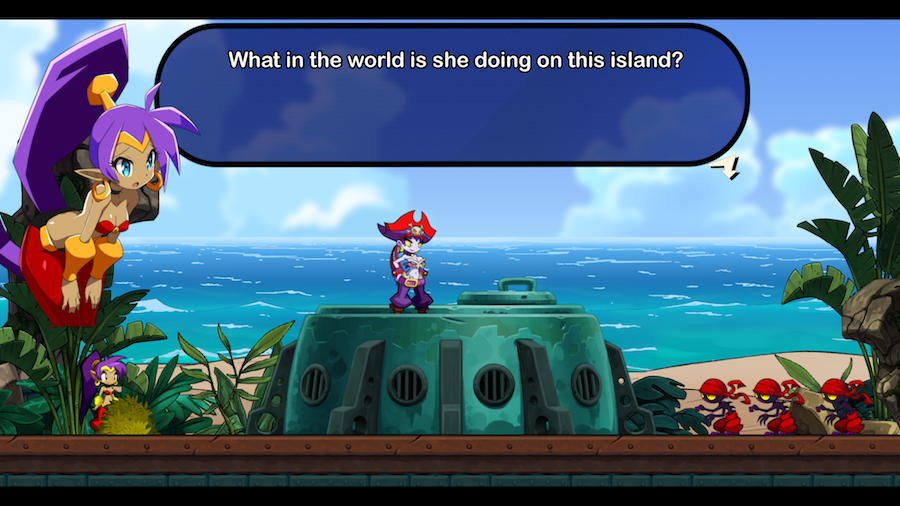 As expected, release information is yet to be announced. I feel like no Apple Arcade developer will be saying anything about other platforms pricing or anything until Apple has an event announcing details for the launch lineup. In addition to Apple Arcade, Shantae and the Seven Sirens is also coming to PS4, Xbox One, Nintendo Switch, and PC. What is your favourite Shantae game?