Ever since I saw Superbrothers: Sword and Sworcery EP pop up on the App Store a very long time ago, I've grown to love pixel art games. Nothing really managed impressing me as much as Sworcery until I saw a trailer for Hyper Light Drifter ($4.99) which at the time was a Kickstarter project. It almost looked too good to be true and I thought the video might just be a proof of concept that won't actually play that way when the game releases. Fast forward to the PS4 release and I was very impressed by Heart Machine's Hyper Light Drifter in almost every way. The visuals and music so far were superb but I was a bit let down by some of the mechanics and difficulty scaling. I ended up dropping the game and only really giving it a fair shot when the Nintendo Switch release happened. This is when I fell in love with the game and with Disasterpeace's score.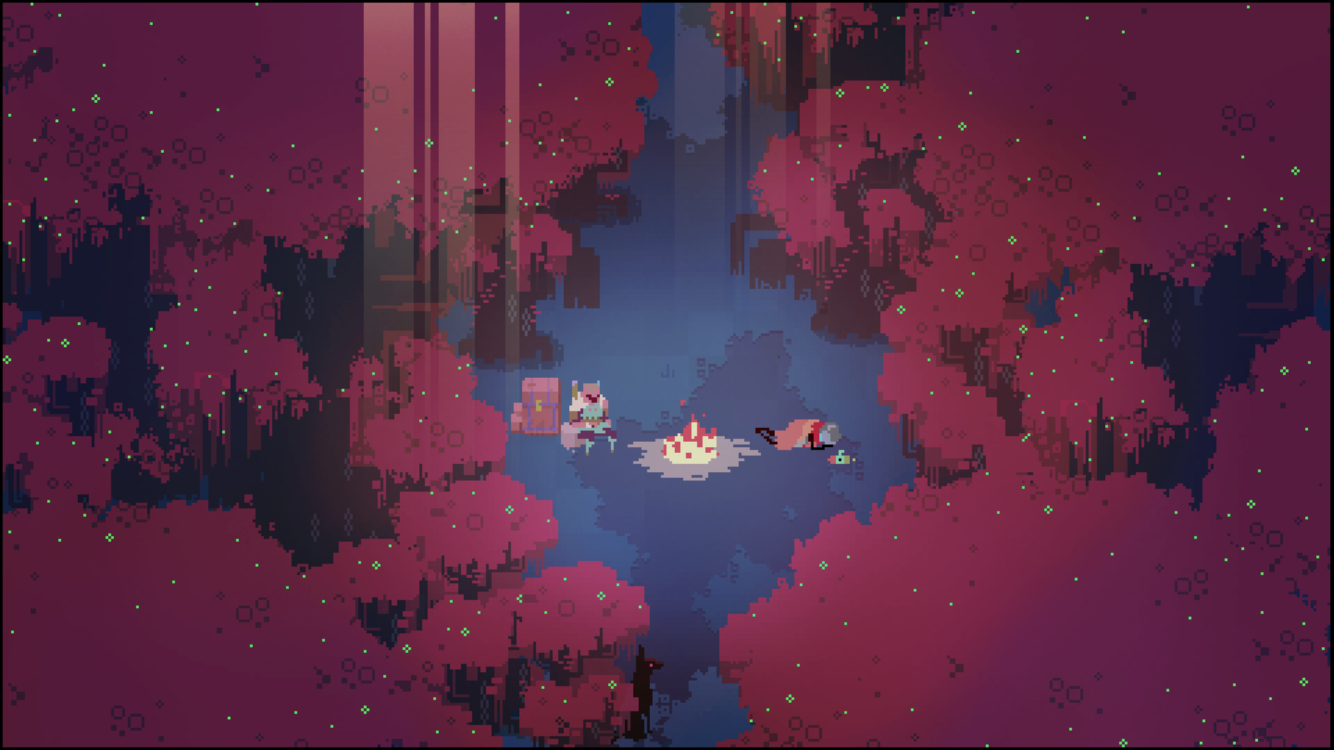 When Heart Machine and Abylight Studios announced an iOS port, I was pretty surprised. With the Nintendo Switch getting a lot of mobile ports and the mobile platform starting to see some indie games that were previously on Switch, I still never expected to see Hyper Light Drifter show up on iOS but here we are. Hyper Light Drifter on iOS is not just a port of the initial PC or console version but a port based on the Nintendo Switch release that had exclusive content. With the content included in this port and the pricing, iOS-only gamers who want quality premium content will definitely find that here.
If you've never played or heard of this game before, Hyper Light Drifter feels a lot like a traditional Zelda game but styled after Sword and Sworcery with RPG elements. All of this is elevated quite a bit by the atmospheric score and superb gameplay. You play as a Drifter who is sick and trying to figure things out in a world that not only looks gorgeous but one that is full of things that want you seemingly dead. You begin with an energy sword at your disposal and soon get access to a gun that charges up with you killing enemies. Your dodge or dash ability is super important as some enemies hit very hard. You're probably used to many indie games either being able to deliver on visuals or on gameplay but few manage nailing both aspects as well as Hyper Light Drifter. The boss fights in particular are just plain awesome not only in scale but also design and animation.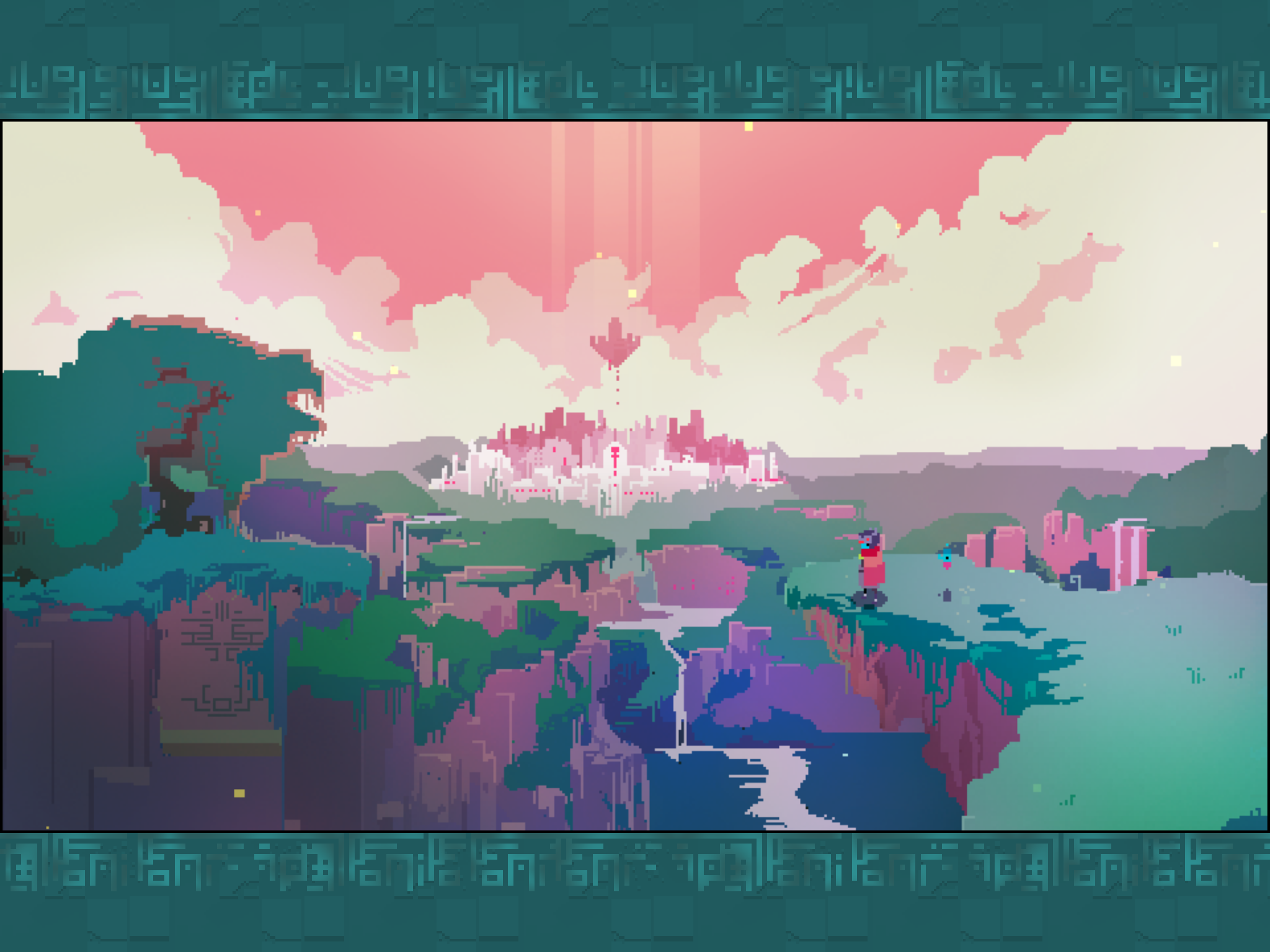 In terms of narrative, Hyper Light Drifter relies on you piecing things together more often than not with a few in game cutscenes where control is taken away from you. There are certain call backs to older games that fans who played the SNES era JRPGs will love. While the story and pay off here serve their purpose more or less, don't expect to be blown away. You are absolutely here for the visuals, music, and the gameplay.
Abylight Studios has done a great job on this port in terms of controls but one aspect that I absolutely love is the haptic vibration. I don't think I've played a game that has implemented haptic vibration this well on iOS. It definitely makes for a better experience. In terms of controls, you have a floating pad on the left and various buttons for actions and interactions on the right. On iPhone 7, I had no real trouble with the controls after playing around in the opening village area to get used to them. I did have trouble on my iPad Air 2 and iPad Pro though. I'd definitely recommend using an MFi controller if you have one to play this on iPad. That way, the gorgeous visuals aren't blocked by your fingers.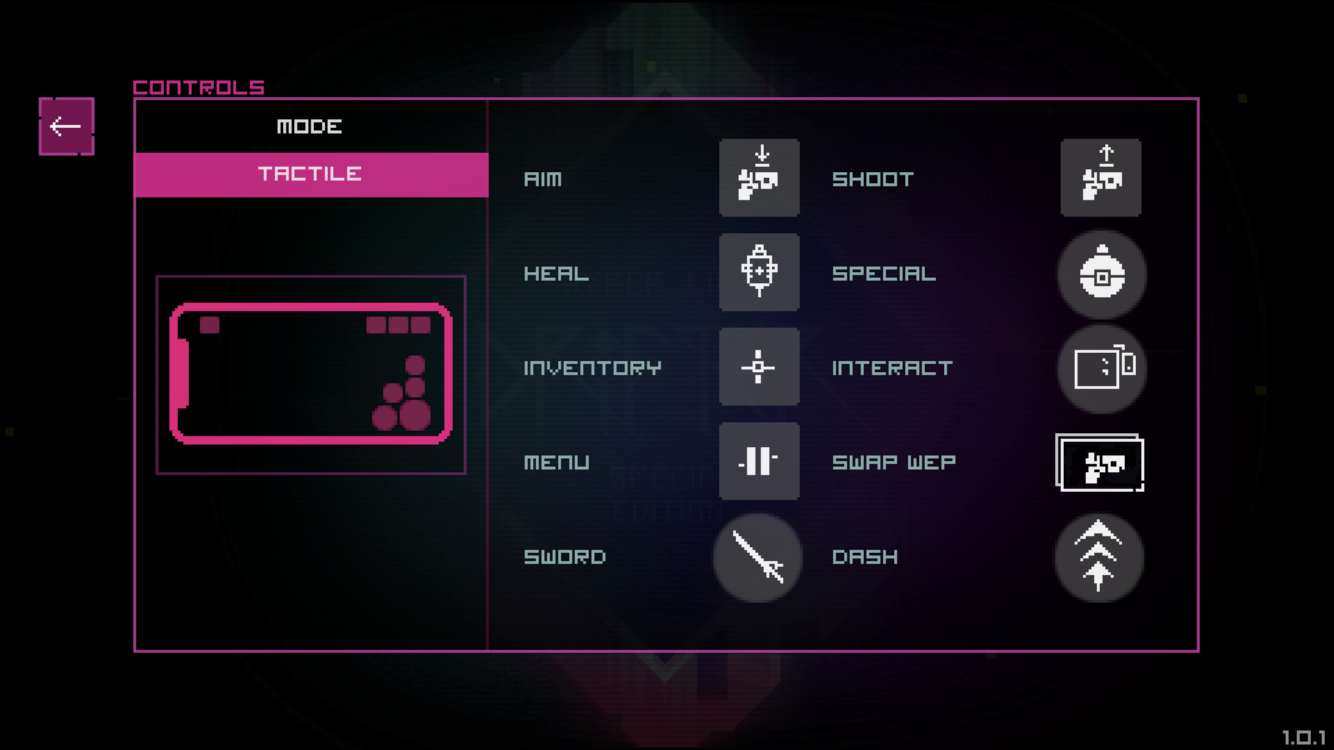 One interesting implementation to deal with the 4:3 aspect ratio on iPad is to have some subtle pattern or artwork on the top and bottom borders to accommodate the 16:9 aspect ratio gameplay. Hyper Light Drifter had the subtle but nice looking pattern change its colour depending on the visual theme for the gameplay. This is a very nice touch. There are similar borders on the sides when playing on an iPhone X device. In terms of performance, I had no real trouble with the game on iPhone 7 or iPad Pro 9.7" but my iPad Air 2 struggled in some areas and basically ran the game at a consistently lower frame rate compared to both the other devices and also the Switch version that I've been replaying.
In terms of how the port turned out, Abylight Studios gets almost everything right. The touch controls were fine on the phone for me and it has MFi controller support as well that works well. The one downside is the lack of cloud save support right now. Hyper Light Drifter is an experience that will take you about 8 or so hours for a single playthrough and it isn't really a game you can beat in a single sitting. iCloud save support would've definitely helped. This reminds me of the original Dragon Quest Builders where I own it on both PS4 and PS Vita but just stuck to it on PS4 since I couldn't transfer progress back. Hopefully this gets added soon or when the team patches the game to bring in PS4 and Xbox One controller suppoort once iOS 13 hits.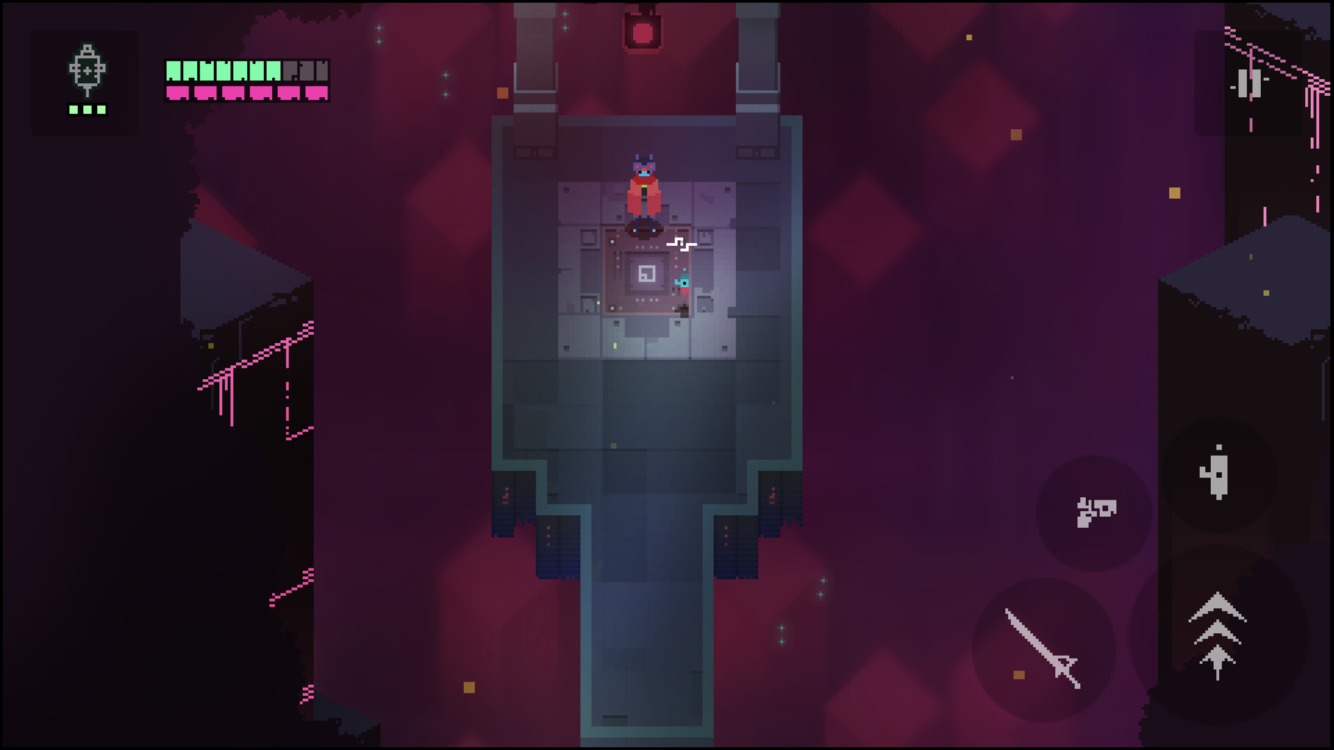 Hyper Light Drifter is still an essential for any fan of pixel art games or action RPGs. I have a few problems with the difficulty spikes when there are too many enemies near you, but still adore this game. If you missed out on it on other platforms for whatever reason, the iOS port is an absolute steal even without the pre-order discount. I'd recommend playing this with a controller but Abylight Studios has done an excellent job with touch controls if you are going to play it on your iPhone. Over three years since the game debuted on PC and there really still is nothing like Hyper Light Drifter on any platform.