I never expected Golden Week to carry much weight in Arena of Valor, but Tencent is using the national Japanese holiday as a reason to kick off Valor Fest once more. They also seemed to have upped their social media game this week with the important highlights having lots of new graphics to show them off.
Valor Fest Returns With Free Skins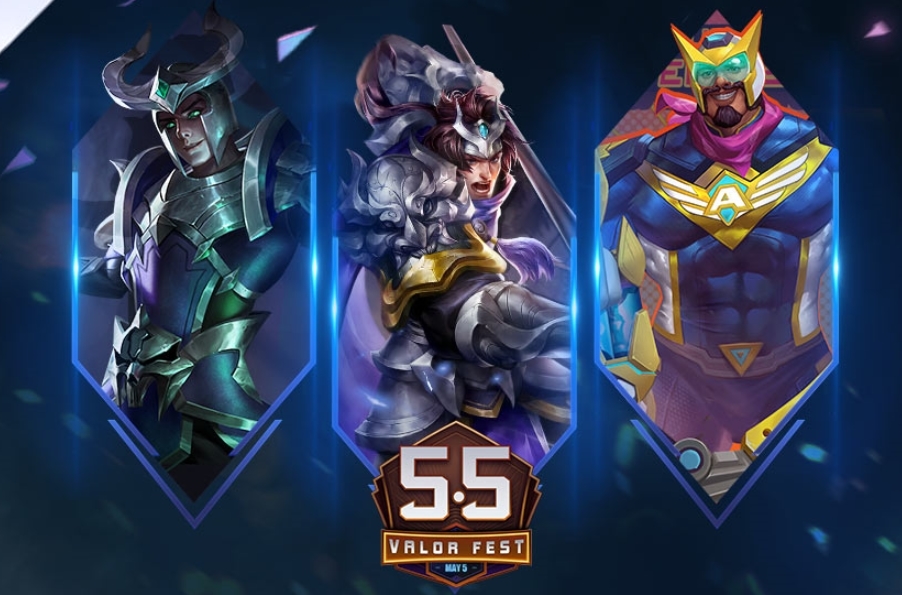 Last year's Valor Fest was a big deal. It was one of the game's first worldwide events following the release of the game in the Americas. It bigged up the idea of Arena of Valor becoming a worldwide esport, celebrating its future potential with free goodies to get everyone up to speed.
Though it takes place at the same time as last year's event – during the week of 5.5 to seemingly coincide with the 5v5 gameplay element – this year's events are being heralded as a celebration of Japan's Golden Week national holiday. This makes sense given the game's recent release in the region but isn't mentioned enough in-game to really feel sincere. It's more a social media marketing thing, it seems.
So what does it bring, you ask? Not much more than other recent events. This year's Valor Fest uses the same event format we've seen most of this year. Tokens are awarded for tasks like logging in and playing random game modes, which are then exchanged in groups of 1, 5, and 20 for hero/skin tokens, magic crystals, and your choice of skin respectively. There's the usual redeem limit on the two more expensive prizes, but you're free to redeem as many hero/skin tokens as you please.
Being a 5-day event set to end on the May 5, there aren't enough days left to secure the skin box if this is your first time hearing about it; but that magic crystals and pile of tokens can still be yours.
Xeniel's Codex Chapter 6 Rewards Officially Revealed
Swapping out one for another every six weeks, Xeniel's Codex is back for its sixth installment. There's still time to get 1000 vouchers for the price of 500, so if the premium rewards are of interest to you, be sure to take up that handy offer.
Despite what we speculated last week, there was no special third reward waiting to fill that blank spot in the reveal poster. The two main attractions of Xeniel's Codex Chapter 6 are the Space Ronin Riktor and Imperial Blademaster Quillen skins. Coming in at Level 30 and Level 60 respectively, this is a very melee-heavy edition of the codex, and one that should scratch the itch of any Star Wars fan given the focus on lightsaber-style blades.
To make up for the lack of an exclusive hero this time around, Elite Codex owners get a hero selection chest at both Level 1 and 20 instead. The first gives the option of Zill, Arduin or Murad, with the second featuring Wisp, Max or TeeMee. The rest of goodies include EVO Crystals, skin customization items, and the usual amount of assorted rewards like arcana chests, skin tokens, and avatars. You'll even recoup a few hundred vouchers in the process to probably encourage topping up for next month's codex chapter. Cunning!
For those who reach Level 60 in time for the roulette, previous Xeniel's Codex skins are up for grabs in the exclusive chest, alongside more skin cosmetics (more lightsabres, basically) and the usual miscellaneous goods.
Ishar Steps Up To The Plate
For those who get all the way through these weekly posts, something special this way comes. It's nothing to do with Baseball like Astrid's still yet to return Slugger skin, but assuming this new hero's weapon is, in fact, a mace, I'm ready to write the lore about her being a fantastic rounders player in school.
The latest hero to show up in Arena of Valor across the pond is a young girl called Ishar. Honestly looking like one of the Aliapoh kids from Final Fantasy XIV, Ishar dons a gorgeous coat, double braid hairstyle, and a… dog. On her head. There's a dog on her head.
In hindsight, the weapon is more likely to be a scepter similar to other mages like Ignis and Preyta, leading us to question whether, like how Max and Wisp are related to Moren, is Ishar connected to either of these two characters in some way?
It's difficult to pull concrete details from a foreign video, but Reddit bills her as a Mage/Support who relies on her passive pet to manipulate her stone-based abilities. There's no word on a release date for her even in places like Vietnam right now, so don't expect her to reach this side of the pond any time soon. Just be ready for some truly adorable skins when she does.