After a pretty quiet week last Friday, the tables have turned. This is still going to be a pretty short news roundup compared to past entries, so don't set aside too much time for this one. The big deal is that Capheny has arrived, and Arena of Valor power creep rears its ugly head yet again.
Capheny Brings Out The Big Guns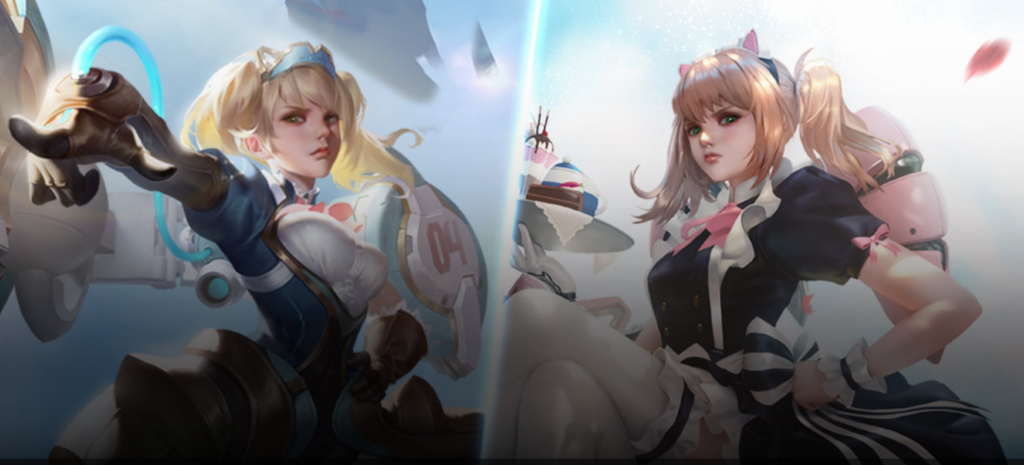 Looking like a character out of Xenoblade or your favorite mech anime, Capheny has arrived in the arena; and she's making swiss cheese out of the competition.
Capheny has been a long time coming (for me, at least), and it seems the wait has been worth it for those looking for the game's next OP hero. If you have the coin, it might be worth picking her up if you consider yourself an ADC master. It might be a good way to climb the ladder if you're confident in your skills (and have a device that loads in faster than your usual Val/Yorn insta-lock).
Players are already turning to Reddit to call out her unruly power. With high mobility and dangerous range, Capheny has already earned the title of "The New Tel'Annas". Good for her!
Capheny arrives in the usual new hero fashion at a set Voucher/Gold price and with a single alternate skin – a classic French Maid outfit that should satisfy a very specific audience. You know who you are.
Sales, Sales, Sales!

I was planning to split this whole thing up, but there's actually more to go through than I initially thought. There's a pretty decent sale on right now, and with double voucher purchases, it's good for all sorts of things (if you like to spend money).
Tap on through to the in-game store and you'll find three choices of skin bundles to tempt you with. They're named "Hot Skin Packs, but they're probably not quite what you think – though I guess that depends what you're into? Each includes 3 specific skins and can be had for 1199 vouchers while they're around.
Looking for a new hero? If you happen to be in the market for Baldum, Marja, or Rourke and have some vouchers to spare, each can be had for a slight discount for the next 6 days. Baldum takes the cake by being only 599 right now, but the other two at 839 can still be bought with a relatively cheap 500 voucher purchase thanks to the double voucher promotion going on right now.
Xeniel's Codex Chapter 6 Release Date And Rewards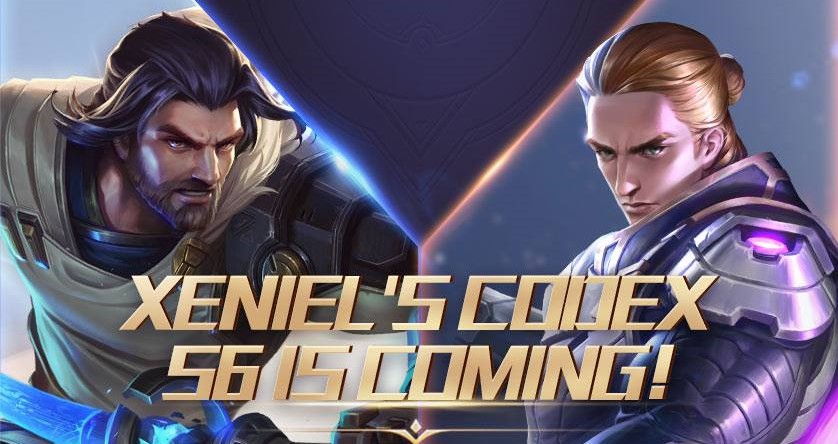 A lengthy headline for that search engine goodness, Xeniel's Codex Chapter 5 ends next week; and we all know what that means…
Xeniel's Codex Chapter 6 is right around the corner. It'll kick in right as Chapter 5 ends, so if you're a paying patron, you might want to take Tencent up on that double voucher offer while you can to enjoy a slightly cheaper 6-week codex this time around.
But what will feature in the next book of goodies? Riktor's "Space Ronin" and Quillen's "Imperial Blademaster" skins are the two release date announcements, but there's a clear gap in the top of the artwork for a third reward to slot neatly into down the line. So who – or what – could that be? Get those thinking caps on!
Riktor's skin appears to go together with Butterfly's outfit of the same name, whereas Quillen gets some heavy energy armor and the smallest rear hair pun I've ever seen in my life. Clearly I'm not a cultured individual.
Take this as a warning, though. If you haven't yet wrapped up Xeniel's Codex Chapter 5, you only have about half a week to do so. Expect plenty more Hayate's on the battlefield next week as the Ghostwalker and his Metallic Nightmare skin go up for general sale.
Premiere Valor League Cut-Off Is Close
With the community basically on fire with Cephany's release this week, we'll close off the roundup with some news of friendly competition: the Premiere Valor League is almost here!
If you're looking to try your hand in the esports realm, you have until April 29th to find and register a team. Like any good esports event, there are prizes to be had for those that deserve them. The event itself kicks off on May 1st. What better way to start the month?!