Hello gentle readers, and welcome to the SwitchArcade Round-Up for April 18th, 2019. It's Thursday and that means it's a big day for new game releases. Cuphead, Katana ZERO, Our World Is Ended, and many more will delight your senses and puncture your wallet. Some interesting sales also went up today, including what I believe is the first sale on Switch versions of Kairosoft games. We also have the first proper footage of Mortal Kombat 11 running on the Switch. Just in time, eh? At any rate, let's get into it!
News
Oh Good, We Finally Have Footage of the Switch 'Mortal Kombat 11'
I was just complaining about this the other day, and now we've got some proper footage of the Switch version of Mortal Kombat 11 in action. Did I cause this? No, don't be ridiculous. The game is out in a few days, we were going to see what it looked like soon one way or another. But it's nice that we get this before the game itself is out. The verdict? It looks pretty good, actually. We can't see the load times or anything like that, but in terms of the pure in-battle action, it looks more than capable. The game releases next Monday, but you should still have time to pre-order and get Shao Kahn as a bonus if you want.
'Picross S3' Launches Next Week Worldwide
How much Picross is enough? Fool! There is never enough Picross. Back up that beeping truck and dump all the Picross on me. I will die in a mountain of Picross and I will do so happily. Luckily, Jupiter is one of the companies that has my back on this. The company delivered several Picross games on the 3DS and it seems as though the Switch is going to get the same treatment over the course of its life. Launching on April 25th, Picross S3 features Color Picross puzzles, Clip Picross, Mega Picross, and more. There are more than 300 new puzzles in all, which should keep you busy for quite a few hours.
'BoxBoy! + BoxGirl!' Demo Available Now
The latest in HAL Lab's adorable 'BoxBoy' series of puzzle games is due to hit next week on April 26th for $9.99. BoxBoy! + BoxGirl! will be the Switch debut of the previously Nintendo 3DS-exclusive brand, and Nintendo really wants it to make a nice splash. If you head to the eShop now, you can download a demo of the game that lets you try a selection of the game's puzzles ahead of time. If you've never tried a BoxBoy game before, they're basically fairly relaxed affairs where you use your characters ability to generate blocks to cross obstacles and reach the exit of each level. The trick comes in securing the crowns in each level, a task that requires you to be as frugal as possible with box creation. They're pretty solid games, and I expect this one will be as well.
New Releases
Our World Is Ended ($59.99)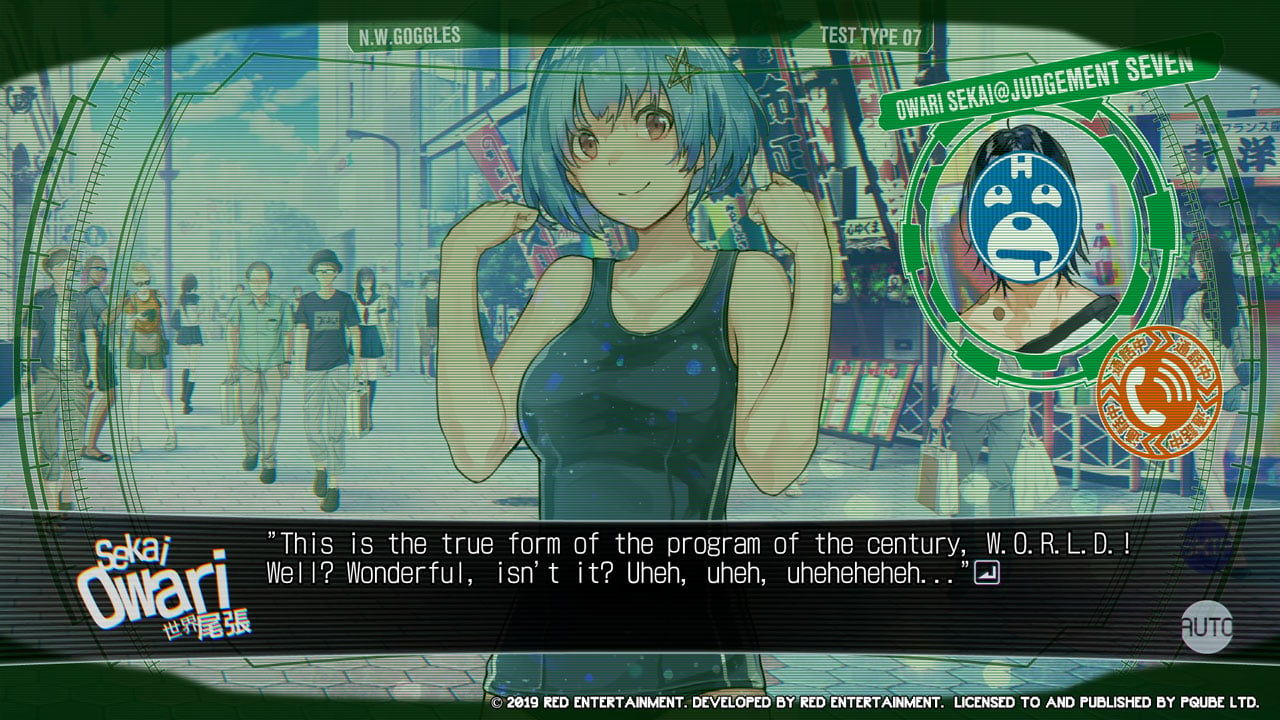 This visual novel takes more than a few queues from Steins;Gate, but I guess if you're going to chase anyone, you might as well chase the best. The science gimmick here is VR/AR technology, and it naturally started behaving in strange ways and causing bizarre events to unfold. This game has more of a relationship focus than Steins;Gate, and as such there are more branches and canonically separate endings to reach. Many of the characters are horndogs, a  trait that isn't amusing for nearly as long as the writers seem to think it is, but on the whole it's not a bad game. I'd easily recommend Steins;Gate over it, but if you've already played that the pickings for this sort of VN are a little slim on Switch, which I suppose makes this worth exploring.
Risky Rescue ($4.99)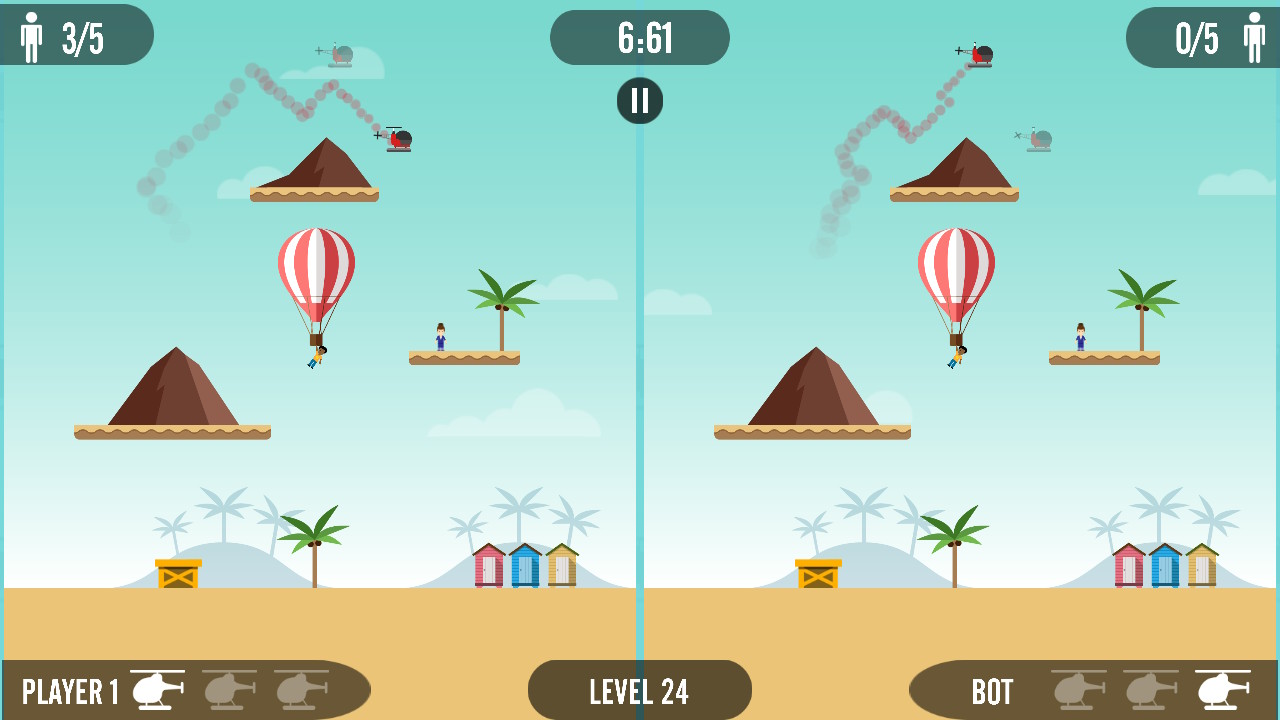 SwitchArcade Highlight!
This one comes from the people who made Timberman, and like most of that developer's efforts, this is good, simple, straightforward fun. Guide your helicopter (or whatever) around obstacles using slightly tricky controls and try to rescue the stranded people. It's tricky in that way where you want to try again after every failure, and there's lots of stuff to unlock. There are more than fifty stages and if you get bored with them, an endless mode awaits. The only caveat I'll throw out here is that most of this publisher's games end up getting deep discounts relatively quickly, so you can probably save a buck or two by waiting a few weeks.
DayD: Through Time ($9.99)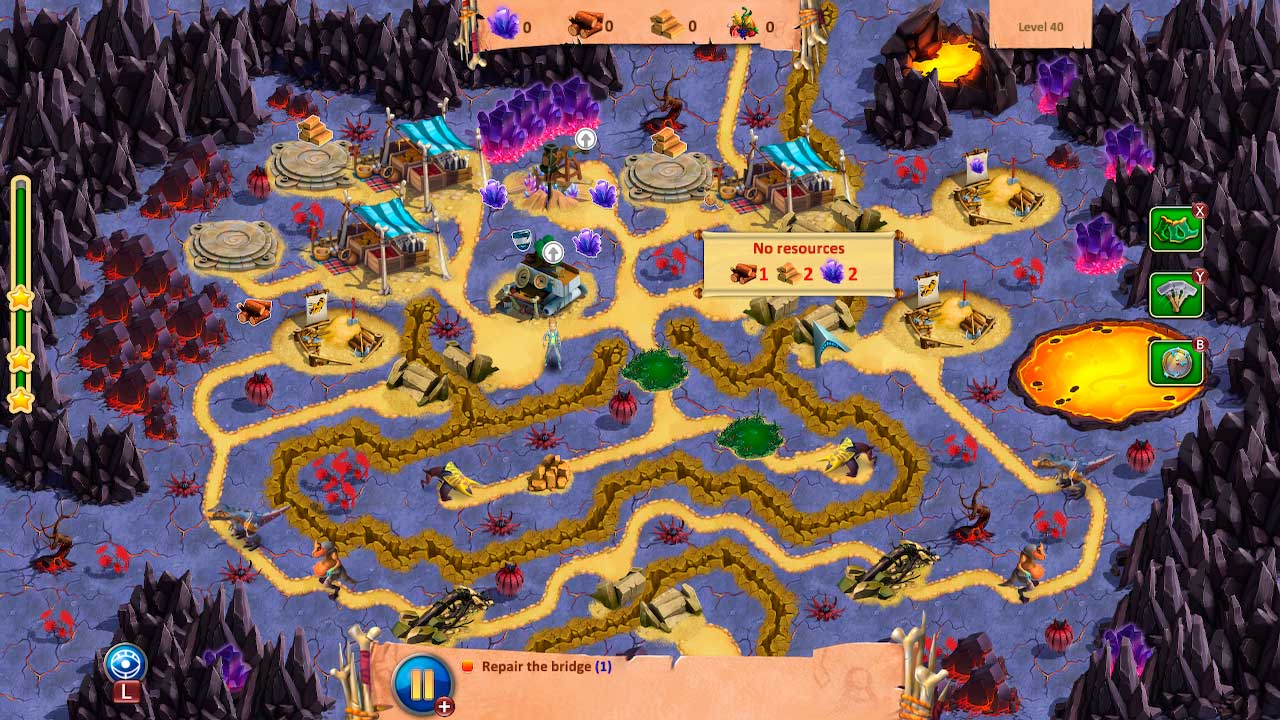 From the makers of Gnomes Garden comes a game almost exactly like Gnomes Garden. Swap out the fantasy setting for a time travel one and you're really 95% of the way there. It's a stage-based affair where each level sees you collecting resources that will need to be used to complete set goals. You might have to build something, or repair something else. Sometimes you will need to do both. It's a fine enough time-waster, I guess, but unless you're a very dedicated Gnomes Garden fan I can't imagine this release being of much interest to you.
Cafeteria Nipponica ($12.00)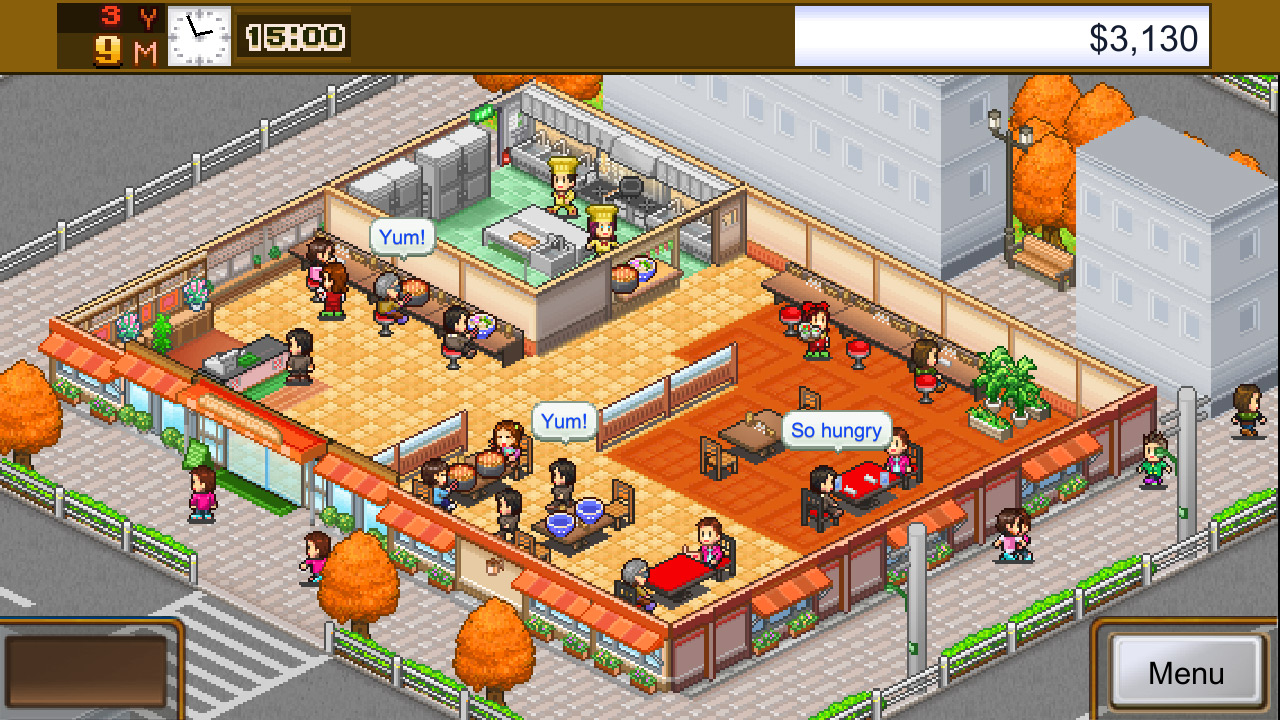 Speaking of games that feel like little more than a cut-and-paste of the developer's previous title, here's the latest Kairosoft release. I'll say the same thing I usually do for these games. How much you enjoy this restaurant management sim is going to be inversely proportionate to how many of Kairosoft's previous games you've played. Because Kairosoft does make a few very fun games, and the first time you meet one of them is kind of magical. Sadly even the most charming of games will lose a lot of its luster when photocopied too many times. This one is fun if you haven't overdosed on this particular kind of sim yet. But it's cheaper on your mobile device, so that's something to consider as well.
Sudoku Relax ($5.00)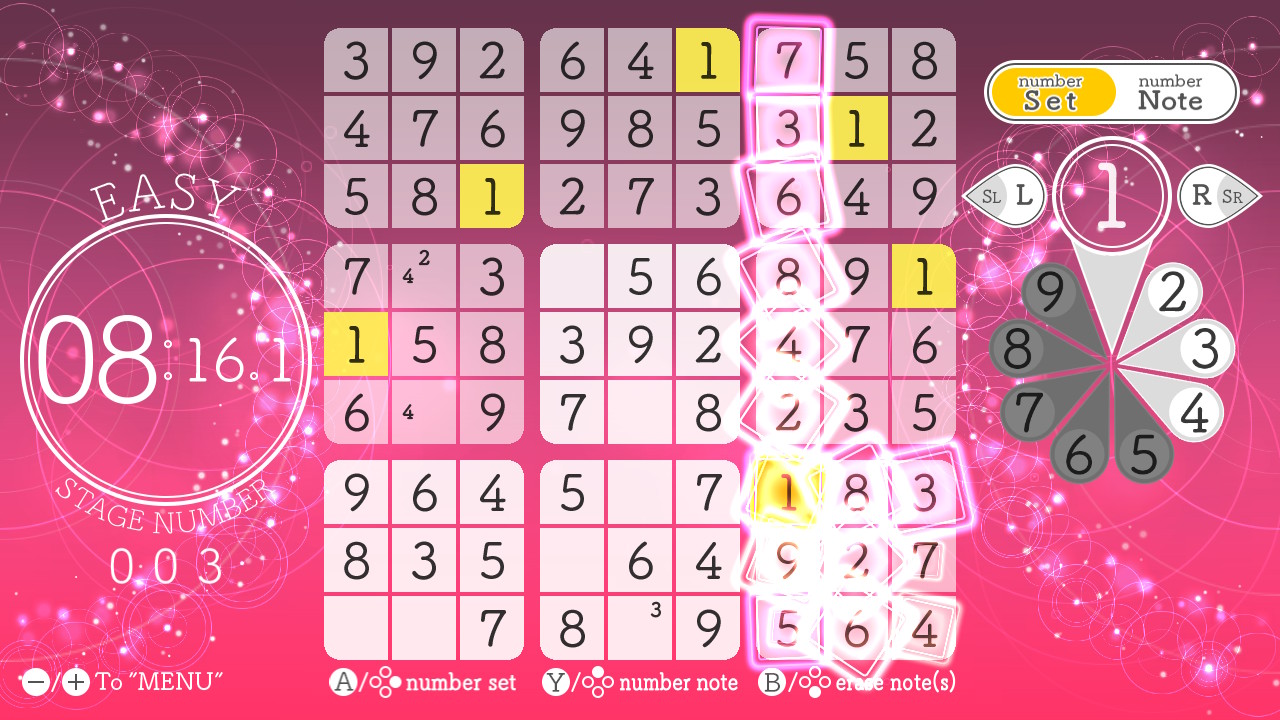 Well, this is Sudoku. It has some chill background effects and music, and I guess that's the hook. There are three-hundred puzzles to solve that are grouped into three different difficulty levels, and it supports touch controls if you're playing undocked. It also says something in its eShop description about being healed while you're undressing but I feel reasonably confident that's a translation mistake because seriously, how would it know if I'm wearing my pants or not? You're just a Sudoku game!
SlabWell: The Quest for Kaktun's Alpaca ($7.99)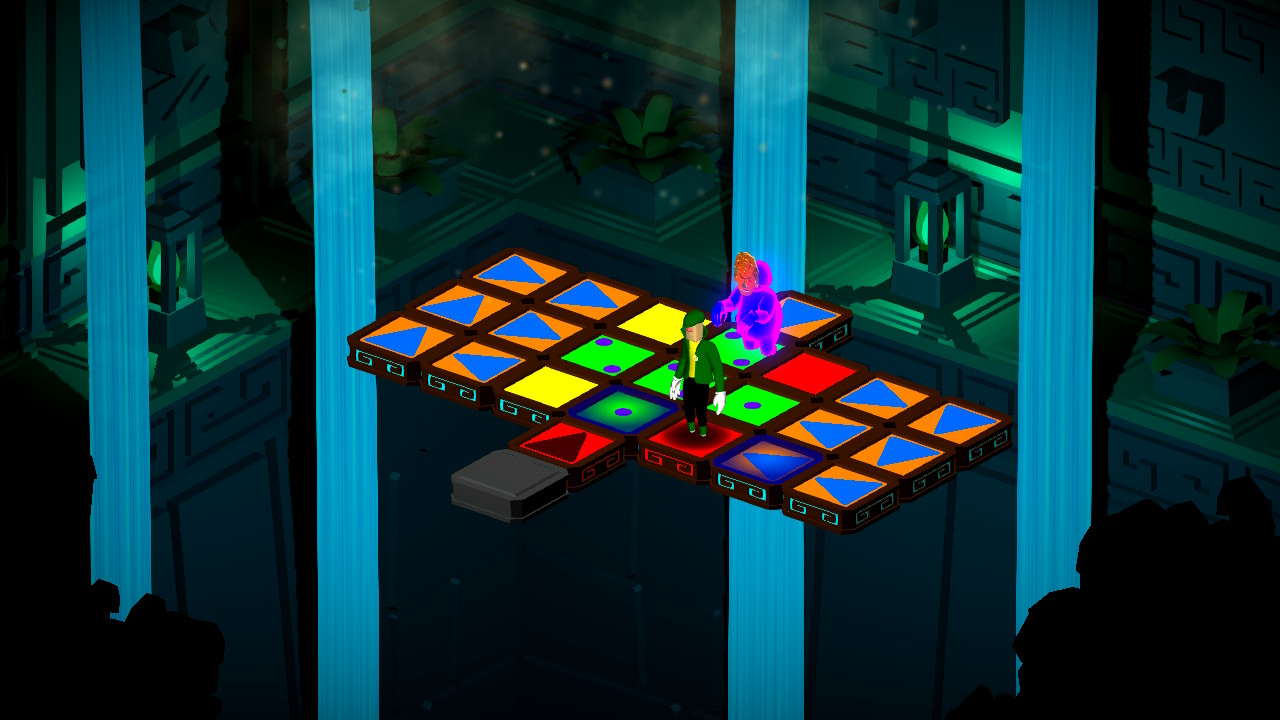 Hmmm, an isometric puzzle game that is launching first on Switch. Apparently there are over 100 levels in this thing, and it does allow you to play co-op with a friend. The idea is kind of like Q*Bert. You have to "paint" all of the squares of each floor by stepping on them. Different tiles are put into play as you go along, complicating this problem. Sometimes a ghost chases you, forcing you to think quickly. This game comes from the same people that made the wretched Superola and the Lost Burgers, so I'm not exactly brimming with confidence about the quality here. On the other hand, it seems hard to mess something like this up. If you like this sort of puzzle, you might want to check this out, I suppose.
The Knight & The Dragon ($7.99)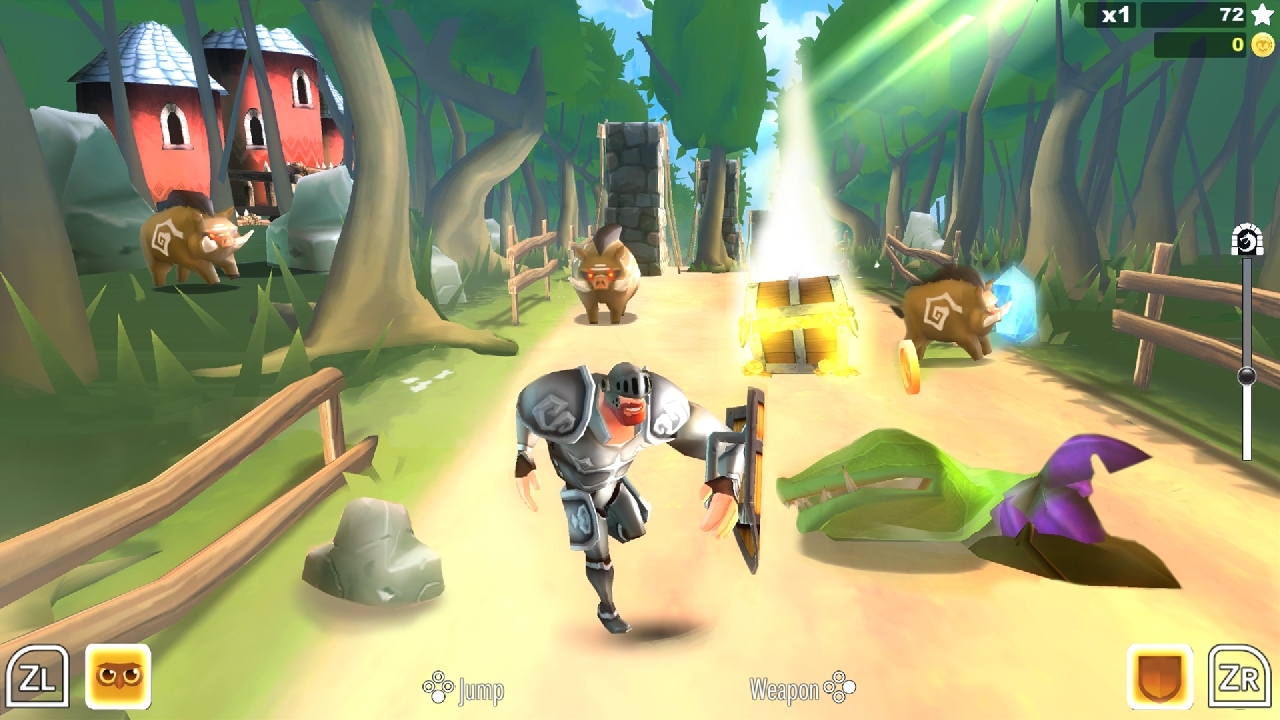 Okay, so near as I can tell, this is a retitled and revamped version of a mobile Temple Run-style behind-the-back auto-runner called The Legendary Knight. It rips off the name of its princess and dragon from Dragon's Lair, and if it is indeed The Legendary Knight then it's a very bland example of the auto-runner genre that can't even get past its opening cinematic without looking low-rent. Move between three lanes! Slide under some obstacles! Jump over others! Play mini-games from time to time! Buy upgrades using coins you collect! Now, I could be wrong about this being The Legendary Knight. It might merely be repurposing all of the assets for something different. If that's the case then I'll take the loss, but I'm not going to toss out eight bucks to find out.
Dawn of Survivors ($1.99)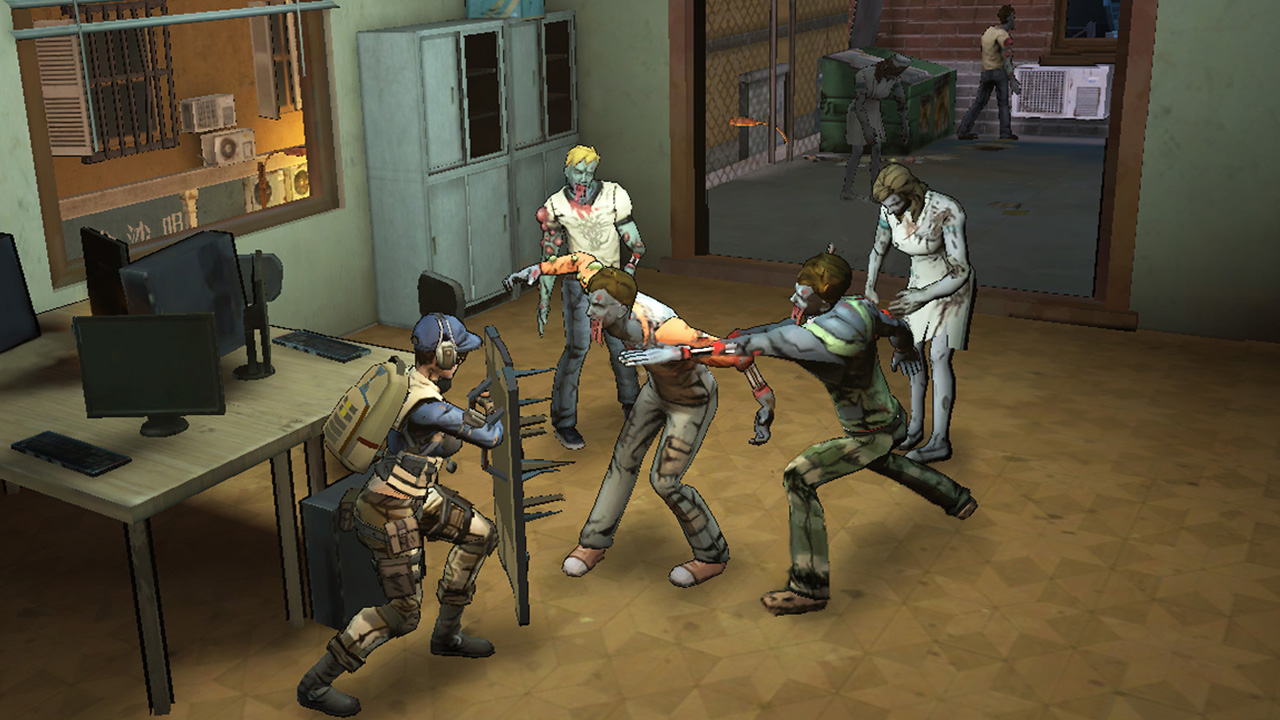 This might seem like a good deal until you realize that this is basically an online F2P builder-style experience with a price tag attached to it. Forage for resources, build a shelter, and try to survive against waves of the undead. Raid other players' camps for resources, but keep in mind they can do the same to you. A couple of games like this came out last week with a much more player-friendly set-up, so unless you get tricked into buying this by its low price, I can't imagine why you would want Dawn of Survivors. Note that you will need a Nintendo Switch Online account to play this with other players as this is not a free game.
The Padre ($19.99)
Do you have a lot of nostalgia for slow-burn survival-horror games like Alone in the Dark and the original Resident Evil? If so, you may enjoy The Padre. The graphics use voxels and are clearly a product of a post-Minecraft world, but the gameplay is pure mid-1990s horror game. You control the titular padre as he tries to solve the case of a missing cardinal. This involves solving puzzles, trying not to get killed by enemies, and tolerating a main character who busts out frequent one-liners. It's very slow-paced and any time you have to fight it all gets pretty awful in a hurry, but hey, that's what it's paying homage to. Not my cup of tea, but it could be yours?
Katana ZERO ($14.99)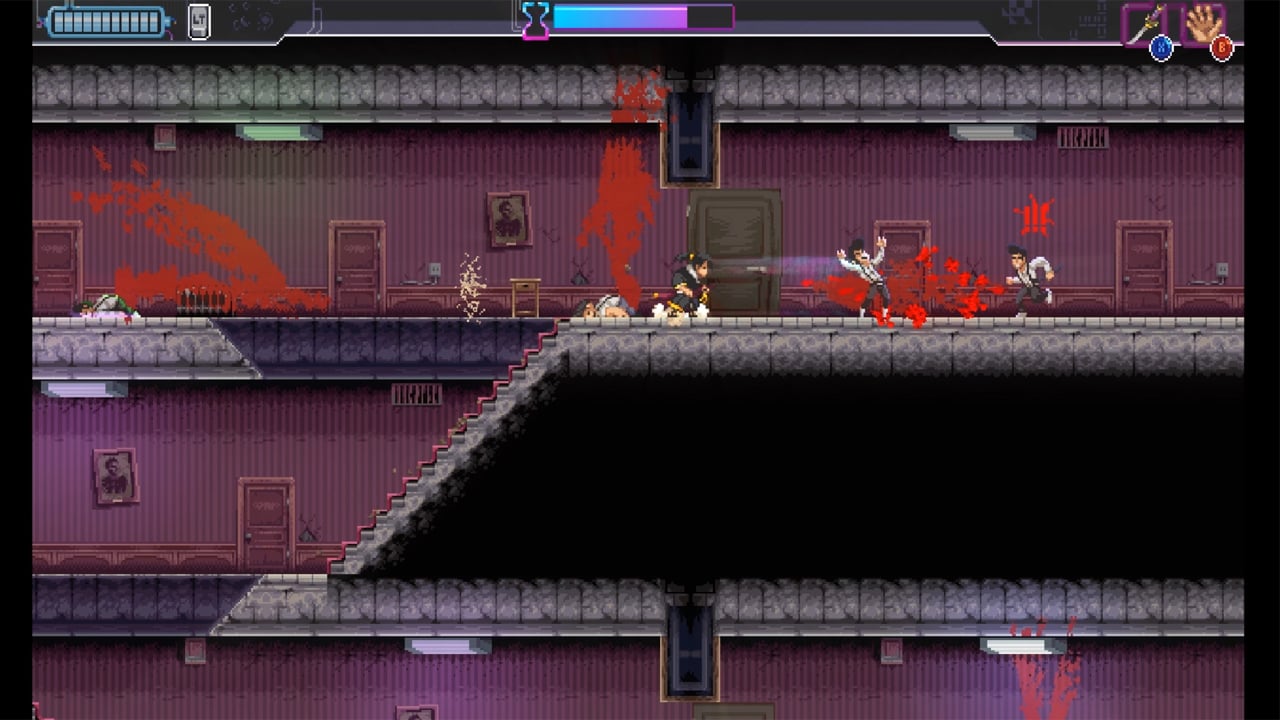 SwitchArcade Highlight!
Oh thank goodness, we're back to good stuff. Devolver Digital's latest is another stylish, violent game that is just ridiculously good fun. It's described as neo-noir, and sure, that's fine. You play as a super-speedy assassin who can manipulate time to deliver amazing killer strikes with his katana. It's quite gory, so if you're not into that sort of thing you'll probably want to stay clear of this game, but if you have no issues with blood and guts, you'll really want to check this game out. It's really very enjoyable.
Cuphead ($19.99)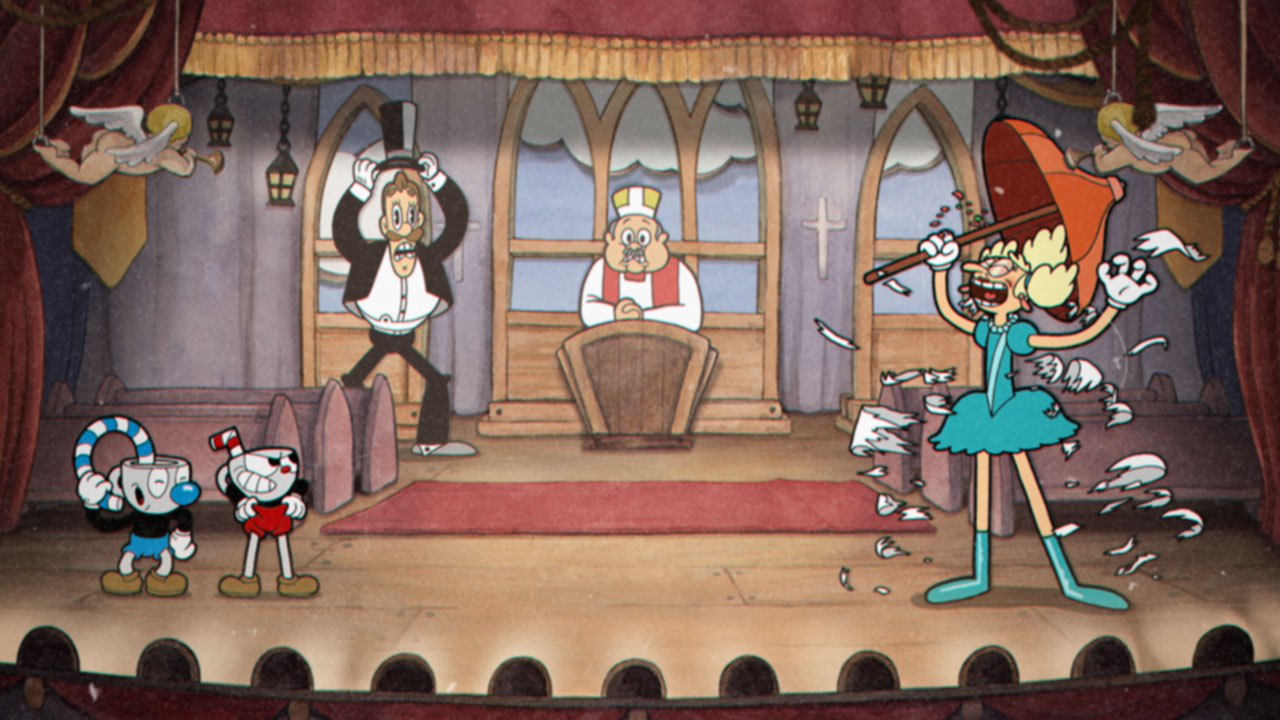 SwitchArcade Highlight!
It's here! It's here! The tough-as-nails tribute to both classical animation and hardcore run-and-gun video games is now on Switch, and apart from sometimes-lengthy loading times, it's not much worse for the wear. Play alone or with a friend via local co-op as you try to find a way to get out of a deal with the devil. Gameplay is a mix of a stage-based action and pure boss battles. Bosses always have multiple phases and not one of them will go down without some sort of fight. But it's the classic style of difficulty where once you practice and learn the patterns, you might even be able to pull off a flawless victory. And when you get to that point, the feeling of satisfaction is tremendous, friends. A great game that fits the system just perfectly. So long as you don't mind games with some teeth, make sure you pick it up.
Sales
I'm not sure if any of these games are worth rushing out to buy, but there are certainly some unusual sales in the inbox today. Kairosoft has put its first three Switch releases on sale, and all of them are quite good and different from one another. Kemco has put Fernz Gate on sale for the first time. Don't be fooled. Apart from those, it's all the usual odds and ends. For outgoing sales, please check and make sure that you've already bought Black Bird. If you have, you're all good. If not, what are you waiting for?
New Games on Sale
Xtreme Club Racing ($6.92 from $9.89 until 5/7)
Crashbots ($8.99 from $9.99 until 5/1)
Pato Box ($10.49 from $14.99 until 4/23)
Red Game Without a Great Name ($1.49 from $2.99 until 4/24)
Cinderella ($5.09 from $5.99 until 4/29)
Mech Rage ($2.49 from $9.99 until 5/8)
Chalk Dash Carnival ($2.83 from $7.09 until 5/9)
Dungeon Village ($9.80 from $12.00 until 5/9)
Hot Springs Story ($9.80 from $12.00 until 5/9)
Game Dev Story ($9.80 from $12.00 until 5/9)
Fernz Gate ($9.09 from $12.99 until 5/2)
FunBox Party ($0.99 from $1.99 until 5/9)
Mad Carnage ($0.99 from $4.99 until 5/9)
Tactical Mind ($0.99 from $2.99 until 5/9)
Defense Grid ($17.99 from $19.99 until 4/26)
Sales Ending Tomorrow, Friday, April 19th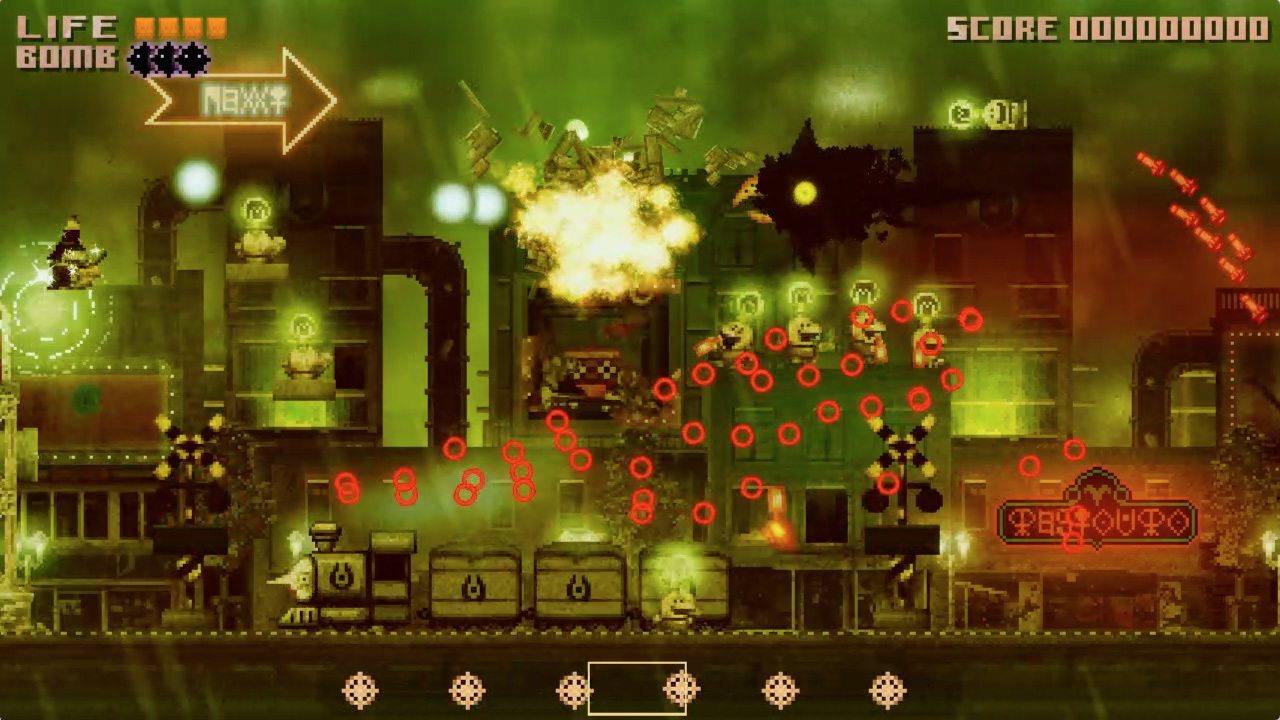 Black Bird ($9.99 from $19.99 until 4/19)
Godly Corp ($7.19 from $7.99 until 4/19)
Mars or Die! ($9.99 from $19.99 until 4/19)
Moto Rush GT ($10.49 from $14.99 until 4/19)
Not Not – A Brain Buster ($0.99 from $1.99 until 4/19)
Otto ($2.49 from $4.99 until 4/19)
Parallel ($2.99 from $9.99 until 4/19)
Super Inefficient Golf ($3.99 from $7.99 until 4/19)
Zombie Panic in Wonderland DX ($8.00 from $8.99 until 4/19)
And that's the show for today, friends. Join us tomorrow as we mop up anything that was straggling behind today and cover the fresh new releases of the day as well. We'll also have some news, at least a few bits of new sales information, and maybe even a little more. I do hope you'll be back again to see. As always, thanks for reading!