Hello gentle readers, and welcome to the SwitchArcade Round-Up for January 23rd, 2019. There aren't any new releases today, and the new sales aren't really anything to write home about. So instead, we'll be focusing on some news stories. Why not settle down and check out what's going on today in the world of Switch? Let's have a gander!
News
The End of 2018 NPD Sales Results are in, and Everything's Coming Up Nintendo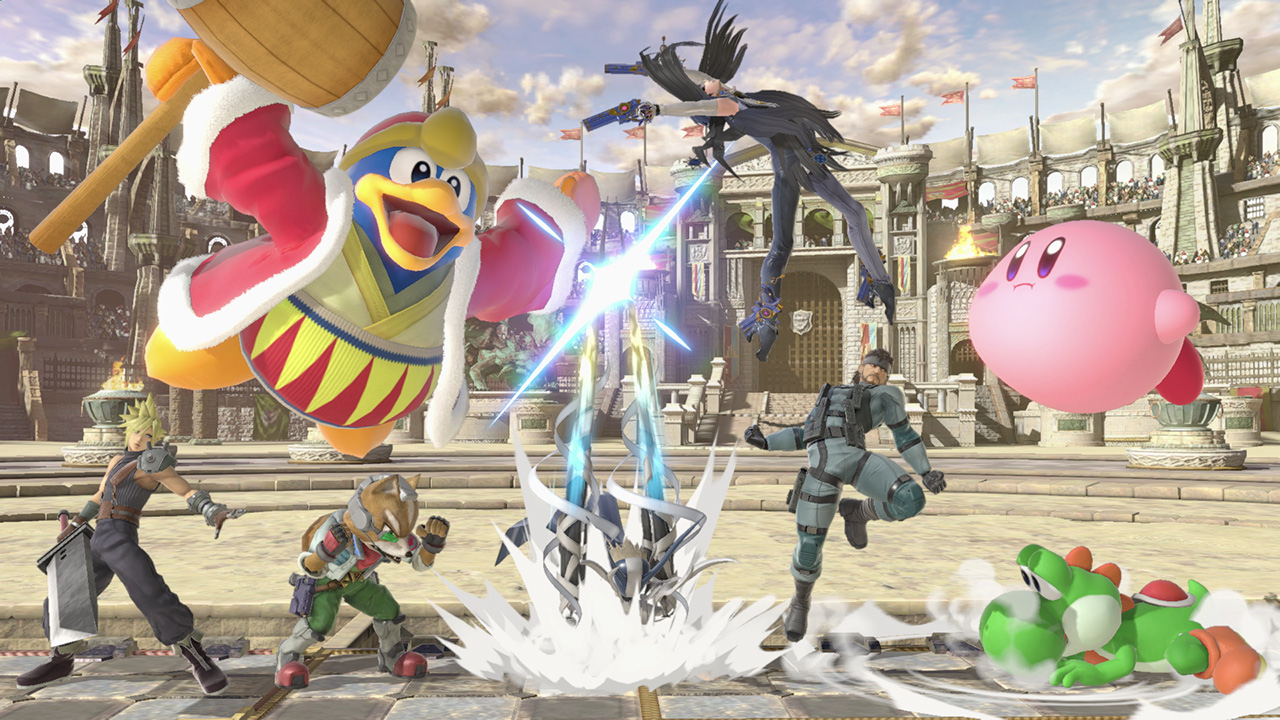 The Switch continues to be a sales juggernaut for Nintendo, and the year 2018 really ended off on a great note thanks largely to Super Smash Bros. Ultimate. The NPD group, which tracks American sales, has given out some details from its December 2018 report and even given out some full-year info. In December, the Switch was the top-selling console in the US, turning in the highest December numbers for a console since the Nintendo Wii's peak years. The Switch also takes home the honor of being the number one-selling console in America in 2018 overall in both unit sales and dollars.
The end-of-year punch that was Super Smash Bros. Ultimate certainly helped matters. The game's debut was higher than the previous highest Smash game launch by more than 70%, setting a new record for launch month sales for a platform exclusive title. Other big winners on Switch in December were Mario Kart 8 Deluxe, Super Mario Party, Pokemon: Let's Go, Super Mario Odyssey, and The Legend of Zelda: Breath of the Wild. Given that half of that list came out in 2017, it's safe to say that a lot of new Switch owners came into the fold during the holidays.
NPD also released a chart showing the top-selling games of 2018 on Switch. Keep in mind, this is just for packaged sales, so digital-only titles aren't going to show up here. Honestly, there aren't very many surprises on here, but whatever, there isn't a whole lot else going on today. Let's have a look.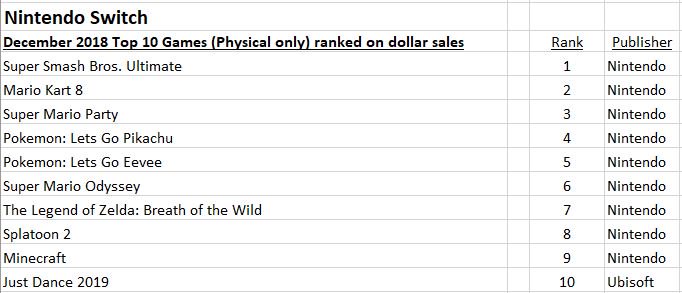 Indeed, even looking at the chart showing the Top 20 across all platforms, Nintendo's titles alone account for more than 25% of the list. It's going to be interesting to see what Nintendo has in store for 2019, but when releases dating back to the launch window of the platform are still dominating, it's easy to see why the company sometimes, er, paces itself with big new releases.
'Arcade Archives Bomb Jack' Releases This Week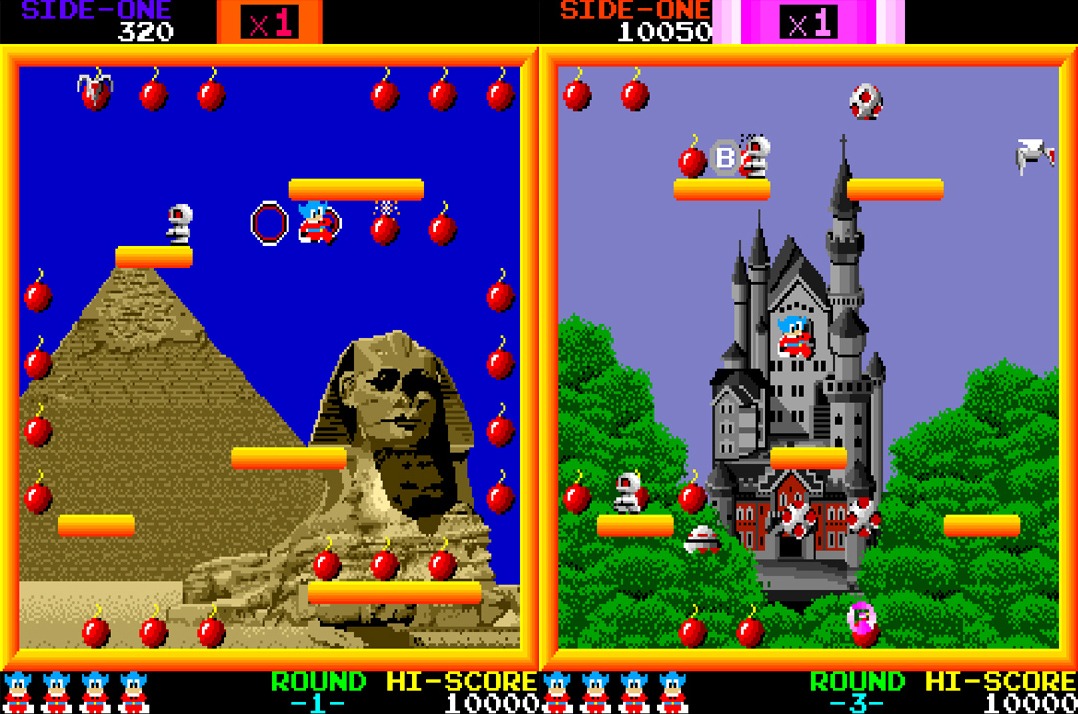 Hamster never takes a break, and I never stop looking for new ways to introduce a similar story each week. After a few NEOGEO-specific weeks, the company is back to sifting through the archives of other companies, this time coming up with Tecmo's Bomb Jack in its adorable hamster-cheeks. Assuming everything goes as usual, we'll be seeing it show u with tomorrow's releases at a price of $7.99. Note that this is not the same game as the NES version available on the NES Switch Online app. That game sort of expanded on this arcade original, but I think there's still a simplicity to Bomb Jack that keeps it relevant even in the face of its Mighty NES port.
'Mario Kart 8 Deluxe' and 'Pokemon: Let's Go Pikachu/Eevee' Get Patches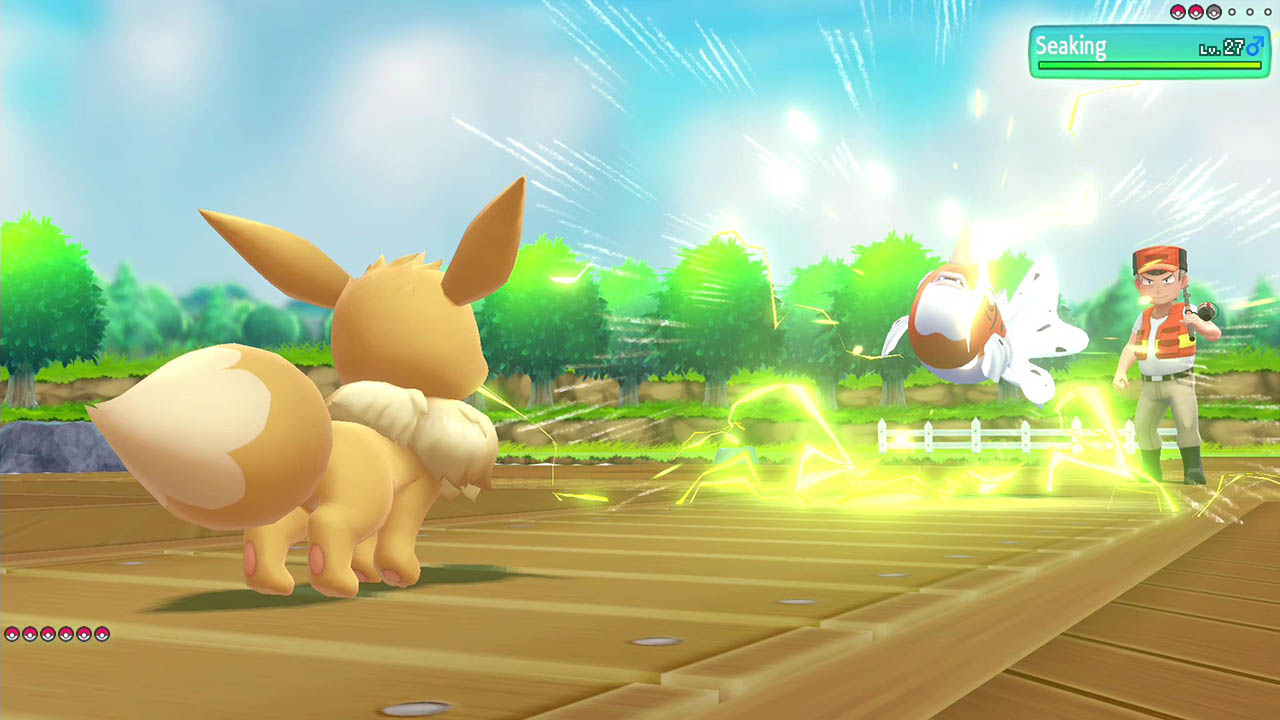 Friends, are you ready for the sheer excitement of BUG FIX PATCHES? Well, whether you are or aren't, it doesn't matter, because here are a couple of big, bad BUG FIX PATCHES for you to cram in your Switch's memory-hole! Er, if you own Mario Kart 8 Deluxe and/or Pokemon: Let's Go Pikachu/Eevee, that is. Both of them had some rare bugs that were happening in specific situations. Both of them are now fixed. Happy, happy.
This Weekend's Spirit Board Event in 'Super Smash Bros. Ultimate' is 'The More, The Merrier'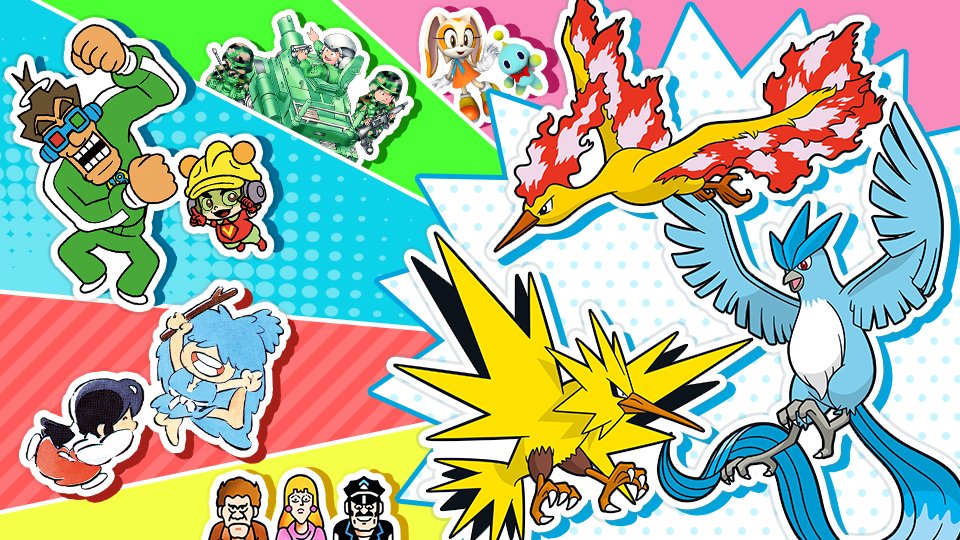 Just in case you're still planning your weekends around how interesting the upcoming Super Smash Bros. Ultimate Spirit Board events are, I'll give you some info on what to expect this time. The new event is called "The More, The Merrier" and focuses on spirits that have more than one character included. So yeah, get out there and get your hands on some rewards by dealing with the likes of Cream the Rabbit and 9-Volt. The event kicks off on January 25th and will run for the usual weekend duration.
'Steins;Gate Elite' is Now Availabe for Pre-Purchase on the eShop
Very few game stories have gripped me the way Steins;Gate did. A visual novel that deal with the topic of time travel, it will run you through an emotional shredder by the time you stumble your way into one of the endings. The game will finally launch in English on the Switch on February 19th in the form of Steins;Gate Elite, and you can now pop onto the eShop and pre-order it with a cool launch discount of 10% off. The regular price will be $59.99 but if you pre-order it, you'll only be paying $53.99. And if you're balking at paying that much for a visual novel, I'll tell you two things. First, this is a 20+ hour game even if you're a quick reader, so there's definitely good value here. Second, it includes a ton of animation from the animated adaptation, so even if you own it elsewhere, there's lot of new stuff to see here.
Sales
There isn't much exciting in the new sales today, though I've heard decent things about Super Daryl Deluxe from some people. I suppose the bigger news is that stuff that is going off of sale price. It's probably not a bad idea to have a gander through there and make sure there isn't anything you were holding off on buying. Or just hold on to your precious coins until the new games hit tomorrow. That might be okay as well.
New Games on Sale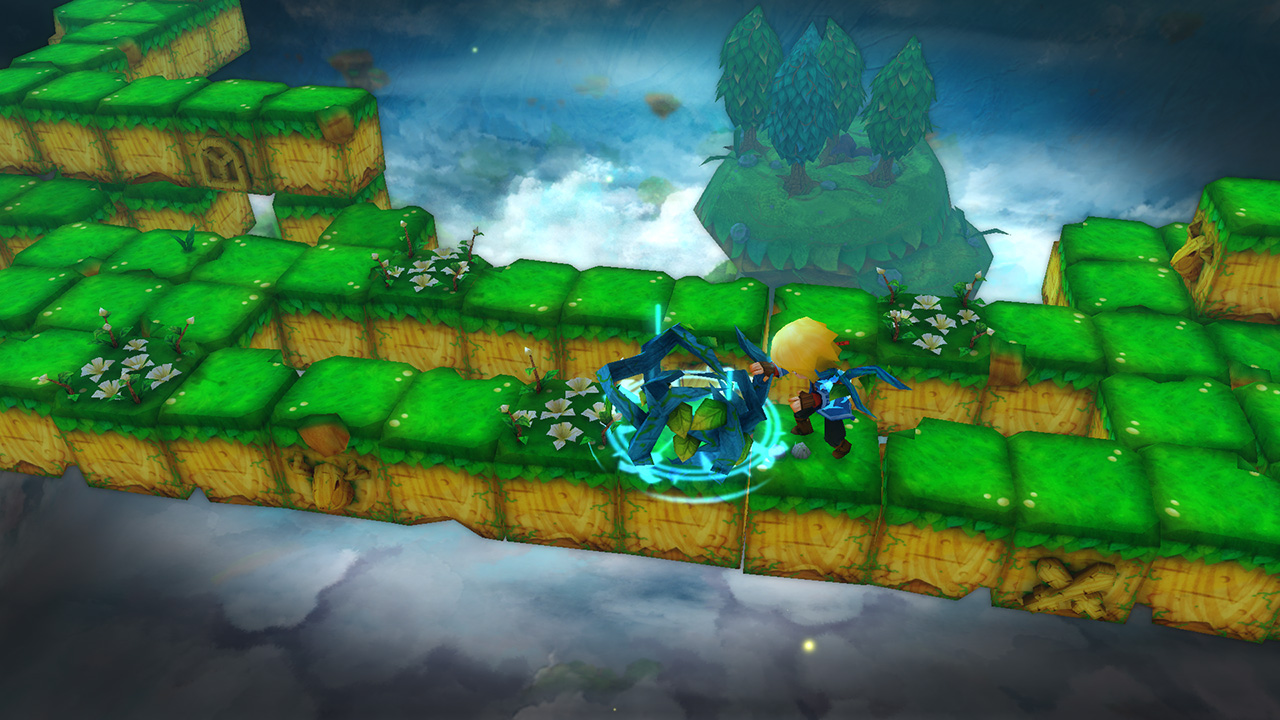 Thea: The Awakening ($16.19 from $17.99 until 2/9)
Almightree: The Last Dreamer ($9.99 from $19.99 until 2/7)
Mutant Football League: Dynasty Edition ($19.99 from $29.99 until 2/5)
Super Daryl Deluxe ($11.99 from $19.99 until 1/29)
Sales Ending Tomorrow, Thursday, January 24th
Cursed Castilla ($12.59 from $14.99 until 1/24)
Pikuniku ($11.69 from $12.99 until 1/24)
Legrand Legacy: Tale of the Fatebounds ($15.99 from $19.99 until 1/24)
Bridge Constructor Portal ($10.49 from $14.99 until 1/24)
Cycle 28 ($3.49 from $6.99 until 1/24)
Double Cross ($14.99 from $19.99 until 1/24)
Dynamite Fishing: World Games ($8.99 from $9.99 until 1/24)
Earth Atlantis ($7.49 from $14.99 until 1/24)
Halloween Pinball ($1.49 from $1.99 until 1/24)
Hyper Sentinel ($2.59 from $12.99 until 1/24)
The Inner World ($5.99 from $11.99 until 1/24)
The Inner World: The Last Wind Monk ($7.49 from $14.99 until 1/24)
The Jackbox Party Pack 2 ($14.99 from $24.99 until 1/24)
Joggernauts ($7.49 from $14.99 until 1/24)
Koloro ($6.66 from $9.99 until 1/24)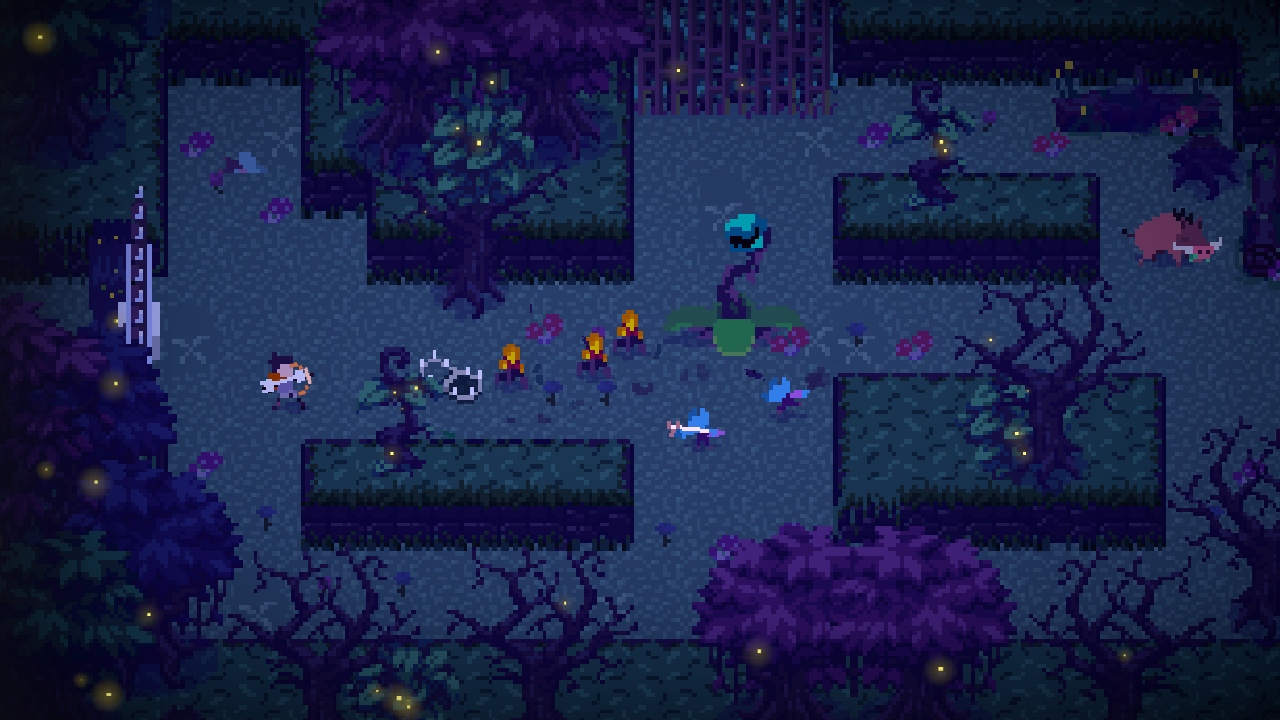 Mana Spark ($6.66 from $9.99 until 1/24)
Neko Navy: Daydream Edition ($11.69 from $12.99 until 1/24)
Ninjin: Clash of Carrots ($7.49 from $14.99 until 1/24)
Odium to the Core ($3.32 from $4.99 until 1/24)
The Office Quest ($10.19 from $11.99 until 1/24)
Regalia: Of Men and Monarchs Royal Edition ($19.99 from $24.99 until 1/24)
Shikhondo: Soul Eater ($4.75 from $13.99 until 1/24)
Super Blackjack Battle 2 Turbo Edition ($3.99 from $7.99 until 1/24)
Super Hero Fight Club: Reloaded ($6.66 from $9.99 until 1/24)
Tied Together ($7.49 from $14.99 until 1/24)
Timer Tennis: Versus ($1.59 from $1.99 until 1/24)
Toby: The Secret Mine ($5.99 from $11.99 until 1/24)
Troll and I ($14.99 from $29.99 until 1/24)
Werewolf Pinball ($1.49 from $1.99 until 1/24)
Wondershot ($6.66 from $9.99 until 1/24)
That's all we've got for today, but worry not, because tomorrow's going to be a big one. Tons of new releases, and you know with all those games going off sale, there are going to be some new ones coming in. As for me, I'll be continuing to pick my way through my backlog and trying to get as many impressions of new games as possible while I do it. As always, thanks for reading!