BlizzCon is a week away and while most people are excited for various reveals at the opening keynote, many fans who can't visit in person end up getting the Virtual Ticket for the event. This lets you watch all the panels and videos with interactivity and get loads of in game rewards for every Blizzard game. This year, the BlizzCon Mobile (Free) app will also let you watch and mirror streams to Apple TV, Amazon Fire TV, Chromecast, and more. The Hearthstone rewards were revealed a while ago. Watch the video showcasing them below:
The other rewards include a Legendary Skin for Sombra in Overwatch, BlizzCon themed items in Heroes of the Storm including a Nexus Razorgrin mount, a Mini Azmodan in game pet for Diablo III, Mantle of the Horde and Alliance, Stormwind and Orgrimmar Champion's War Banners and something super special for World of Warcraft, Classic skins and a new portrait for StarCraft: Remastered and StarCraft II.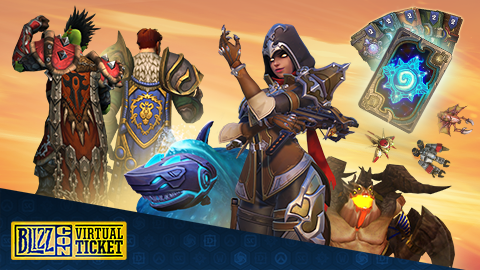 The highlight this year (that doesn't apply to mobile) is the World of Warcraft Classic demo which you will be able to play at home when it becomes available on the show floor at BlizzCon. I know a few people who are pretty excited about this. If you want to buy the virtual ticket, it is available here. Download the BlizzCon Mobile app to keep up with everything for the event regardless of if you're at home or at the event.